Small and Definitely Mighty
Author

Publish Date

Tue, 28 Sep 2021, 1:57PM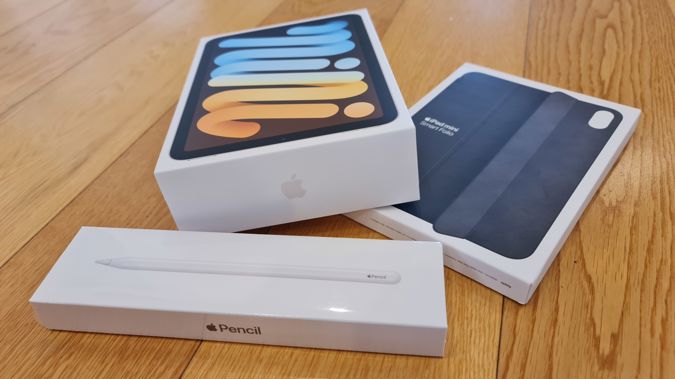 Small and Definitely Mighty
Author

Publish Date

Tue, 28 Sep 2021, 1:57PM
Cards on the table time; I've never really been much of a tablet kind of a guy.
Perhaps because I grew up as personal computers were still evolving, all my inputting was via a keyboard - and by the time laptops became commonplace, keyboard and mouse was my ingrained combination. Even now, if I'm restricted to using the trackpad on a laptop, I feel a little inhibited.
Ironically, I was a pretty early adopter when it came to the rise and rise of the smartphone - so it's not as though I'm philosophically opposed to the idea of a touch screen. In fact, in an ideal world my computer offers every choice; keyboard, mouse, trackpad and touch screen - why limit yourself?
But when it comes to productivity, everyday tasks like writing, emailing and online research, I've never looked to a tablet to fulfill that role.
So the idea of an even smaller iPad with an even smaller screen... well, that just didn't make sense at all.
Turns out, 2021 continues to be my year of Apple awakenings.

The latest revelation is the iPad mini (6th generation).
I think I'm probably lucky to have entered the condensed world of the iPad mini when I have - this year's model really is a significant redesign over its predecessor. Gone are the rounded edges, instead now there's a sharper, more precise feel that matches up with the recent iPhone and iPad air aesthetic. I've been sent the Starlight version to review, which is a kind of metallic champagne colour. It also comes in Pink, Purple and trusty old Space Grey.
Gone too is the ugly (and in my view, old-fashioned) home button on the bottom chin. In fact, there is no longer a bottom chin, only a relatively narrow bezel the same size on every side. As a result, Touch ID has been enabled within the power button on the same edge as the volume controls. When used in portrait, I suppose you could call this the top edge, as that's where the selfie-camera is - although you can hardly see it. Touch ID is fabulous - fast and uber-reliable. I find it a bit strange there's no face-unlock like there is on the iPhone, although at least Touch ID still works when you have a mask on.
As inconspicuous as that front-facing sensor is, it's a more-than-decent 12MP, ultra wide-angle camera with Centre Stage, Apple's new AI feature that keeps you in the middle of the shot when you're on Facetime, Webex, Zoom or other video calls. It works very well and is especially useful if you're using the iPad mini in landscape - as the camera is then situated to the side. No matter the lighting conditions, the picture quality stays sharp and focused.
The rear camera is nothing to sneeze at either, also 12MP and capable of shooting 4K video - so refreshing to be able to take usable pics on a device like this.
At 8.3-inches, the Liquid Retina display is again quite an improvement - significantly larger than the 7.9-inches of the last model - thanks to those narrower bezels and the lack of a home button. It's a dazzlingly bright and colourful screen - a surprisingly good size for watching video on your commute or perhaps in bed at night.
Of course, it's an ideal mobile gaming device as well - small enough to hold easily but with a bigger display and a 5 core graphics engine for a more immersive experience than you'll get using a phone.
Whether watching video or gaming, both are surprisingly well enhanced by the stereo speaker array. I was really quite taken aback when watching an episode of the space-race drama, "For All Mankind" yesterday. The show features a killer period soundtrack and obviously there's a lot of cool sound-effects going on when it comes to rockets blasting off etc. I just couldn't believe the illusion of three-dimensional sound coming out of such a small device. Quite magical.
The other obvious use for the iPad mini is reading. You know... books? Or in this case, Books, Apple's own eReading app. (There are plenty of third-party eReaders too, of course) I've been reading eBooks for many years - there's nothing more satisfying than finishing part of a trilogy and being able to start the next one straight away - especially on holiday, without having to actually pack any books. While you can use a larger, standard iPad to read with, I seriously doubt many people do - especially not in bed. Again, the mini is just the right size.
In fact, for me personally, it's hard to argue the iPad mini isn't significantly more useful than a full-sized model. I find I carry it with me all round the house, most of the time leaving my phone on the coffee table instead. Yep, not only am I using the mini more than a bigger iPad, I'm using it more than my phone.
Of course, choose the Wi-Fi + Cellular version and you can pretty much use it as a giant phone anyway, although that variant is a whopping $250 more expensive. This is the kind of price jump Apple doesn't publicise much - just like the $250 leap from 64GB to 256GB of storage. I reckon that's at least a hundred bucks too expensive, especially when there's no 128GB option in the middle.
On the bright side, at NZ$849, the Wi-Fi-only, 64GB version is still an absolute powerhouse. I'm not exaggerating when I say we've got ourselves an anything-you-can-do situation when compared to the current iPad Air. In fact, in some areas it will potentially out-perform its bigger brother. For example, the mini is running Apple's very latest A15 Bionic chip - that's the same chip you'll find in the brand new iPhone 13 and a generation ahead of the Air's A14.
The more powerful chip doesn't just mean faster, smoother and more reliable performance but smarter power consumption too - always a priority when choosing any tablet. I've found the way I've been using the iPad mini, I don't just get a whole day's use from a full charge, more like several days. Thanks to the USB-C connector, charge time is pretty speedy too.
There's even a magnetic connector for the 2nd-gen Apple Pencil, which charges wirelessly via the iPad itself. The Apple Pencil's Scribble function feels far less clumsy on the mini - this is where you can convert your handwriting to text - even when creating documents and filling out online forms. Because the mini is basically the same size as a notepad, taking actual notes this way seems a lot more intuitive than doing it on a larger display. What's more, because of the mini's superb processing power, using it as a mobile graphic art and design tool just makes sense.
Apple also offers the Smart Folio case, in a variety of colours. This connects magnetically, to protect both front and back and folds into a stand for tabletop viewing. Apple doesn't sell a specific keyboard-case for the iPad mini, although you can pair bluetooth accessories like the Magic Keyboard if you want.
Which brings me to my only real pain point, which is the same one I had right from the start; I really do not like on-screen keyboards. When I reviewed the iPad Air recently, I asked the question, "Can this device be used in place of a laptop?" Effectively, the answer was yes - but only because it was paired with the most incredible accessory I've ever encountered, the purpose-built Magic Keyboard case. With the iPad mini, a keyboard case like that wouldn't make practical sense, so you're left pairing an external keyboard - not very portable - or using the on-screen one, taking up half the display in the process.
For messaging, short emails and certainly web browsing, that's absolutely fine. But I'm sorry, there's no way I'm typing up a 1400 word tech review that way.
Wow... 1400 words? I never go that long. Ironic I'd have so much to say about something so small. Anyone would think I really like this thing.
Click here for more information and pricing on the Apple iPad mini.