Simple Solutions Are the Best Solutions
Author

Publish Date

Thu, 14 Apr 2022, 1:17pm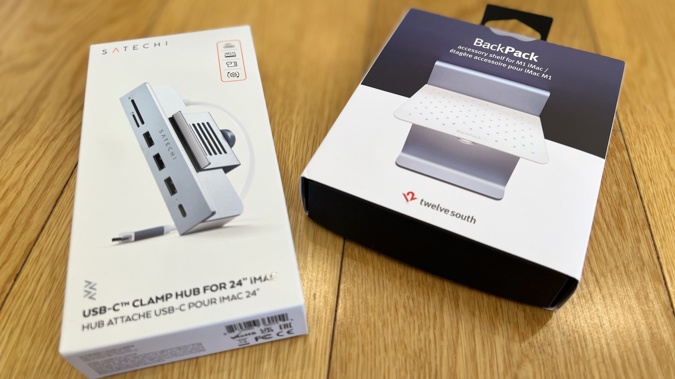 Simple Solutions Are the Best Solutions
Author

Publish Date

Thu, 14 Apr 2022, 1:17pm
Oh how my life has changed since I started using an iMac. Getting to grips with MacOS was a pretty steep learning curve but it was so worth it. I've discovered just how easy and efficient tasks like file management and video editing can be.
I now get why all those clever creatives I know always insisted a Mac was the way to go. It only took me about 40 years to come around.
However...
There are some parts of the Apple ethos I'll never really understand.
Why would you sell a desktop computer with only 250GB of internal storage?
And why aren't I allowed to plug anything into it? I've got just four USB-C ports and they're all pretty much inaccessible, tucked around the back of the screen.
Don't get me wrong - as piece of desktop eye-candy, there can't be too many computers out there with such clean, minimalist aesthetics taking up such a small amount of space. But I still want to use it the way I want to use it. You know what I mean?
Twelve South and Satechi both seem to know what I mean because they've each come up with a purpose-built accessory that, if anything, enhances both the usability and appearance of one of the coolest computers on the planet.
If you spend time editing audio, video or doing things with any kind of large files, you're inevitably going to wind up running out of storage space. No matter how comprehensive your cloud storage setup is, for most of us there's no avoiding the necessity of keeping a number of files on-hand locally. As it turns out, when my old desktop PC died and I moved onto the iMac, I was left with a number of large HDDs and SSDs I no longer had any real use for.
Of course, with the right cable these could be instantly repurposed as external storage drives. Nice. Big stack of hard drives sitting on your desktop taking up space? Ugly.
That's where the Twelve South BackPack for 24-inch iMac comes in.

It doesn't take a lot of explaining; you simply snap a two-piece holster into place on the oval opening on the back of the iMac stand (the hole you poke the power cable through). Then the stand just slides into place. Because it's been specifically engineered to fit, it's solid as a rock and is rated to hold up to 1.36 kilograms.
It includes a pack of high-quality wire twists to help you keep any cables tidy and out of the way and there's also a stretchy, adjustable Peripheral Strap in the box. This actually means you can stack items below the shelf as well as on it - not just hard drives either; maybe it's an opportunity to conceal your router or it could even be a place to add some kind of multi-port hub.
Speaking of which, Satechi makes a few of those including the USB-C Clamp Hub for 24-inch iMac. 

This is probably the most elegant way to bring the ports at the back of your Mac to the front, converting them into USB-A's and card readers in the process.
The Satechi Clamp-Hub is a tiny thing; the front panel not even 12cm wide and less than an inch high. And it's only that stylish, brushed aluminium front panel you see - the connecting USB-C cable and clamp are completely concealed behind the screen after installation.
Like the BackPack, the Clamp-Hub can be attached in moments and although the Satechi website points out it isn't compatible with pre-2021 (24-inch) iMacs, I wouldn't be surprised if it fits the new Apple Studio Display, which has a very similar profile and rear-port placement.
Once installed, you now have stylish, easy, front-facing access to SD and microSD slots, a USB-C data port and three USB-A 3.0 ports. Sadly, none of these USB ports support charging but they will transfer data at up to 5Gps, which is pretty damn speedy.
Having access to all those ports right there at the bottom of the screen is about the most convenient thing imaginable - although I did have to train myself to hold the screen with one hand while plugging in or unplugging peripherals with the other. This is because the USB-A ports in particular are a nice, snug fit and you can accidentally alter the viewing angle of your whole display without meaning to.
Both these devices fall into my favourite category of tech design; identify the problem and solve it with as little fuss as possible. At the end of the day, Twelve South's BackPack is just a shelf. But it's a perfectly engineered shelf that actually looks pretty groovy too - not that anyone ever sees the back of my Mac but some people have theirs on display.
Likewise, the Satechi Clamp-Hub is just a hub. But it's been crafted to take up as little eye-space as possible - not sure why it needs that tiny power LED - and it does its job supremely well.
Neither of these accessories may be strictly essential but one things for sure, they will definitely make your iMac experience better.
Click here for more information on the Twelve South BackPack for 24" iMac.
Click here for more information on the Satechi USB-C Clamp Hub for 24-inch iMac.