Simple Ideas, Expertly Executed
Author

Publish Date

Tue, 13 Apr 2021, 1:17PM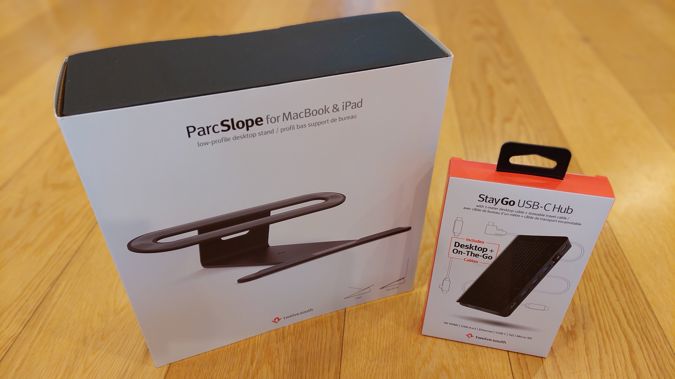 Simple Ideas, Expertly Executed
Author

Publish Date

Tue, 13 Apr 2021, 1:17PM
If there's one thing I appreciate, it's good design.
But what does that mean? Is it the way something looks? Or how it works? Which is more important? Maybe durability is also a factor?
I suppose it's a combination of all those things but at the end of the day, if there's a problem and somebody makes something that solves it, that's probably the kind of design I'm into most of all.
Twelve South seems to be a place where you'll find nothing but good design... even some solutions for problems I didn't know I had...

One problem I was definitely aware of was the port problem. It seems like the more devices I review, especially laptops and tablets, the less holes they come with for sticking things into. And that's before you get to the Apple range of products which have never been super into connecting to other things via plugs and cables.
Well, Twelve South has that issue sorted with the StayGo USB-C hub.
It doesn't matter if it's a MacBook, iPad Pro or any other laptop or tablet... even a phone for that matter... when it comes to inserting a thumb drive or SD card, connecting to a monitor or even the internet via an ethernet cable, most manufacturers are making this more difficult with every new generation of device.
Sure, there are plenty of external USB hubs around but in Twelve South's usual style, there are a few little tweaks here that make this one stand out above the pack. Mostly, it's about build quality - not only does the StayGo hub feel solid - it's hefty without being oversized - but every port is snug and secure. Everything you insert, be it a USB plug, SD card or ethernet cable, slides firmly into place, with a satisfying click where appropriate. Given the very nature of devices like these, designed to be portable and to be used in non-desk-based locations, a secure connection is paramount. Ironically, this isn't always the case with other hubs which can feel cheap and nasty by comparison.
There are three USB 3.0 ports, two UBC's, which can be used to provide up to 85W pass-through power to your device, separate SD and microSD slots, a gigabit ethernet socket and a 4K HDMI port. This is everything I could ask for and more. Yes, I know other hubs might offer VGA and displayport options but I certainly no longer need those as I've found any external displays I use these days all have HDMI anyway.
The one option I would like to see on a hub like this is separate audio in and outs, something you never find on any laptop anymore. As someone who edits audio every day, the composite headphone mini-jack that is standard issue these days just doesn't cut it and I generally have to use an external soundcard instead. At least, with the StayGo I've got plenty of USB ports to plug that soundcard into.
Not only does the StayGo hub come with a generous metre-long USB-C to USB-C cable, so you can tuck all your accessories and peripherals well out of sight but there's a shorter cable slotted into the device itself for compact and convenient travel purposes. Both cables are high quality, thick and sturdy and the longer one has a right-angled plug on one end, another piece of detailed design to help you keep things tidied away. The four rubber feet on the base keep the StayGo staying, (not going) on your desk and in short, I can't think of too many ways this accessory could work any better.
At roughly $130RRP, it's definitely a cut above the host of entry-level products out there but it's worth every penny to give you MacBook, iPad Pro or laptop the full functionality it deserves.
Then Twelve South offers an even more simple enhancement for those same devices; the ParcSlope.

If you're not sure why you need a stand for your laptop or tablet, just try it.
The case for iPad and tablet use is pretty obvious - it's so much easier to operate or draw on a touch screen that's angled towards you rather than lying flat on the table, pointed up at the ceiling. That's just logic.
When it comes to elevating your MacBook, there are even more reasons. For starters, it's generally accepted an angled keyboard is more ergonomically beneficial than a flat one, meaning your wrists won't tire so quickly. A device lifted up from the surface of a desk or table is better ventilated so runs much cooler but the most significant benefit for me personally is being able to raise the height of the display.
While the ParcSlope was designed with Apple products in mind, it works just as well for the laptop I use at work... in a radio studio... amongst a bunch of other PC's and monitors everywhere. The monitors are all on stands, closer to my eye level but before I started using the ParcSlope, I had to look down every time I needed to use my laptop. Not anymore. It sounds like a small thing but on a live radio show, split-second timing makes a big difference, so being able to flick my view more easily between screens is actually a bit of a lifesaver.
Again, as I've now come to expect from Twelve South, the build quality and attention to detail is spot-on with the ParcSlope. Constructed from sturdy aluminium, it's light yet rock-soild, maintaining its optimum 18-degree angle at all times. The rubber rests keep your device firmly in place - even for a manic typer like myself - and the rubber feet guarantee the stand won't slide a millimetre. In fact, this strength is also the ParcSlope's only weakness; once you've put your laptop or tablet in place, it's actually quite hard to adjust the position of the stand on your desk without lifting everything right up together - sliding simply isn't an option.
There's a square gap at the back of the stand Twelve South has labelled "cable management." That's a bit of a stretch but yes, if you feed the wires from any connected accessories through there, it probably will help keep things a bit tidy.
Like I say, this is minimalist design but that doesn't mean it isn't useful - especially if you're doing a lot of stylus work on your tablet, long periods of sustained typing, you have a multi-monitor work environment like I do, or you simply want a better camera angle for your next Zoom call.
Just two more brilliantly simple devices from Twelve South I now can't live without.
Click here for more information on the Twelve South StayGo USB-C hub.
Click here for more information on the Twelve South ParcSlope.