SIMPLE IDEAS EXECUTED BRILLIANTLY
Author

Publish Date

Thu, 16 Jul 2020, 9:53AM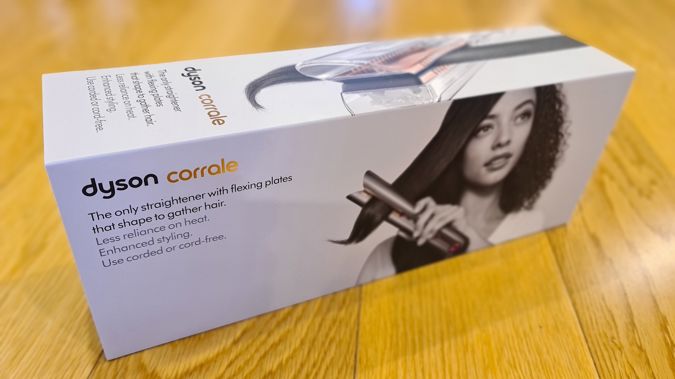 SIMPLE IDEAS EXECUTED BRILLIANTLY
Author

Publish Date

Thu, 16 Jul 2020, 9:53AM
Nobody knows less about hair than me.
I haven't had any for decades and even when I did have it, it was a thick, greasy, out-of-control mop that tumbled past my shoulders in much the same way one of those landslides takes out a whole road after a particularly violent storm.
What I do know a bit about is gadgets and technical design.
And luckily, I know some people with hair...
First off, just look at it. Even if you're like me and you don't fully understand what the Dyson Corrale is or what it's supposed to do, you can't say it isn't pretty. See that dock? Sir James Dyson actually designed it himself. Not satisfied with the prototypes and ideas his engineers had come up with, he sketched one out on a piece of paper and told them to go and make it. This is the kind of practical, purpose-driven thinking that has earned Dyson products their unrivalled reputation for innovation and usability.
Nobody had ever seen decent dock for hair-straighteners before because decent cordless ones hadn't been invented yet. That's never stopped Sir James. The simple two-piece charging dock is easy to assemble (and disassemble), requires zero fiddling about to put the Corrale in place and it shows the device off as the work of art it is. That's great design.
And cordless hair straighteners is a great idea. Even I can figure that out. Given most of us aren't ambidextrous, I'm guessing it's usually a lot easier to style one side than the other without the cord getting in the way. I've also been reliably informed by my willing test subject there's great advantage in being able to move from one room to another mid-straightening - the light is just better in there apparently. While the Corrale automatically charges every time you sit it back in its dock, if you somehow did manage to run it flat, the power cord simply unmagnetises from the base and magnets onto the straighteners themselves, powering and charging simultaneously. More simple genius.
Another bonus is the option to use the Corrale somewhere where there's no power at all - like camping? Festivals? The car? (I'm not advising you to straighten while you drive, obviously. I'm just suggesting it would be possible) If you're flying, rather than driving, you don't need to worry about having a battery-powered device in your luggage, there's an easily removed tab that renders the battery inactive and the Corrale flight-ready. Although Dyson only promises around thirty minutes use on a single charge, I've seen reports of people actually getting even longer - potentially that's enough charge for a whole weekend away.
Especially given the Corrale styles faster. It heats up to each of its three temperature settings in seconds rather than minutes but the real time-saving takes a bit of explaining. Dyson has been researching the concept of floating, flexible heating plates for quite some time and the result is a manganese copper alloy, thin enough to bend snugly around each tress of hair. This ensures an even application of heat over the entire tress, rather than the thickest part getting too hot while the edges get hardly any heat at all. This more uneven application of heat from the flat plates on conventional straighteners means you need multiple passes on each tress to get the edges as straight as the middle. Meanwhile, you've potentially overheated the middle in the process, damaging it and leeching out the colour. Even then you might still end up with pesky fly-aways.
(Listen to me pretending I know what fly-aways are. I know my daughter really hates them though)
Because the flexing plates of the Corrale apply heat much more evenly, not only will you probably only need a single pass for each tress but you won't need as much heat, so you can opt for a lower temperature setting and vastly reduce the risk of damage. This also means much shinier hair too. Yay for that, right? Right?
(Work with me, I've seen this thing in action, even though I haven't actually used it.)
This is great news but it's not all good. The first thing Domestic Manager commented on when she picked up the Corrale was its weight. Because there's a hefty four-cell lithium-ion battery built in, these are significantly heavier than conventional, corded straighteners. But when I asked professional hair designer, Michael Beel about this, he assured me the extra weight is very evenly balanced and actually helps with the dropping motion required when straightening hair.
Of course, and this was major news to me, straighteners aren't just for straightening. You can curl with them too. Well, that's the theory but until the Corrale came along, Domestic Manager claims she'd never been able to do it before. She now tells me achieving curls and waves with the Dyson is quick and easy. I've seen the results - she looks fantastic.
In fact, at a party the other night, someone made the mistake of complimenting her new hairstyle at which point they were subjected to a long lecture about the many benefits of "her new Dyson" - as was anyone else within earshot for the rest of the evening. Funny how a few days later I haven't heard much complaining about how heavy it is!
Unfortunately, we'll have to give it back at some stage, if I can prise it from Domestic Manager's grasp. This is a problem because, like most Dyson products, the Corrale carries a premium price tag; $749. That's about twice as much as a really good set of conventional straighteners - so can you justify the expense?
I actually think you can. How much does it cost to colour your hair? What if you didn't have to do it as often because you were damaging it less? But more importantly, what's your time worth? Especially getting-ready-in-the-morning time, perhaps the most stressful time of the day? If you're saving five, ten or even fifteen minutes every time you do your hair, it's going to add up pretty quickly. 
From what I've seen and been told, the Corrale does everything it promises, which is so much more than any other set of straighteners. If only I had hair so I could try it myself.