SERIOUSLY. WHAT MORE DO YOU NEED?
Author

Publish Date

Thu, 4 Feb 2021, 5:31PM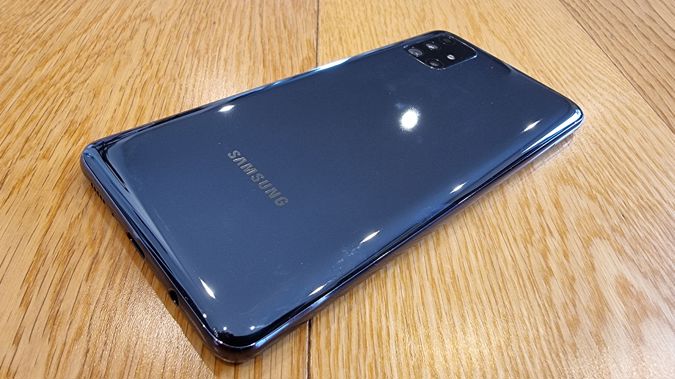 SERIOUSLY. WHAT MORE DO YOU NEED?
Author

Publish Date

Thu, 4 Feb 2021, 5:31PM
Well I'm confused.
There's a fantastic thousand dollar phone on the market.
But they're charging a lot less...
There's no doubt Samsung has hit the ground running in 2021, with its early rollout of the Galaxy S21 range and a new set of earbuds, the Galaxy Buds Pro to go with it. But the high-end S-series isn't your only option. I've been using the Galaxy M51 for a couple of weeks now and I'm more than happy with it... and that's going straight from reviewing the top-of-the-line Galaxy S21 Ultra 5G.
Currently on sale for less than $600, I'm thinking the M51 might easily be the best value-for-money handset on the market today - by a lot. The main reasons; screen, performance and battery.
Let's start with the screen; a 6.7-inch Super AMOLED Plus FHD+ Infinity-O display with tiny bezels and a small central cutout for the forward-facing camera. For all those people out there squinting at their phones as middle-age long-sightedness sets in, this is a fantastically large, bright, clear screen; you can customise the colour settings to your preference and because it's basically edge-to-edge, there's plenty of space for whatever app you're using, video you're watching or feed you're scrolling through.
The brains of the operation is an impressively snappy Qualcomm Snapdragon 730 CPU teamed with a very respectable 8GB of RAM and a healthy 128GB of internal storage. There's even an expandable microSD slot in the dual-sim tray, which is becoming a bit of a rarity these days. In short, no compromise here in terms of what this phone can handle on a day-to-day basis. I can stream, download and connect to bluetooth accessories simultaneously without even the merest blip. For example, I can cast HD video files to my TV from the M51, mirroring the screen via Samsung Smart View with no issue whatsoever - this is a resource-heavy task many other handsets have struggled with in the past.
In terms of software, we're running just a little behind, with Samsung One UI version 2.5 based on Android 10 - not the latest editions of either platform but I'd expect an update to move the M51 up to Android 11 in due course; Samsung's usually pretty good like that. Regardless, the user experience is modern, smooth, fast and not much different to that of the latest and greatest S-series devices.
Obviously the camera configuration is the main area compromises have been made to get the price down - but only sort of. It's still a four-lens module on the back and to be perfectly honest, I much prefer the way it fits flush with the rear glasstic casing than those more bulky, intrusive modules on the flagships.
There's a 64MP main shooter, a 12MP ultra wide, a dedicated macro lens and something called a "Depth Camera." The result? Actually, very good pics. The best thing about the camera is you get fast auto focus no matter how near or far you are to your subject. No, there's no telephoto lens here but if I have to give that up in favour of quick shooting, it's a price I'm happy to pay. The 32MP selfie cam is feature-packed, with a library of pre-set filters ready to go or you can customise your own. And like most recent Samsung handsets, you have the option of a wider-angle selfie for group shots. The beauty settings get pretty crazy, offering adjustments for smoothness, skintone and yes, even eye size and jawline. I still look horrendous of course, but at least I look horrendous in a different way.
While you might not get fancy-schmancy video features like the all-new, multi-lens Directors View on the S21's, there are still some cool tricks up its sleeve. Like Super Steady mode to keep your action sequences nice and smooth and A.R. face doodles. After all, who doesn't want to draw all over their own face?
Perhaps the M51's strongest feature of all is it's whopping 7000mAh battery. Who knew they even made them that big? Yes it means the phone is a little thicker and slightly heavier than you might expect but if that means days of battery life instead of hours, I can totally live with that. I've been up since before 3AM. It's now 5PM. The M51 is showing 71%. Remember; that's including me casting a one hour episode of the Expanse to my TV in there too. This puppy is a battery beast, make no mistake about it. If you suffer from regular charge anxiety, buy this phone.
Sadly, no wireless charging - although, who cares when it never goes flat? No IP water/dust rating either, which is not unusual in this price range. Nor is there an in-display fingerprint reader so you'll find that under the power button on the right-hand side. Again, this makes no difference to me - in fact, in many ways I find it more convenient there plus it works fast and reliably. As does the face unlock - in so many ways it's hard to tell the difference between this phone and the ones that cost more than THREE TIMES AS MUCH.
Unless you're addicted to wireless charging and you need the very latest and greatest photography options, I'm struggling to think of a reason to not choose this phone. It really does do pretty much all the things... and some of those things, like battery life, it does better.
At least give the M51 a go - this isn't just advice to those of you considering thousand-dollar phones - after all, there's a big saving to be made here - but I'm also appealing to you entry-level, two to three-hundred dollar people; let me assure you, if you can double your budget you'll get at least four times the phone here.
Click here for more information and pricing on the Samsung Galaxy M51.