SAMSUNG IS FIRST AGAIN
Author

Publish Date

Thu, 11 Feb 2021, 12:46PM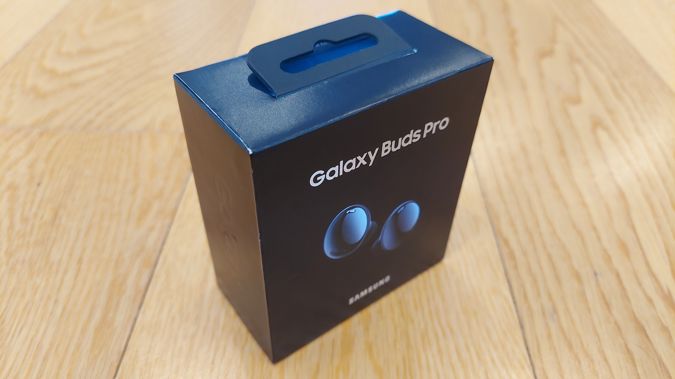 SAMSUNG IS FIRST AGAIN
Author

Publish Date

Thu, 11 Feb 2021, 12:46PM
So far it looks like Samsung's early product launch strategy has paid off big time.
By all reports, pre-orders and sales of this year's Galaxy S21 range of handsets are outperforming those of both the S10 and S20 lines.
Given they're the only new flagship phones around, they're certainly getting all the press.
But phones aren't the only devices on offer...
Along with the S21 range, we got some new true-wireless earbuds too; the Galaxy Buds Pro.
Before we dive into the important features of these new buds, just a quick comment on Samsung's naming policy... The original Galaxy Buds? Simple, makes sense. Then came the Galaxy Buds+ - I can go along with the "Plus" up to a point - they were the same but different, better, so... plus. Then things get screwy - the Galaxy Buds Live??? As I pointed out at the time, they're beans, not buds at all. Why weren't they just called that? What's more, if Samsung is committed to bringing out new a generation of buds every year, surely we're going to have to go with numbers eventually.
Anyway, now we've ended up with the Pros.
This is a different form factor again; more like the first two models than the beanie versions from last year. More like but not exactly like. While the Buds Pro are definitely a return to the original sealed, in-ear design and a departure from the open-ear Buds Live, they're quite a different shape; more contoured and streamlined than the Buds and Buds+ although a similar size. Available in Phantom Black, Phantom Violet or Phantom Silver, they come with three ear-tip sizes to ensure a secure, comfortable fit. I've found all the Samsung Buds to be a great fit and although the Pros don't come with swappable fins this time, their new shape takes that into account and they're still super snug, even when exercising.
Yes - they're IPX7 water resistant so they'll endure sweaty workouts with no harm done.
The big benefit of a tight fit is passive noise cancellation, something we missed out on with last year's open-ear Buds Live. They did offer active noise cancelling though and now the Pros capitalise on both, taking it a step further again with two levels of noise cancelling, depending on your preference. Set to high, the ANC does a fine job of blocking out most things, especially mechanical hums, transport noise and other annoying sounds like construction and your kids. Actually, voices still cut through to a degree, which isn't the worst thing if someone more important (like your spouse) is trying to attract your attention. Just as an example, I was using my waste disposal just now while listening to Spotify and I could hardly hear the orange peel gurgling away at all. Of course, you can set the Buds Pro to Ambient Mode for when you want to hear the outside world and now there's another feature called Voice Detection, which automatically turns your music down and activates Ambient Mode when you start talking, so you can have a conversation without having to remove your buds.
There's certainly a lot of tech packed into these tiny things - microphones of different kinds inside and out. Not only does this help make the active noise cancelling so effective, voice calls and video chats also sound super clear to whomever you're speaking with. In my testing the difference in the amount of room / background noise between, say, my laptop's built-in mic and using the Buds Pro is remarkable. This makes them a great option to use as your default mic when videoing with your phone too.
There's also a mesh covering over the exterior mic cavity to reduce wind noise as well.
It's not just about microphones, of course. The Buds Pro pack a 6.5mm tweeter and a grunty 11mm woofer in each ear. This means powerful, clear performance with plenty of low-end kick.
"Private Show" by Pink sounded punchy, bassy - but not too much - and lots of space for the interplay between lead and backing vocals. Jamie Cullum's "In the Wee Small Hours" is a much more personal, acoustic jazz number - yet the Buds Pro bring you right into the same room with Cullum - to the point you can easily hear the breath flowing through the saxophone as well as the notes. Some of the more full-on, sonically-crowded rock tunes seemed slightly flat and less lively to my ear but overall there's a warmth and intimacy to the sound I really appreciate. I'm a massive podcast consumer so anything that puts me in the studio with the hosts is a winner for me.
I've also been most impressed with the lack of lag, given these are only bluetooth earbuds after all. Watching movies on my smart TV is completely immersive, with dialogue totally in sync. Paired with my laptop, I was able to edit audio effortlessly - most other bluetooth buds and headphones frustrate with half-second delays when playing and pausing making editing impossible.
The case looks identical in shape and size to 2020's Buds Live - on the outside, although this year it's a matte finish so it won't get so fingerprinty. Open it up and you'll see the Buds Pro don't actually use all the space. I assume the rest is filled by battery, as these buds definitely last a long time on a single charge; up to 5 hours with ANC turned on and another 13 hours in the case - more than you can possibly use in a day. Like previous Samsung buds, you can charge the case wirelessly and now they charge quickly too; a five minute boost will provide another hour's listening.
As usual, settings like the Equaliser, control customisation and firmware updates are accessed through the Galaxy Wearable app. Here you can adjust ANC levels, set which apps you want to hear notifications from - even block touches if you're finding the touch controls a bit sensitive. I really like the touch controls though, yes they are very responsive but that means you're not pushing the buds into your ears, just the lightest touch will do the trick.
The Buds Pro are probably the most feature-packed earbuds I've used to date - certainly in the Samsung line. They look great - compact and subtle, the mic performance is right up there and the sound quality is definitely deserving of their premium price tag. Battery life is first rate too, with convenient fast charging and wireless charging capabilities. In fact, it's hard to see how Samsung will top this effort... or indeed what the next Buds will be called if they do.
Click here more more information and pricing on the Samsung Galaxy Buds Pro.