Samsung Galaxy Watch6 Classic - The Bezel's Back, Baby!
Author

Publish Date

Tue, 29 Aug 2023, 12:53PM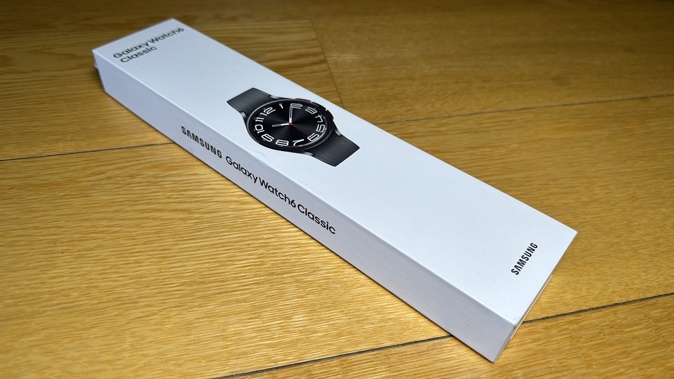 Samsung Galaxy Watch6 Classic - The Bezel's Back, Baby!
Author

Publish Date

Tue, 29 Aug 2023, 12:53PM
At the risk of sounding like a complete nerd, I've been wearing Samsung smartwatches for years.
As I often tell people - and this really exacerbates the nerd thing - when it came to the introduction and mass-marketing of smartwatches, Samsung definitely led the way.
Now, in very much the same way as phones have, the development of the smartwatch has plateaued somewhat. Recently, the new model hasn't necessarily been all that different from the previous year's offering - and this isn't peculiar to Samsung, I'm talking across the board.
However, as I always say; Just because things haven't changed much, doesn't mean it's not still one of the best pieces of tech available.
And that's never been more true for Samsung's 2023 smartwatch range.

I've been sent the Galaxy Watch6 Classic in black (it also comes in silver) and interestingly, the 43mm model instead of the 47mm one. Now whether the person who sent it to me thinks I've got particularly delicate wrists, I'm not sure - but luckily the Hybrid Eco-Leather band just fits and I've been able to test the Watch6 Classic over the last week or so.
There's actually a surprising amount of stuff to unpack in that previous paragraph - starting with the size of the watch itself. Although most years Samsung releases its watches in two sizes, I've always thought the smaller size really was too little for me. This isn't me going off on some misguided attempt to assert my manliness by trying to convince you I have uber-masculine arms of steel. It's just an aesthetic thing; a bigger watch face seems to look better on me.
However, this year Samsung has managed to enlarge the display, so proportionally you get more screen real estate which creates an illusion of a larger watch.
Secondly, there's the return of the "Classic" moniker - this was missing last year and it simply indicates the physical rotating bezel is back. Most Samsung smartwatch fans (like me) were utterly mystified by the decision to get rid of this feature in 2022. For several generations this rotating controller was the very thing that set Samsung watches apart from the pack. Users weren't limited to screen swipes and button pushes to navigate their way around - widget tiles could be selected, lists and messages scrolled through, timers and alarms set - all using the intuitive rotating bezel.
The rotating gesture became a virtual, on-screen version on the non-bezel models but a fat lot of good that'll do you in the shower or the pool. So yes, I'm stoked to see the bezel has made a comeback and what's more, it's slimmer than ever, making the Watch6 Classic seem just that much more elegant.
Which brings us to another upgrade, the Hybrid Eco-Leather band. I really have no idea what Hybrid Eco-Leather is but it looks like leather, which is good. More importantly, you can get it wet, which is even better. If you've ever made the mistake of swimming or exercising wearing a watch with a leather strap, you'll know things get pretty gross, pretty quick. Not the case here.
But the big band news here is Samsung has come up with a whole new one-touch quick release mechanism. To be honest, I never found that little spring-loaded lever thing on the previous bands all that taxing to slide across when swapping out various straps but I have to admit, the new system is a complete doddle. Oh - and don't worry if you've built up a collection of bands for your previous Galaxy Watch - they'll still fit too.
The other major modification in 2023 is under the hood. The CPU has been upgraded which is just as well. Not only are you likely to be pushing the Watch6 Classic to perform more complicated tasks than ever before but a more efficient chip means battery savings - something to bear in mind given the larger display.
And yes, I've found operating the Watch6 Classic to be a very smooth experience and while I haven't been blown away by the battery life, it lasts a day easily - even using Always On Display - and charges nice and quickly.
In terms of tracking and sensors, I don't think I've encountered another device that can monitor quite as many metrics as this watch does. Exactly how accurate things like heart rate and distance travelled are will always vary from device to device but I always think what's more important is consistent results; as long as my regular route records the same way every time I run it, it's not super important if the distance is being measured to the exact metre.
Recent updates to both Samsung's sensor technology and the Wear OS software experience mean you can track more vitals than ever - now checking for irregular heart rhythms is easy and you can even calibrate the watch with a blood-pressure cuff to keep an eye on your BP too.
Samsung has also done something to improve the NFC performance on the Watch6 Classic - I never have any issues with contactless payments via Google Wallet whereas it was always a bit hit and miss on previous models and often ended up being more of a time-waster than a time-saver.
Wear OS seems to be slowly coming of age as a wearable operating system; initially app availability was more limited than I had expected but now there's not much I can't do with the Watch6 Classic - even my favourite podcasting app, Pocket Casts, now has a Wear OS version - although oddly it's subscription-only - unlike the phone app itself.
There are other fun tools too - Camera Controller not only gives you remote access to your phone's camera but even shows a preview of your pic on the watch face. And sleep tracking - which has always been a strong point for Galaxy Watches - has become even more in-depth. Using the Watch6 Classic I can monitor my blood oxygen levels, skin temperature and in tandem with my Galaxy phone, even my snoring. Turns out, I snored for 1 hour and 54 minutes last night. How lucky is my wife, eh?
I can't deny that if you take a quick look at the Watch6 Classic, you might be hard-pushed to differentiate it from the previous Samsung smartwatches of the last couple of years. But look closer and you'll discover, as I've outlined here, there have been quite a few little tweaks and upgrades, the sum of which result in a great-looking, durable watch that's about as versatile as it possibly can be.
Click here for more information and pricing on the Samsung Galaxy Watch6 Classic.
Take your Radio, Podcasts and Music with you