Rack 'Em, Stack 'Em and Zap 'Em
Author

Publish Date

Thu, 21 Apr 2022, 6:50pm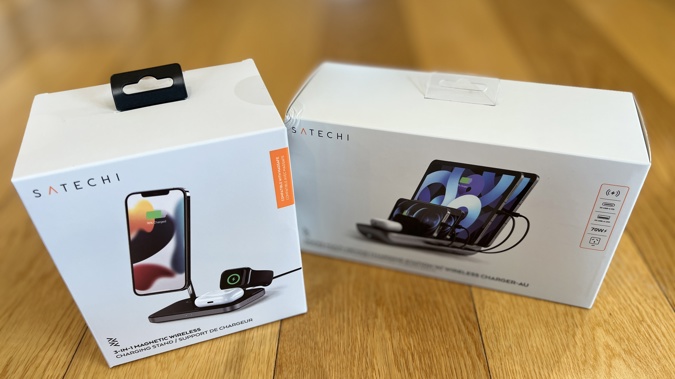 Rack 'Em, Stack 'Em and Zap 'Em
Author

Publish Date

Thu, 21 Apr 2022, 6:50pm
My daughter was just standing at my desk marvelling at all my tech toys.
It's a small desk but there are a lot of toys. What can I say? You have to have a passion, right? Apart from the computer, the tablet I use as a second screen and all the other accessories that go along with it, the poor desk is usually strewn with a bunch of phones, a collection of watches, a pile of earbuds and any number of other gadgets I'm in the process of playing with so I can write about them.
It's pretty cool.
But it's also a complete mess.
Everything's just piled up on everything else and usually the one thing I need to use is the one thing I've forgotten to charge.
I'm in need of a serious gadget makeover.

Satechi to the rescue. Cards on the table, I've already used several Satechi accessories before and they've definitely helped me clean up my act. One of those was the Trio Wireless Charging Pad - an elegant, low-profile device to charge phone, watch and buds simultaneously. Now Satechi has taken this concept a step further with the 3-in-1 Magnetic Wireless Charging Stand.
This is a fairly niche device in that it's been specifically designed for Apple users - actually, even more specifically, iPhone 12 or 13 users because it utilises MagSafe technology to hold the phone in place while charging wirelessly. The visual effect is almost as if the phone is being suspended in mid-air - all the while at a fairly useful angle to keep an eye on notifications, either on your desktop or bedside table.
The charging module for your Apple Watch is also angled for easy viewing and as a bonus, the watch module is removable. This makes the whole setup a great deal more versatile. Firstly, you can now plug that module in somewhere else if you want to charge your watch on the go.
Secondly, there's a charging pad for your AirPods positioned in front of the watch module. That's great - and it's even greater if you have something else to charge - maybe a second phone or a Kindle. Devices like those wouldn't fit with the watch module in place but they do once you've unplugged it.
None of your devices are going to be juicing up at record speeds; just 7.5W for your phone, 2.5W for your watch and 5W for the AirPod pad. Also, you'll need to plug into a 20W USB-C power adapter which sadly, is not included in the box. However, I've found all my devices easily get back to 100% by morning and that's all that matters in the end.
For some reason Satechi has elected to include a couple of tiny status LED's on the front edge of the base. All though these a very small, they're still annoying in the middle of the night. Nothing a wee strip of insulation tape can't conceal - although that does mar the overall look of what is otherwise a very compact and classy-looking charging stand indeed.
Meanwhile, Satechi's Dock5 Multi-Device Charging Station is a different beast altogether.

There's that word again; "Beast." In this case though, I'm not sure how else to describe this "dish-rack-for-devices" that's literally capable of storing and charging five at a time. From earbuds to tablets, the Dock5 can handle pretty much all of them.
The ventilated base of the device is a modern, steely grey colour and resembles the hull of a boat. The upper section is all black silicone - soft and rubbery so there's no risk of damaging any of your devices. The dividers are wide enough to accommodate any phone or tablet and my Kindle fits in there with no issues too.
There's also a generous Qi wireless charging pad at the front, with a charging status LED on the base below it. (Again, unnecessary. What's with these lights? The device you're charging can tell you when its charged)
The whole shebang is powered by a good old two-pin mains lead and this may be one of the most useful accessories I've ever come across.
While at first glance it appears clumsy and bulky, now I'm using it I've found the Dock5 to be the ultimate space-saver for my desktop - literally anything I use regularly that also needs charging now sits tidily out of the way until I need it. Apart from the 10W wireless pad there are two USB-A ports that will charge up to 12W each and two USB-C PD ports capable of up to 20W each. That 20W threshold is so helpful - especially if you own a lot of Apple devices.
When you're using all the charging ports, you do have to take a bit of care not to get the four cables tangled. They're not included (which makes sense - you might need a combination of USB-C, lightning or even microUSB) but I'd suggest you go with shorter leads to keep mangled messes to a minimum.
As I continue to gather up more and more devices that need regular charging, I seem to have less and less convenient places to charge them. The Dock5 takes care of that in one fell swoop.
I get I've probably accumulated more gadgets over the years than average but you too might be responsible for keeping your whole household fully charged and looking reasonably tidy. If so, these two stylish solutions from Satechi might be just the ticket.
Click here for more information on the Satechi Dock5 Multi-Device Charging Station.
Click here for more information on the Satechi 3-in-1 Magnetic Wireless Charging Stand.