Quality Sound Without the Cable
Author

Publish Date

Sat, 21 May 2022, 1:35pm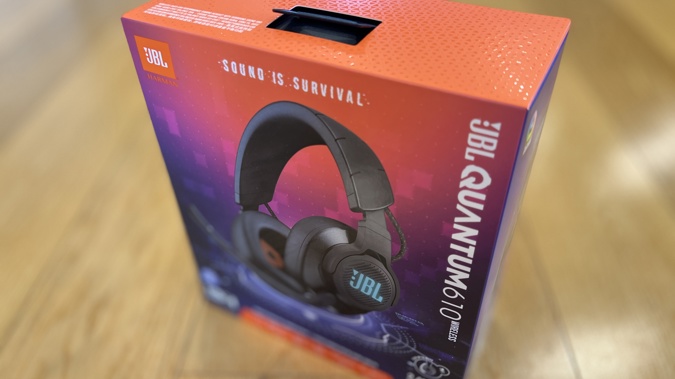 Quality Sound Without the Cable
Author

Publish Date

Sat, 21 May 2022, 1:35pm
As usual, the hardest thing about choosing a JBL headset is choosing which JBL headset. By my count there are at least nine different options available on the JBL website right now - and that's just the selection of gaming headsets.
This means there is definitely an option to suit your requirements, without question.
Gamers - serious gamers - often worry about going wireless. The primary concerns are are lag and battery life.
It'd be nice to cut that cord though.
So the question is, how much are you prepared to pay to quell your cable-fee anxiety while still achieving a premium soundscape?

If you're looking for a massive change-up from last year's JBL Quantum 600 gaming headset, the Quantum 610 Wireless isn't it. In fact, to look at, most people would struggle to see any difference at all. In fact, in many ways the headsets are indeed identical. This means if you already use the 600, there probably isn't much reason to upgrade... well, there might be one reason but we'll get to that later.
Meanwhile, if you're only just considering a wireless headset for the first time, this is a pretty good place to start.
One thing that has changed this year is the way JBL packages its products. Plastic is out and cardboard is in. Now when you open the box you'll find the headset snuggled into a soft, (and presumably environmentally friendly) material bag - not really for carrying the headset around, just a cool way to keep it safe while in transit.
The headset itself is an all-black affair, other than the very-JBL diagonal orange stripes on the wires to each earcup. (There's a programmable RGB element here too - but we'll get to that later as well) Everything is thick, chunky and solid with lots of cushioning - this is not meant to be a multi-purpose headset that doubles as a foldaway commuter device or a lightweight workout wearable for the treadmill at the gym. This is for gaming and that means comfort and durability are key, something the Quantum 610 Wireless absolutely nails in every area. 
At first it felt a little too snug on my massive head but in fact I think this is just a result of how well balanced this device is, distributing its weight very evenly between my head and my ears. The result is the feeling of not much weight at all, quite a trick given how thick and plush the leather-like ear-cushions and headband are. The headband is also quite a bit wider than many other headsets I've worn over the years. This adds to the impression of durability and helps with the weight distribution even more.
I really do have an unusually large skull, yet the extendible arms click out plenty long enough to accommodate it comfortably. I've worn the Quantum 610 Wireless for many hours at a time now and I've experienced no pain or discomfort, even though I wear glasses. The ear-cushions seem to breathe well too - I haven't really felt my enclosed ears heating up even after a long session hunting down dinosaurs in Jurassic World Evolution 2.
In terms of setting up the Quantum 610 Wireless, you don't actually have to. By that, I'm not talking about the fact you can just use the 3.5mm AUX cable that's included in the box - although that's definitely an option. No, I mean you can just plug in the 2.4GHz wireless dongle, switch on the headset (via the only control on the right-hand earcup, an on/off slider) and you should be good to go. There's a "Connect" button on the dongle itself but I didn't need it - the headset was already paired out of the box.
There's a lot you can do with the headset in its default state, thanks to the controls on the left-hand earcup. There's a mic mute button, a volume dial and a game-chat dial, allowing you to mix the level of chat with the level of music and SFX from the game you're playing. However, there's plenty more to the Quantum 610 Wireless than that. Download the JBL QuantumENGINE app and suddenly you have access to dozens of customisations, from EQ and Surround Sound settings to firmware upgrades to RGB controls for the large JBL logos on each earcup.
These lights can be set to any of several preset patterns or you can quickly create your own - flashing on and off, swapping from colour to colour or, as is my preference, leaving them glowing solid red, the best colour of all.
For firmware updates you'll need to connect the headset to your PC via the supplied USB-A to USB-C cable - this is also your charging cable and yes, you can keep using the headset while you charge.
I'm not sure if you'll need to though as JBL claims up to forty hours use on a full charge. This is the big upgrade over the previous model I hinted at earlier. Last year's headset promised just fourteen hours - still plenty for an all night session but if you were frustrated by that, then maybe you should consider the new 610 after all.
Unfortunately, the QuantumENGINE app is only available for PC and as a result the surround sound effects offered by DTS headphone:X and JBL's own QuantumSURROUND won't work on MacOS devices either. However, that doesn't mean you can't use the Quantum 610 Wireless with a Mac - I'm listening to the new Florence + the Machine album on my iMac as I write this. And the good news is any lighting scheme you program for those flashing JBL logos will stick, even when you change devices.
In saying that, PC gaming is where you'll really benefit from the Quantum 610 Wireless' multi-channel soundstage. I've been playing a first-person mystery game called Firewatch, which involves a lot of hiking around a national park using a compass and a map. The directional sound-effects have been a massive help when completing certain tasks, like finding the idiot kids letting off fireworks when they're not supposed to. The benefits of this kind of surround sound have been well documented for shooting and fighting games, especially when trying to co-ordinate team mates versus enemy combatants. But I've also really appreciated how listening can help you find your way in the dark in a game like The Gunk - where there are lot of different paths, caves and obstacles to negotiate in varying light conditions. Sometimes, just stopping and listening is the best way to find out which direction to choose next.
Best of all, thanks to the 2.4Ghz wireless connection, there's no lag whatsoever. Unlike bluetooth headsets (even those boasting the very latest codecs) sound happens in real time. Dialogue looks synced and natural and critical sound effects like gun shots and approaching vehicles come across in real time. I've also found no loss in audio quality either. What's more, the mic quality is impressively clear - no-one will misunderstand your orders in that next firefight.
So the wireless connection is rock solid. The battery life is good for days. The headset is comfy enough to wear for hours at a time. The Quantum 610 Wireless may not be a huge upgrade on the previous model but that doesn't mean it isn't a great gaming headset, definitely worth a look (and a listen) if you're planning to cut the cord.
Click here for more information and pricing on the JBL Quantum 610 Wireless.