PULLING THE WOOL OVER YOUR EARS
Author

Publish Date

Sun, 8 Nov 2020, 3:44PM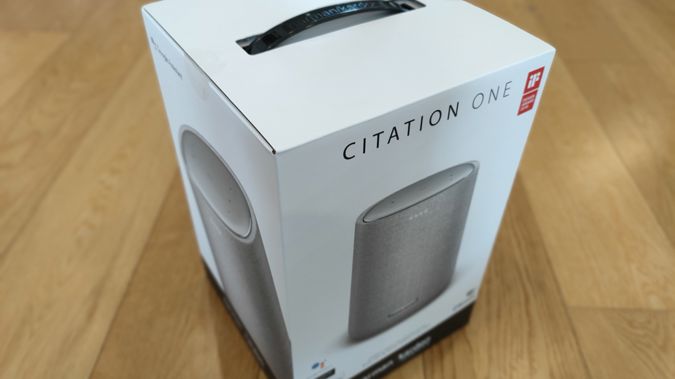 PULLING THE WOOL OVER YOUR EARS
Author

Publish Date

Sun, 8 Nov 2020, 3:44PM
I've never met a Harman Kardon speaker I didn't get along with.
Not only do they always sound incredible but often the design aesthetic is eye-catching and innovative too.
These guys know what they're doing. So you need to understand, any criticisms I hand out in this review - and there won't be many - are based on a comparison of very high-end products, including other devices I've tried made by Harman Kardon itself...
For a relatively small speaker, the Harman Kardon Citation One MKII has a very long name. I can't compare it to the original model as I've never tried any of the Citation range before. However, standalone smart speakers like these are now more common than ever and I've definitely had a good listen to (and indeed owned) a fair few over the last couple of years.
The Citation One MKII certainly stands out appearance-wise, anyway. At 188mm tall and 140mm in diameter, it's not the smallest speaker around but it doesn't take up an excessive amount of shelf space either. The shiny metal accents are unusual - as is the blended wool covering from Danish textile manufacturer, Kvadrat. Not only is this fabric dirt and flame retardant, it gives off a more natural vibe than the plastic, paint and metal we often see on similar gadgets. Apparently the wool used actually comes from New Zealand which is a nice little Kiwi connection.
The Citation One MKII comes in black or grey - although it's quite an earthy grey that almost looks a very pale brown in certain lights and yes, I know I'm going on a bit but one of the first things the Domestic Manager said when she saw it was, "That's a nice looking one." As opposed to, "How long do I have to have that in my house?" which is her usual response when I unpack one of my review items out of its box.
Good looks mean nothing if it doesn't perform, of course. 
Luckily, as this is a Google Assistant-enabled device, setup only takes a few moments and is utterly foolproof. It all happens via the Google Home app - the same app you use if you're setting up a Chromecast. This is how the Citation One MKII's firmware is kept up to date, how you connect it to your WiFi and how you can give it a name and assign it to a particular room in your house.
In fact, if you own multiple Citation speakers (or any other Google-compatible ones) you can easily set up a multi-room sound system to stream the same playlist everywhere at once, or each person's favourite song in their own space. Again, Google Home makes what sounds like a complicated task very straightforward. There's also a Night Mode; this allows you to limit the maximum volume and dim the status LED on a schedule of your choosing.
Annoyingly, you can't turn the LED off altogether. Curiously, it's situated at the back of the speaker's base, so it's out of the way but still lights up an otherwise dark room in the middle of the night. Maybe a future software update will provide the ability to switch it off.
Another option is to connect two Citation One MKII speakers together as a stereo pair and indeed, this is how I set up mine. For anyone born prior to the turn of the century, it's always so pleasurable to use something wirelessly that used to involve running metres of unsightly cables along the wall or hiding them under the carpet. Those were the days.
There's a lot of flexibility in how you use these speakers; you can stream from a source device like your phone via bluetooth, Chromecast or Airplay, or obviously you can just ask Google to play something directly from hundreds of possible services you might be subscribed to.
As I said at the top, being Harman Kardon, I had pretty high expectations so it's probably understandable that I wasn't immediately blown away by the sound produced from my pair of Harman Kardon MKII's. Again, let me qualify that by assuring you they sounded truly excellent... just not super excellent.
Yes, I absolutely love the stereo separation achieved by pairing them together - we've become so used to listening to music from a single speaker I'd almost forgotten how clever a well-mixed stereo track can be. To be sure, every string plucked on Melissa Etheridge's acoustic-based "Chrome Plated Heart" rings out warmly and clearly. It's when things get a bit more sonically crowded I find myself wanting a bit more.
While many people seem to think "OK Computer" was Radiohead's seminal album, I always go further back to "Pablo Honey" when putting a new sound system to the test. From the jangle of "Anyone Can Play Guitar" to the perfection of "Creep" and the mind-bending crescendo of "Stop Whispering," the production standards on display here are timeless. There's a lot going on, yet every instrument has it's own space. Unfortunately, on the Citation One MKII's, the experience is just a little more muddy than I'd prefer.
There's actually decent bass response considering their size and in terms of sheer volume, the 40W output from each speaker's 20mm tweeter and 89mm woofer is plenty to fill most rooms well past the point of polite conversation. Yes, I can dance to that.
Luckily, Google Assistant has pretty good hearing, even with the volume way up she can hear your commands from an impressive distance - in fact I've bossed her around from another room entirely without having to raise my voice. Because Google Assistant works so well, I was surprised to see so many control buttons on top of the speaker. I guess some people would rather touch than talk.
This is unquestionably a premium audio device, constructed from premium materials with premium design. It's priced accordingly - on par with similar products in the three-to-four hundred-dollar bracket.
The multi-speaker, multi-room aspect of the new Citation Series is probably its greatest appeal. The One MKII seems like a great entry point - a starter if you will. I've had a sneaky peak at what else Harman Kardon has to offer in this range and I have a hunch if I get to team these first entre speakers up with a few other configurations around the house, the soundscape is going to expand in myriad ways I haven't even imagined yet.
What I've heard so far is definitely enough to make that a mouthwatering prospect indeed.
Click here for more information on the Harman Kardon Citation One MKII all-in-one smart speaker.