PROVIDING FOR THE ANDROID TABLET MARKET
Author

Publish Date

Sun, 7 Jul 2019, 12:51pm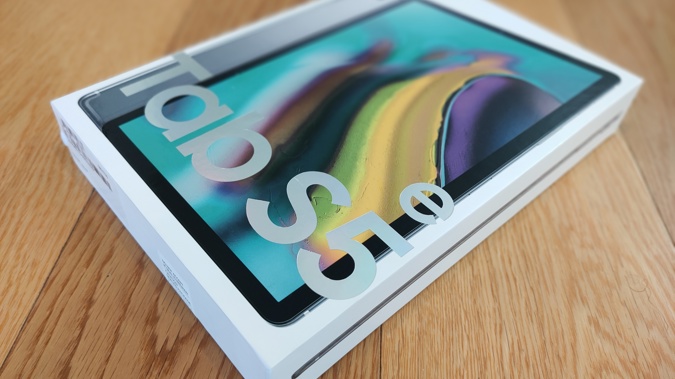 PROVIDING FOR THE ANDROID TABLET MARKET
Author

Publish Date

Sun, 7 Jul 2019, 12:51pm
Somewhat convoluted headline there - but it's a funny old space. Between the Apple iPad and the Microsoft Surface there's not much room for somebody else to do something useful.

Although apparently...

Some people are just Android people...

Over the years there have been a lot of terrible tablets, but the Samsung Galaxy Tab S5e isn't one of them.

Hot on the heels of last year's successful Tab S4, Samsung has shaved things down a bit, (including the price) and come up with a device genuinely worth considering if you've decided a tablet is something you need.

If my house is anything to go by, the number one use for a device like this - outside school or work hours anyway - is watching stuff. That means you'll be needing a great screen and awesome speakers. That's where the Galaxy Tab S5e definitely delivers.

Samsung screens are generally some of the best on the market, and this one is no exception. The 10.5" sAMOLED display is sharp and bright. What's more it stretches almost to the very edges of the device, leaving just enough room to hold the tablet without making any accidental touches.

As for the speakers, they really blew me away. It's an AKG tuned quad-speaker setup that adjusts automatically when you change from landscape to portrait. I couldn't believe the richness and depth as I watched my first show on the Tab S5e. There's just no comparison to the somewhat tinny experience I've come to expect from most mobile devices and even many laptops. Obviously there's still no abundance of booming bass, but there's enough.

It's just as well the speakers are so good as there's no dedicated headphone jack, although there is a USB Type-C adapter included in the box. The no-headphone jack thing doesn't usually bother me at all... on a phone. This is because I always listen to my music or podcasts via bluetooth anyway. However... the tablet situation is a bit different because you're likely to be watching content with headphones so you're not subjecting other people in the room to your particular brand of YouTube idiocy. Try that with anything but the very latest bluetooth headphones or earbuds and the audio lag is going to be major pain. I guess my advice is, don't lose that dongle.

To be honest, I'm not even sure the Tab S5e is thick enough to support a headphone jack even if they wanted one on there. This tablet is so light and skinny, it really feels more like an oversized phone than a fully-functioning laptop substitute. It weighs next to nothing, so you won't even notice it if you're carrying it around tucked into your handbag, briefcase or schoolbag. It basically feels like a 10.5" screen and nothing else.
The matching book cover keyboard is sometimes bundled with the Tab S5e for free. This should be par for the course for any tablet. I've always found it a complete rip-off to be sold a thing as essential as the matching keyboard as an "optional extra." Keyboard cases aren't optional, they're vital. I started writing this review using the on-screen keyboard, but it's simply too frustrating to deal with something that covers up half of what you're working on.
The keyboard cover gives you the option of tilting the Tab S5e up on your lap, notebook style which is certainly helpful when you're using both hands to type like I am now. I've read comments from some users complaining the keyboard feels a bit cramped, which is hardly surprising given it's only as wide as the tablet itself. The other main moan seems to be a lack of backlit keys, making typing in the dark more challenging. I'd suggest this is compromise well worth making in the interests of conserving battery life. I actually found the tactile response from the keys to be pretty sturdy, although if I typed too fast, sometimes the occasional keystroke got missed. I also would prefer to see a couple of extra keys - it's great to have four arrow keys to move the cursor around with, but I could really have done with an Escape/Go-Back key as some apps don't show that option on screen.
I'm also pretty keen on Home and End keys - although these are less essential when you have a touch screen in front of you. The whole thing magnetises into place, although the magnets could be just a tad stronger as I've accidentally pulled the cover off more than once when opening and closing the device.

The battery is fantastic by the way - it's about twice the size of many smartphone batteries and lasts for ages. This has always been a major hurdle for non-iPad makers to compete with when it comes to getting through a whole day's work in the office, on the road or at school, but the Tab S5e's claims of up to nine hours of screen time seem pretty fair. It charges nice and quick for a battery this big too.

While this is technically an Android device, in effect, you have the choice of two different operating systems. If you feel more comfortable using the Tab S5e as a giant phone, you can stick with Samsung's familiar and brilliant One UI, surely one of the most user-friendly and stripped-back Android-based O.S.'s around.

On the other hand, the Tab S5e also offers Dex mode - a far more desktop-like experience. Rather than a notification bar at the top of the screen, you get a task-bar across the bottom and the ability to open apps in multiple windows you can resize and drag where you want on the screen.

This means you can easily cut, copy and paste from email to browser to Messenger etc. It really is very PC-like, but be warned; not all apps are optimised to be used this way and I have come across one or two that won't even open in DeX mode. In saying that, Chrome, Microsoft Office 365 and obviously all the native Samsung apps worked beautifully.

Camera-wise you get about what you'd expect from a tablet. While the photos and videos from both front and rear-facing cameras were far from the worst I've ever seen, they were by no means prize-winning either. But then, nobody ever bought a tablet to take great pics.

For me, the only area the Tab S5e stumbled at all was under-the-hood hardware. The 64GB of internal storage is probably about as low as I'd be prepared to go for a device like this although you can expand up to 512GB via microSD card. Also, 4GB of RAM is, to be honest, not quite enough. When you have a device that offers the awesome multitasking ability of DeX mode, I'd suggest at least 6GB of RAM is needed to keep things running quickly and smoothly. I didn't have any major crashes or stumbles, but apps often seemed slow to start or install and I'm not convinced this is a device suitable for high-level gaming - especially if that gaming is online gaming.

Weirdly, the WiFi reception on the Tab S5e seems a little spotty at times. This seems to be something to do with exactly how you're holding it it - if your hands cover certain corners, suddenly streams can drop out or web pages refuse to load. Luckily I've been using the 4G version and ironically, it seemed connectivity was generally more stable using mobile data than when connected via WiFi. A minor anomaly on an otherwise very reliable device.

The Tab S5e offers both face and fingerprint unlocking, although I found the fingerprint sensor (built into the power button on the side of the device) to be far less consistent than the facial recognition which worked in both portrait and landscape. I also found the power/fingerprint button a bit tricky to find sometimes, as it's recessed slightly into the frame, rather than sticking out of it like the volume rocker just below it. This meant I've often turned the volume up instead of the screen on.

As always, when reviewing a tablet, ultimately I ask myself if it'd be better value for money buying a full-sized laptop for the same price. In this case, the answer is definitely no. The Tab S5e is far more portable, due to its tiny form factor. It offers both phone and desktop functionality via its choice of two great operating systems and the multi-media experience in terms of speaker and display quality is pretty much unmatched - certainly in this price range.

Great battery life seals the deal. So maybe there isn't a lot of demand out there for Android tablets, but if that's what you're demanding, the Galaxy Tab S5e should do the job for you.


Click here for more information and pricing on the Samsung Galaxy Tab S5e.