Printer Reality Check
Author

Publish Date

Tue, 1 Jun 2021, 6:06PM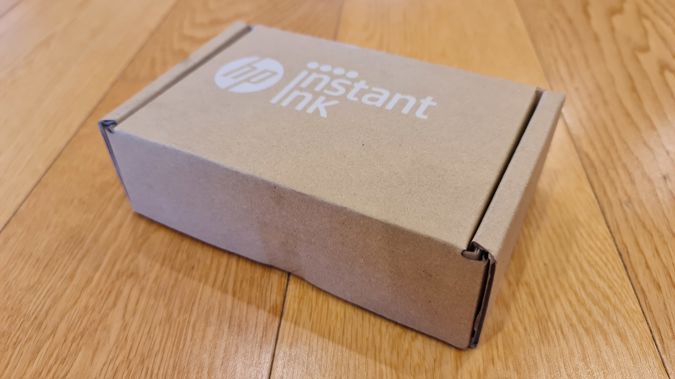 Printer Reality Check
Author

Publish Date

Tue, 1 Jun 2021, 6:06PM
Come on, it's time to get real. We can't keep using printers they way we have been.
Something got seriously out of whack somewhere along the way and it suddenly became cheaper to buy a new printer than to replace the cartridges.
Obviously, that kind of printer is not a high quality printer but if all you're doing is printing off the occasional greeting card, a few recipes and the kids' homework assignments, something cheap and nasty might just do the trick.
Until it runs out of ink.
Then it's moral dilemma time, isn't it? You know you're not supposed to throw whole printers away... especially when they're in perfectly good working order - but sometimes it's literally cheaper to replace the whole thing.
Maybe you can get rid of the old one on TradeMe?
There's got to be a better way. Well, HP thinks so anyway...
By now, surely you have become a subscription-based consumer of some type - if not many types. From our music and TV streaming services, to food delivery and even transport, it seems there's not much you actually have to own these days; you can just subscribe to it.
HP has jumped on board with its Instant Ink service.
The subscription model here is simple; you create your Instant Ink account, add your compatible printer (or printers) to it, then you never really have to worry about running out of ink again. As soon as one of your cartridges gets low, you'll be sent a replacement automatically. You don't have to do a thing... except pay the monthly fee obviously.
This varies depending on your usage. Plans start from as little as $1.99 a month... but that's assuming you're only printing around fifteen pages over that month. If that's all you need, it's going to be a while before that next cartridge arrives at your door. At the other end of the scale, super heavy users or even small businesses might choose the 700 page-a-month plan at $49.99 - but there are several in between - HP reckons most households will probably go for the $9.99, 100-page option.
Whichever plan you choose, you can easily monitor your progress via the HP Smart app - or just log into your account via browser. Here you'll get real-time updates on how many pages you've printed, whether your cartridges are getting low and you can track both past and future cartridge deliveries.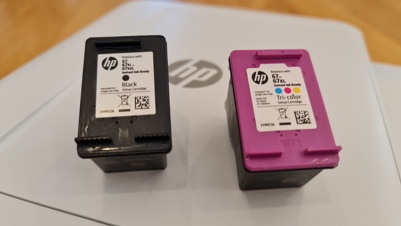 HP has put a lot effort into making this as user-friendly as possible. You get a free-trial period when you first sign up which lets you print up to 700 pages regardless of which plan you've chosen - this gives you a chance to tweak things before you start getting billed. You'll also be sent an introductory pack of cartridges when you register. This will be a relief if you've just set up a brand new HP printer like I had as the included cartridges have only a small fraction of the capacity of the ones you'll be sent as part of your Instant Ink subscription.
In fact, HP reckons you'll save about 50% by signing up. They provide higher capacity cartridges, in less packaging and you can also return your used ones for recycling. No question that's considerably better for the environment than throwing out a whole printer every few months.
One of my favourite features is the monthly rollover - if you don't use your page allowance within the month the balance will rollover into the next month - up to three times your quota if you have a few lighter months in a row. Of course, it works the other way too; print more than what you've subscribed to and you'll be charged extra per page - so you're definitely better off over-estimating your usage - especially given you can change or cancel your subscription at any time.
The key to it all? Owning a compatible HP printer, of course. Given there are currently about fifty different models to choose from, I think you'll probably find one that suits your needs.
I've been giving the Envy Pro 6430 a bash.
This is an entry-level all-in-one that has plenty of pros (as the name suggests) but admittedly, a few cons as well.
Setup is incredibly straight-forward, via the HP Smart app but I must say, after using printers with an LCD screen for a few years now, it was a bit weird going back to one with only six LED symbols to let you know what's happening. Again, this is where the app comes in - it's a lot easier to tell what's going on with the Envy Pro 6430 on the app or by logging into your HP Smart account online than it is by looking at the printer itself.
As I say, firing it up, connecting it to my Wi-Fi network and installing the cartridges is all a total breeze. It's certainly a compact device and quite subtle in its attractive, off-white finish. It'll handle a few different paper sizes, from A4 down, including photo paper - and double sided printing works well. There's a top-mounted document feeder and I've found it scans, prints and copies surprisingly quickly.
I do get a bit nervous when handling it though - everything seems kind of flimsy - from the paper tray itself through to the output tray extender, which flips out then unfolds but seems way too thin to last. And when opening the Envy Pro 6430 up to replace cartridges or remove a paper jam, there are a lot of disturbing clicks and clunks that make you feel like you're pulling the whole thing apart.
Yes, I said paper jams. Unfortunately, I've experienced rather too many of these in the month or so I've been using the device although luckily, every time it's been easy enough to access the blockages and get back to printing - I'm not sure if these misprints count towards your monthly page allowance on the Instant Ink plan but I hope not.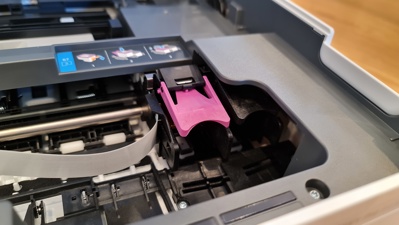 Also, using the HP Smart app to adjust the settings like Paper Size, Auto Off and Energy Saving is a cumbersome business - on a mobile device the app opens a browser page to do these things, so you may as well just log in from your PC or laptop instead. What's more, certain settings require you to enter a long pin number which can only be found inside the printer - on the chassis by the toner cartridges.
Yes, I certainly miss that LCD screen. If that sounds like it would be frustrating for you too, I'd recommend you spend a few extra bucks on a slightly more advanced model.
As far as print quality goes, it's about what I'd expect from a machine in this price range - and I must say I really am impressed how quickly it prints - even full pages in colour.
But Instant Ink is the real star of the show here; there's an obvious cost saving and it makes no difference if your pages are black-and-white or colour. What's more, who doesn't love getting their cartridges sent to them without even having to ask? It's definitely a cost-effective, elegant step in the right direction when it comes to printer ink frustration.
(Note, toner plans are also available)
Click here for more information and pricing on HP Instant Ink.
Click here for more information and pricing on the HP Envy Pro 6430 All-In-One printer.