PLENTY OF POWER
Author

Section

Publish Date

Tuesday, 18 December 2018, 7:42AM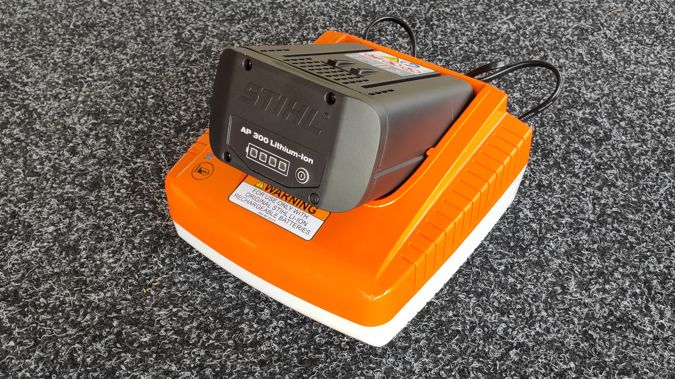 Why do I keep doing it?

Replacing one cheap lawnmower with another?

More to the point; why do I complain when, as usual, everything rusts, breaks and dies?

Well no more. I've entered a new life. A Stihl life...

I work with a guy who's always been Stihl crazy. I assumed he was just crazy. I assumed if you bought a Stihl, you were paying a premium for a hyped-up brand. I assumed there were cheaper options that'd do the job just as well. I really need to stop assuming things.

Sadly, it hasn't been that long since I last bought a mower. Last time I was considering a battery-powered option, but they were either really expensive or gave me no confidence they had the power or battery-life to do the job. The idea of a rechargeable mower is so damn appealing though - no running out of petrol, no oil spills. Less noise.

So this time, I took the plunge.

The Stihl RMA 410 C is a funny looking thing.

The first unusual feature is the one-sided handle. Although it looks like it can't possibly work, it turns out the German design team at Stihl know what they're doing. This asymmetrical configuration means more convenient access to the catcher - which has its own unique design feature; it comes apart at the back... on purpose.

So instead of trying to shake your clippings out of a small opening at the front... and shaking... and shaking... the rear of the catcher opens up completely to release all its contents in one single dump. Genius.

There are simple and yet brilliant design features like that all over the RMA 410 C. Starting couldn't be easier - or more safe. No throwing your shoulder out as you yank and yank a starter cord. You just hold a button down while you push the safety bar and the mower instantly swings into action. That bar has to stay pushed against the handle to keep the mower running - meaning you can't go anywhere near the blades without the whole thing shutting down automatically.

The height adjustment is just as easy, with a simple squeeze-release to raise or lower to your preferred setting.

But of course, the hero feature of the RMA 410 C is the 36V Lithium-Ion battery and the unbelievably fast, fast charger. The same battery can be used across a whole range of Stihl power tools, including the FSA 65 linetrimmer which I kind of accidentally bought when I bought the mower.

Just as well the battery works so amazingly, or I would've felt pretty stupid.

Luckily, not only does the battery work, it exceeded every expectation. It seems to run the linetrimmer forever.

Running a whole mower is a slightly different proposition, obviously. But as long as the grass isn't too out of control, most mows I get almost an hour's running time out of a single charge, even on my sloping section. In fact, because the RMA 410 C is so light, it's perfect for my angled terrain, especially given its conveniently placed carry handles front and back.

The sheer power is remarkable - the mower absolutely scythes through my spring growth without breaking a sweat. (I sweat, but I'm not in nearly as good nick as the RMA 410 C)

Unfortunately, the battery isn't actually magic and does require charging about halfway through my mowing and trimming routine. This is actually not too much of an inconvenience as a) it gives me an excuse to stop for lunch and b) incredibly, the charger only takes about 75 minutes to get the battery back to full.

Of course, now I know it works so fantastically, I should probably just get another battery. Swapping it from one device to another couldn't be easier.

But if I did that, would I still get a lunch break?

One thing's for certain, I'm never going back to petrol. And right now, it's hard to imagine anything working as well as a Stihl.


Click here for more information and pricing on the Stihl RMA 410 C cordless lawnmower.

Click here for more information and pricing on the Stihl FSA 65 PRO cordless linetrimmer.