PLAYING IN THE NOISE-CANCELLING BIG LEAGUES
Author

Publish Date

Mon, 29 Jul 2019, 10:05AM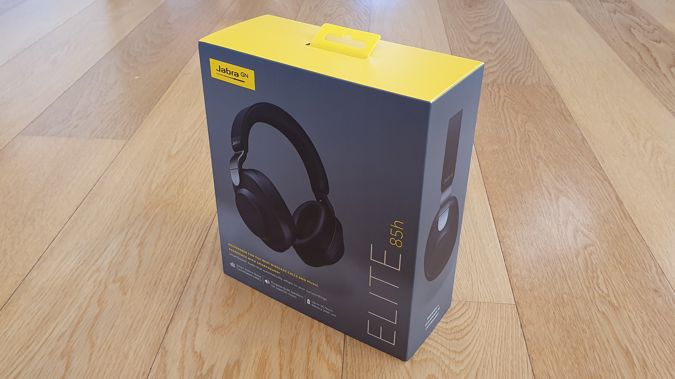 PLAYING IN THE NOISE-CANCELLING BIG LEAGUES
Author

Publish Date

Mon, 29 Jul 2019, 10:05AM
People can get pretty serious about their headphones.
One way you can tell how serious they are is how much they are prepared to pay.
Up to $100? Not very serious.
Over $200? Pretty serious.
Over $500? Serious as a heart attack.
If you're expecting someone to hand over that much cash, you really need to deliver, especially if you're not a "traditional" headphone brand.
Actually, given Jabra's been around for 150 years, it's not really fair to describe them as, "not traditional." What I really mean is not Sony, not Bose, not Bang & Olufsen and not Beats.
The Elite 85h is Jabra's attempt to join the ranks of the flagship headsets from those so-called "big" brands. It's a pretty damn successful attempt.
The audio experience is great - not perfect, but I've yet to find the perfect listening experience in a set of headphones, as opposed to a high-end speaker system. Interestingly, with the Elite 85h I've actually found listening to podcasts and movies more pleasurable than music - which is not to say music reproduction is below par - far from it. I've just been extra impressed by the clarity and surround sound when listening to a mixture of music, dialogue and sound effects.
If I had to criticise my overall listening takeaway, I'd describe the sound as a little clunky. Not so much when listening to acoustic or classical music, but when things rock out a bit more - for example, the latest Black Keys album which is pretty electric guitar-centric - there's less separation of the different elements and everything gets mashed together slightly. There's plenty of bass punch (without it dominating the mix like it does in some other headsets) and plenty of sheer volume available from the 40mm drivers too.
As far as that slightly clunky EQ goes, it's actually pretty hard to complain because Jabra's Sound+ is one of the most comprehensive companion apps I've ever used with a headset.
We're getting to the real hero feature of the Elite 85h, but first, we can easily tweak any EQ issues using the app. This isn't unusual for high-end cans like these, but the interface is a lot more user-friendly than some. Choose between a selection of pre-sets or fiddle with highs, lows and mids to your satisfaction. Then you can save your own setup so you can come back to it with a single tap.
Right, now for the game-changer; Jabra's take on ANC is out of this world. There are
plenty of noise-cancelling headphones out there, but I've never seen anything quite like this. Not only do you get the option to turn ANC on or off, you also have a pass-through mode which actually pipes your surroundings into the mix - an important safety feature if you're wearing the Elite 85h in traffic and would prefer not to be run over.
This is all made possible due to an incredible eight-microphone array, constantly sampling your soundscape to either block it completely or let it in as you desire. Jabra's SmartSound technology takes things a step further by detecting if you're in a quiet room, part of a crowd or on a train or bus, automatically increasing or decreasing the level of noise blocking as required. I've found this works amazingly reliably - even when you're in the same room but it goes from being quiet to noisy. If you do have SmartSound activated, best to turn the voice prompts off. Having the Jabra lady interrupting your movie to tell you the ANC mode has changed just because a bunch of noisy teenagers have barged into the room is doubly annoying.
The Sound+ app doesn't even stop there. The Elite 85h is the first noise cancelling headset I've come across that gives you the option to listen to more noise. Rain, crowd noise, waterfalls - there's a host of atmospheres you can use to block out the rest of the world if that's your thing.
What's more, thanks to all those microphones, call quality is noticeably outstanding - especially for the people on the other end. Mic sensitivity during phone calls is often the downfall of wireless headsets but that's definitely not the case here.
So big tick for sound quality. Massive, golden, diamond-encrusted tick for noise cancelling options. But does this look and feel like $500? At first glance, to be honest, the Elite 85h seems kind of boring. There are four colour combinations, all pleasant enough - but don't be fooled; Titanium Black is in fact, still black. What sets the Elite 85h apart is more how it feels rather than how it looks. The build feels solid, sturdy and well balanced. While it's not the lightest headset around, the padding on the earcups and headband keeps things very comfy, even after hours of prolonged use. And if you take a really close look, you'll see the earcups are actually covered in fabric, not plastic, which gives them a much cosier, softer vibe.
I've read other reviews that have suggested this fabric covering is more prone to picking up dust and debris, but personally I haven't found this to be the case. If anything, I appreciate the lack of greasy fingerprint action.
While we're talking tactility, I love the controls. There aren't many, but they're all easy to find - especially the play/pause/answer and volume/skip buttons on the right cup - an obvious indent and equally prominent bumps respectively. No vague swipes or taps required. The only control that had me feeling insecure is the one that's missing; no on/off switch. The headphones turn themselves on when you put them on, then turn off again when you lay them down flat. This is pretty much the way most wireless earbuds work these days so I got used to it eventually.
The carry case is also a solid, premium affair, with the Elite 85h folding flat into it for maximum protection.
I'm a bit confused by the included audio and charging cables though. While everything else about the headset absolutely screams high-end, premium quality, the audio cable is thin, flimsy and easily tangled. Meanwhile, the USB Type-C charging cable is so short, you'd struggle to find a place to put the headphones down that's close enough to a wall socket you can actually connect a charger to. This is a bit of a let down compared to the classy, braided cables that come with other headphones.
Mind you, chances are you simply won't need those cables very often as the latest bluetooth standard is supported and even with ANC activated, you'll still get up to 36 hours use on a full charge. The Elite 85h charges damn fast too, which hasn't always been the case with other headsets I've tried.
One last feature worth a mention is rain-resistance - there's a nano coating over all the internal components to keep rain (and sweat) from ruining your parade. Good news if you're one of those weirdos who insist on wearing massive, over-ear headphones while working out. Seriously, how is that in any way comfortable - even with a headset as well-balanced as this one?
As you can see, what the Jabra Elite 85h may lack in brand recognition, it more than makes up for with its long list of features - with the most customisable Active Noise Cancelling system I've come across yet. If you're prepared to hand over hundreds for a premium headset, definitely add this one to your list to try.
Click here for more information and pricing on the Jabra Elite 85h wireless noise cancelling headphones.