PERFECT FOR MY POCKET
Author

Publish Date

Tue, 20 Oct 2020, 10:43AM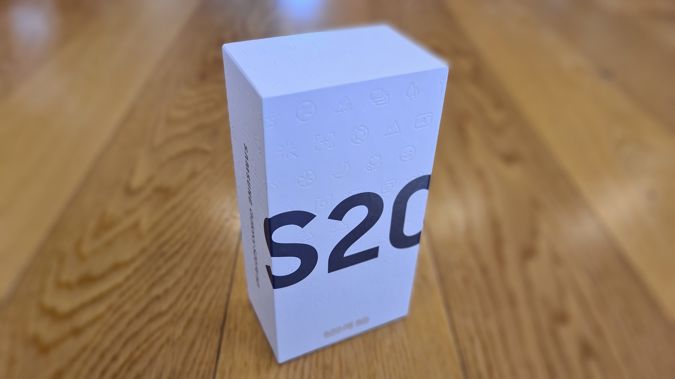 PERFECT FOR MY POCKET
Author

Publish Date

Tue, 20 Oct 2020, 10:43AM
The gap between what your average punter needs from a phone and what manufacturers end up putting in their devices seems to be growing all the time.
Sure, we all want a handset that looks great and runs well but how often are we really going to use that 100x zoom or shoot an 8K video?
So maybe you can save a few bucks by forgetting the flagships and perusing what's available mid-tier. Trouble is, some of the compromises made to save a few hundred are often the few features you liked best.
Tricky...
I was a fan the second I picked it up, so I guess the name is appropriate. The Samsung Galaxy S20 FE (Fan Edition) is my kind of phone.
It's light, for starters, primarily due the the matte-finish, metallic-looking rear casing - I assume it's polycarbonate of some kind but it still has a premium sheen to it. In New Zealand the current colour choices are Cloud Navy (as pictured), Cloud Lavender, Cloud Mint and Cloud Red. Fantastic to see some genuinely different options for a change - especially red. I can't understand why there aren't more red phones out there, given it's most normal people's favourite colour. Right? Pity I got stuck with the blue one. Oh well.
In fact, I'd better point out the review unit I'm using is actually the 5G version which isn't on sale here yet. That means it has the Qualcomm Snapdragon 865 CPU, as opposed to the Exynos 990 chip in the Kiwi models. In theory the performance from both chips isn't massively different and the point is, the original S20 flagship devices from earlier in the year have the same chips.
That doesn't automatically mean the S20 FE runs at the same, high-end level - not quite. It only has 6GB of RAM installed as opposed to 12GB in the S20 Ultra. This is more than enough for most tasks but I have noticed things can get a bit laggy when launching resource-heavy apps like the camera. Generally speaking it sails along pretty smoothly, downloading, streaming, browsing... I'm not much of a mobile gamer but I've been told the device actually does a perfectly good job thanks mostly, once again, to the high-end Adreno GPU.
That's the thing with the S20 FE - most of the places you expect Samsung to have skimped, they simply haven't. While other phone makers lose things like IP68 water and dust resistance the moment they need to save a buck, the FE is still toilet-proof. Many other flagships still don't do wireless charging. This $1099 phone does - even reverse wireless charging ("Wireless Powershare") for accessories like Samsung's earbuds and smartwatches.
Oh, and yes, there is a charger included in the box! How old school.
The battery is big - 4500mAh - without being so big it adds excessive bulk and weight to the device. This guarantees enough charge to coast through even the longest days.
The screen is where Samsung has cut corners... but not many. Physically, you'll immediately notice the 6.5inch Super AMOLED display is flat - no curvy edges here like its more expensive predecessors. However, there may be more positives than negatives to this, especially given the screen is still outstanding and still capable of that magic 120Hz refresh rate ensuring super smooth scrolling and response. A flat screen is a lot cheaper to replace and lately I've had issues using some apps with on-screen controls that stretch right to the edge of the display. Those problems disappear on this phone.
I really feel like there's a bit of an "Emperor's New Clothes" moment going on right now in the smart phone market. We thought we needed that shiny glass back because the phone-makers told us it was a premium feature. Yet in practice, glass breaks and attracts endless smudges and fingerprints. We were also convinced curved screens were the best thing ever... but why? Swapping out features like these definitely appeals to me and presumably the other Samsung fans this handset is being marketed to.
Obviously, not every compromise is an improvement. While you still get a triple-lens rear shooter on the FE, there's no question it's not quite the camera quality we've seen from the very top of  this year's S20 and Note 20 ranges. You get 12MP ultra-wide and wide-angle lenses combined with an 8MP telephoto sensor. This means very good long and wide-angle pics, ideal for outdoor use. Samsung has also stepped up its low light performance, something many brands seem to be emphasising right now. Close-up shots is where it all falls down a bit though - you tend to get clearer shots by zooming in from a distance, not ideal. As I've mentioned, using the camera is where the FE seems most underpowered RAM-wise, possibly because the app still offers high-end features like Single Take - Samsung's multiple-shots-in-one option - to make sure you capture the perfect shot. Ironic if the app takes too long to launch and you miss it. Don't worry, the finished pics are generally fabulous, it just takes a while to swap between camera modes when you're taking them.
The 32MP selfie cam is great though, peeping through the tiniest cutout in the centre-top of the display.
Samsung's recent flagships have done an excellent job of providing decent stereo sound reproduction by using the top ear-piece as the left-hand speaker. This is another feature that usually goes west the moment you cut costs. Yet this is another feature the FE still has.
That's the main message here; this really is a phone with most of the useful bits and without much of the silly stuff you don't really care about. At $1099, it's certainly at the upper end of the "mid-range" market but with so many flagship features on board, it's undoubtedly the best value-for-money phone we've seen this year. And it comes in red! What more can you ask for?
Click here for more information and pricing on the Samsung Galaxy S20 FE.