Oppo Pad 2 - Consider the Alternative
Author

Publish Date

Tue, 14 Nov 2023, 12:07PM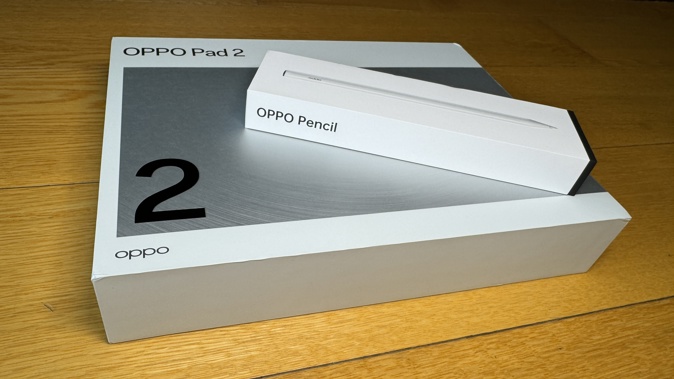 Oppo Pad 2 - Consider the Alternative
Author

Publish Date

Tue, 14 Nov 2023, 12:07PM
I've said it before; I'm not really a tablet guy.
However, these days, every time I say it, the words sound more and more hollow in my ears. This is because tablets have got really good. 
I don't necessarily mean Windows tablets - which are now basically just Windows laptops waiting for a keyboard to be connected to them so you can use them like one.
And I don't necessarily mean iPads, which have always been sort of their own category, mysteriously running a similar-yet-not-quite-the-same operating system to Apple's "real" computers, even though the Pro models are often more powerful than most people's "real" laptops and desktops.
I guess when I think of tablets, and I say I'm not a tablet guy, I really mean Android tablets.
Until quite recently these have often been the poor cousins to flagship smartphones - often woefully underpowered (both in terms of battery life and CPU) and usually lacking in screen quality and storage space. Essentially the main purpose for an Android tablet has often been so you can run certain apps on a larger display... perhaps to operate a specific device in a workplace, provide Nana with a user-friendly way to browse the web and check her emails, or keep the kids happy at the cafe with some simple games and videos.
Typically, Android tablets were cheap and if not nasty, certainly frustrating for power users when it came to multi-tasking or other more demanding use cases.
Giant phones with underpowered chips. That's been my experience over the years.
But now I am wrong.

The Oppo Pad 2 is quite striking to look at. I don't mean watching the display - we'll get to that shortly. I mean the thing actually looks quite unique. It's very thin yet its unibody design gives it an extremely durable feel and the "star trail" engraving finish on the rear panel creates a distinctive, shimmery, light-catching effect while keeping the matte surface relatively free of fingerprints and smudges.
The rear camera module is also unusual - a raised, circular affair reminiscent of the cameras on Oppo's most recent handsets; the Reno 10 series and the foldable everyone's talking about, the Find N3. The Pad 2's camera is unusual because of its capabilities too. Still hamstrung by the unwritten rule that you can't have a high-spec camera on a tablet (I don't know why - you'll only ever get ultra-wide and proper telephoto lenses on a phone) the primary shooter on the Pad 2 is a mere 13MP affair, although it's capable of shooting up to 4K, offers zoom controls, even while filming and there are effective digital stabilisation and auto-focus options too. As far as tablet cameras go, it goes good.
It's also interesting to note where Oppo has decided to put that camera; in the centre of the upper side of the device when it's being used in landscape mode. At long last, more manufacturers have got the memo these devices are not giant handsets - most people will be using them in landscape, like a computer display, not in portrait like a phone.
But let's flip over and get back to that display. At 11.61-inches you might think the Pad 2 sounds a little oversized but the 7:5 aspect ratio is also pretty unique. Even when being held in landscape, you still get plenty of height. So the diagonal measurement is a little misleading here; this uber-slim tablet is actually much easier to handle than other shorter-but-wider devices. The extra height (when in landscape) really lends itself to multi-tasking with two apps open at once - something that's easy with the two-finger swipe gesture in the ColorOS software. Anyone who's used a recent Oppo handset will be familiar with this operating system and its intuitive gestures already. A three-finger swipe results in a shareable screenshot while a four-fingered pinch launches the app you're using into a floating window, which you can resize and position over other windows. So effectively, by both splitting and floating you can see three different windows simultaneously.
Not only is there plenty of screen real estate for all this but the display is bright, sharp and colourful to boot. We're talking ultra-high resolution at a refresh rate of up to 144Hz. This makes for a very smooth gaming experience and is combined with an impressively tuned, quad-speaker sound system to produce a classy Dolby Vision and Dolby Atmos entertainment experience. The Pad 2 is the perfect device to take to bed for some late-night binge-watching - and the display is big enough for two people to enjoy what's playing.
There's an excellent front-facing camera built into the upper bezel of the screen - again, in the most sensible position for online meetings or vlogging. As with the primary shooter on the back, you get quite a selection of photo features - even skin smoothing and other AI abilities. Unlocking the device with facial recognition is also snappy and reliable.
None of this is much use without a decent chip powering the whole show and that's where many tablets have fallen down in the past; promising a long list of features but coming up well short in terms of sheer performance.
Not with the Oppo Pad 2.
Here you get MediaTek's latest, the Dimensitiy 9000 and as such, I found every aspect of operation to be smooth, reliable and quick. There's only one storage option but it's more than acceptable for a tablet at 256GB. Connectivity is great; Wi-Fi 6 means a fast, powerful and dependable link to your home or office network and the latest Bluetooth 5.3 protocol is your gateway to a list of lag-free and lossless wireless codecs. In short, I've watched movies and played games wearing my favourite TWS earbuds and experienced no discernable delay with either dialogue or sound effects.
This is a very satisfying, easy-to-use and powerful device - and that's before you add useful accessories like the Smart Touch Keyboard or Oppo Pencil. The latter being a digital stylus that charges wirelessly when connected magnetically to the top of the Pad 2.
Battery life is excellent - although most of us expect that from a tablet if nothing else - that's kind of the point of them. However, because this is an Oppo device, you get the option of SuperVOOC fast charging - and very few companies have mastered the art of fast charging quite like Oppo has.
If you're thinking the Pad 2 might just be the tablet that converts me from a sceptic into a fan, you might just be right. It's light yet sturdy. The display is an unusual yet useful shape. The screen looks good, the speakers sound good and there's plenty of power under the hood to make everything work the way it should. This is no longer just an underpowered, oversized phone. It's a genuinely useful multimedia tool that I've thoroughly enjoyed using.
Click here for more information and pricing on the Oppo Pad 2.
Take your Radio, Podcasts and Music with you