ONE ROUTER TO RULE THEM ALL
Author

Publish Date

Wed, 9 Sep 2020, 8:44am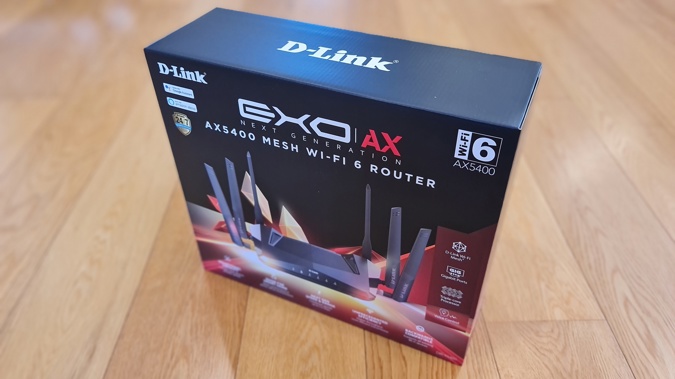 ONE ROUTER TO RULE THEM ALL
Author

Publish Date

Wed, 9 Sep 2020, 8:44am
Where's your choke point?
Most homes have them, in fact, some households have several.
I'm talking about the weak link in your connectivity chain that slows everybody down, interrupts the streams and downloads and renders your smart speakers dumb.
Maybe you're hanging on at the end of an extender, with only a fraction of the bandwidth and processing power you could be accessing if you were connected directly to your primary router.
Or perhaps that very router is the source of all your problems. If it can't handle multiple connections and can't pump out a decent WiFi signal, it doesn't matter how many Mbps you've signed up for with your ISP.
When your hose has a kink in it, you ain't waterblasting nothin'...
Behold, the D-Link DIR-X5460.
As you can probably guess from its "spidery" aspect, yes, this is one of those top-of-the-line D-Link routers that will pretty much blow the socks off whatever it is your service provider sent you for free.
And that's pretty much my main issue with the device, so let's address it straight away; I hate the way it looks. The six external antennae are massive and the simple fact is, there's nowhere you can put this thing where it won't be utterly distracting. It's not even a cool colour.
My suggestion? On top of a tall shelf or cupboard. Not in a cupboard mind you, because there's no point in having all those unwieldly antennae if you're not going to let them do their work - and that work is all about providing you with the most comprehensive, powerful and consistent WiFi signal I think I've ever encountered from a single access point.
The DIR-X5460, for all its latest-tech wonder-features is unnervingly easy to set up. My phone connected to it by scanning the QR code on the base and then I just followed the wizard in the browser-based setup-window. There's also a D-Link WiFi app which makes things even more straight-forward but lately I've found the app is slower than the web-version - there are arbitrary, "Please wait while the device reboots" graphics that take about three times longer to run than the device does to reset.
In fact, that's the first thing that blew me away with the DIR-X5460 - it's fast. I don't mean internet speeds - we'll get to that in a minute - I mean just powering the thing up. If you've become used to a five minute wait for all those little lights to turn white, this is quite the wake-up call. I don't know exactly what kind of chipset is running the operation here but it's definitely quick. Setup, reboots and firmware upgrades take a fraction of the time I'm used to.
There's the full range of connection options here; a USB 2.0, a USB 3.0, four Gigabit LAN ports and of course, every kind of WiFi technology available.
You've got your classic MU-MIMO smart steering of course and the more recently introduced OFDMA - both helping prioritise your bandwidth to the devices that need it most, as they need it - even when several high-demand devices are working simultaneously.
D-Link has also introduced something called BSS Colouring which works to prevent any interference from other WiFi signals in your area. Add in the fact this is a WiFi 6 device and you'll be hard-pushed to find more powerful, stable or faster connectivity.
The website claims the DIR-X5460 is capable of delivering six simultaneous streams and from my usage the reality seems to match up. Admittedly, I only have a 100Mbps fibre plan at my house and yet when I ran speed tests on two separate devices at the same time, they both clocked up at least 100Mbps download speeds. I don't know how that's possible, but I love it.
The DIR-X5460 is so full of features there are some I don't even need; for example, in my experience Quality-of-Service (QoS) can cause more issues than it solves. This is the feature that lets you manually select which of your smart devices get the best connection. Unfortunately, I've discovered the router does a lot better job of monitoring this than I do. So I've left it on automatic.
This is an EXO router so you can create a mesh network with compatible EXO extenders - but as we've established, the coverage on offer here is is already unprecedented, so I've left the extender in the drawer.
And as for voice control... I'm not against it but I've just never thought of anything I want to say to my router. 
See? More features than you can use. This really is the internet gateway that's more of an internet floodgate-way - unkink your hose and let your connection flow freely.
Click here for more information and pricing on the D-Link DIR-X5460 mesh WiFi 6 router.