ONE DEVICE THAT DOES IT ALL
Author

Publish Date

Wed, 15 Jul 2020, 11:20AM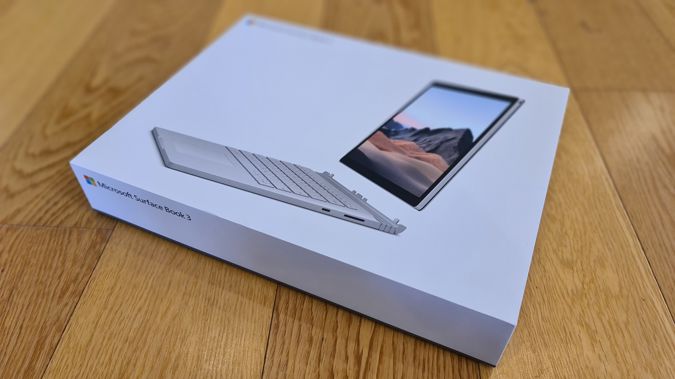 ONE DEVICE THAT DOES IT ALL
Author

Publish Date

Wed, 15 Jul 2020, 11:20AM
There are a lot of goofy gadgets out there.

Laptops that open flat, or even all the way around so you can kind of use them as a tablet... if you want to use a tablet that has a keyboard underneath it.

Tablets that come with a case with a keyboard on it, which may or may not sit comfortably on your lap. And the keyboard may or may not be much good either. Let's be honest; it probably won't be.

For some reason, tech companies keep wanting to come up with the perfect transformable; a device that can be a laptop and a tablet at the same time. Unfortunately, to make this work too many compromises have to be made. Battery life is often a problem, especially if the keyboard connects via bluetooth. A lack of processing power is also common - you might have enough oomph to run the tablet but not enough to operate as a decent laptop.

At the end of the day, instead of compromising most people end up choosing one or the other... or a laptop and a tablet.

But at the top of the Surface range, there is no compromise. Only excellence...

The Surface Book 3 is basically Microsoft saying, "Here is an awesome laptop. Oh, and by the way... you can also use it as an awesome tablet."

To begin with, the Surface Book 3 is a very substantial piece of hardware. I've been reviewing the 13.5" version but there's a 15" model as well. I can only imagine what that larger version must be like to carry around because even the one I have is kind of... hefty. That's not to say it isn't beautiful in its own way but it's not especially light or particularly slim.
If you've used an earlier Surface Book, you'll understand why but if, like me, you haven't tried one before, it's a bit of an eye-opener. The most striking feature is the multi-segmented hinge mechanism which literally caused me to do a double-take when I first saw it. It curves shut rather than flipping shut and as a result, the two halves of the device don't close flush. It's been suggested this whacky design is how the Book got its name but at first I thought it was just weird and unnecessarily bulky. Then I realised one benefit is it keeps the glass of the display away from the keys or more specifically, away from the grease left on those keys by my disgusting digits. I later discovered there's also a cooling vent at the top of the keyboard which is left free to do its thing, even when the Book 3 is closed. This means no vents underneath the device, as is usually the case on other laptops - a stupid idea because it blows warm air onto your lap and your lap blocks half of them making things hotter still. By comparison, the Surface Book 3 stays delightfully cool. But I'd completely missed the whole point of this laptop; the screen comes off, just like the ordinary Surface.
I know it's terribly ignorant of me to have to admit I really had no idea what I was reviewing. It wasn't until I stumbled across the Detach button on the keyboard that I realised the Surface Book 3 is two incredibly powerful devices combined. What's more, because the tablet half of the device can be reattached the opposite way round, you can fold it completely flat, hiding the physical keyboard away while still reaping the benefits of both halves simultaneously - which are considerable.
Firstly, battery life. There are large cells in both the tablet and keyboard portions of the Surface Book 3 and this means superior battery performance over many other Windows laptops on the market today. The Surface Connect cable will power up both halves when connected, or it can just plug directly into the tablet instead. Either way, it charges quite quickly thanks to the 102W power supply.

The second big bonus of two halves becoming one is graphics ability, often the first feature to fall by the wayside with any mobile device. When connected to the base, the Surface Book 3's impressive 10th Gen Intel Core i7 processor and ample 32GB of RAM combine with a dedicated NVIDIA GeForce GTX 1650 graphics card to provide more than enough grunt for most applications and games. No, this isn't a high-end gaming rig or video production powerhouse but in terms of a capable all-rounder business tool, it's pretty hard to beat this kind of performance.

There are stacks of other features that set the Surface Book 3 apart from other similar devices - not that there are many similar devices, the Surface Pro perhaps being the closest. Obviously both of these have great touch screens and are compatible with the Surface Pen, probably the most versatile and full-functioned stylus on the market. The Surface Pen will magnetise onto either half of the Book 3 for convenient storage. In fact, Microsoft's use of magnets is just plain cool; the way the tablet locks and unlocks onto the keyboard base ever gets tired and it is one-hundred percent solid and secure.
The keyboard is simply a pleasure to use. The whole thing slopes ergonomically upward and the keys have great travel for a laptop. There are four levels of backlighting brightness and a full selection of function keys. The touchpad is not the biggest I've used but it's accurate, responsive and nicely clicky. Probably the most useful thing about the keyboard is it serves as a dock of sorts for the tablet. There's a USB-C port, the Surface Connect port (obviously), two full-sized USB-A ports and a full-size SDXC card reader. This means more connectivity options than most other modern laptops and way more options than any other tablet.
The cameras are also something to write home about. There's a 5MP front facing camera and and an 8MP rear shooter, both capable of 1080p HD video. These are getting close to smartphone specs, rather than the low-priority, add-on camera arrays often found on other laptops and tablets. The results are a massive step up from the usual grainy footage from built-in webcams. Now, more than ever, high-def video conferencing is a must. The Surface Book 3's cameras combined with its dual far-field studio mics mean you'll look and sound fantastic on your next TeamViewer chat.

One of my only quibbles is the front facing stereo speaker setup. The Dolby Atmos speakers are clear enough and because they're situated at the very top of the left and right edges of the screen there's good stereo separation. I'd just like them to be louder and bassier. There's one other little issue of course; because it's only a dual array, if you're in tablet mode watching content in portrait, you can forget the stereo effects making any sense as the speakers are now at the top and bottom. This is no different to the setup on many phones but other tablets have a quad-speaker configuration that automatically adjusts. At least there's an AUX port you can plug external speakers or headphones into if you don't want to use bluetooth.
The 13.5" PixelSense display offers superb viewing, although I have found it slightly reflective in bright conditions. The bezels are quite wide and intrusive for a high-end laptop - but not for a tablet. This is a challenge for a Surface-style device; you actually need some bezels so you can hold the screen in tablet mode. Perhaps the useable display should shrink away from the edges when the screen is detached from the keyboard - just an idea for the next generation, Microsoft? I'm definitely a fan of the 3:2 ratio though, it makes it feel like there's a lot more useable space for multiple windows to be open while you work.

And what a workhorse the Surface Book 3 is. While I've been reviewing it, I've been finding more and more excuses to use it instead of my usual work laptop or even my phone. Everything is easier; there's more processing power, better graphics, excellent battery life - just typing feels so much more comfortable. No matter the task - audio and photo editing, gaming, streaming, video conferencing - this machine never misses a beat. Which is as it should be; the configuration I've been using retails for $4,549.00 which makes it a pretty pricey laptop. By opting for a less powerful processor, less RAM and less storage, you can knock that price tag down below three grand but remember, this isn't just a laptop. It's a great laptop and a great tablet. It really is the best of both worlds.


Click here for more information and pricing on the Microsoft Surface Book 3.