OF COURSE, HUAWEI ALSO DOES LAPTOPS
Author

Publish Date

Fri, 3 Jul 2020, 7:10AM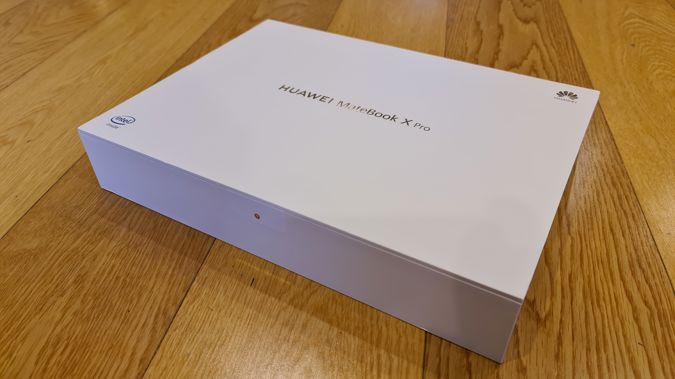 OF COURSE, HUAWEI ALSO DOES LAPTOPS
Author

Publish Date

Fri, 3 Jul 2020, 7:10AM
I'm a Huawei fan. Over the last few years, Huawei smart phones have consistently out-performed other brands in many areas; photography, battery life, processor speed... Even price.

Yep, they definitely know what they're doing.

But just because you're awesome at manufacturing handsets, it doesn't necessarily mean you know how to make laptops.

Or does it?...

Even before you open it, the Huawei Matebook X Pro is an incredible looking device. It's slim. It's light. The sandblast finish helps keep it free of fingerprints and other marks, while the diamond-cut Huawei logo on the lid is the finishing touch that makes this laptop both elegant and business-like.
Then, when you do open it up, you're met with a breathtaking 13.9-inch, 3K FullView display. The first thing you'll notice is what isn't there; the bezels are tiny - we're talking a 91% screen-to-body ratio. That'd be impressive on a phone, almost unheard of  on a laptop. This "borderless experience" as Huawei calls it, is only emphasised further by the tall 3:2 aspect ratio, providing a huge amount of screen real estate to work with. Whether you're browsing, emailing, working your social media or keeping half an eye on your favourite Netflix show in the corner, there's more than enough room to do all these things at once.

If you are watching Netflix, or any video, or just reviewing and editing photos, the sRGB 100% colour gamut adds a vividness, lustre and depth that almost seems like you can reach right into the screen. You can certainly touch it, anyway - it's a ten-point touch display that combines nicely with a massive trackpad to give you all the accurate control you need over your cursor, almost rendering the use of a mouse unnecessary. That touch screen is coated with the same kind of anti-fingerprint technology used on all decent phone displays, another great example of small mobile technology effectively being applied to a larger device. A tall screen like the one on the Matebook X Pro doesn't just mean plenty of room opposite for a large trackpad but also ample space to rest your palms on. The keys are full-sized, well set out and have good travel for a laptop but I was disappointed to find some are just not there, like dedicated Home and End keys. Seems strange when there's more than enough room for them.
What you will find in the middle of the top row of keys is a camera button. This is where the selfie-cam is hiding (another way to keep that top bezel so skinny). Push it and the camera pops up from underneath. The video/picture quality is not too bad but unfortunately, while the idea of protecting your privacy with a configuration like this is appealing, the lower shooting angle from a camera positioned in the keyboard isn't the most flattering. I also found it isn't angled up quite far enough when using the Matebook X Pro on my lap - I really need to be sitting at a desk for a well-framed video conference.

On the bright side, the audio hardware is excellent. The quad-speaker array can be pumped up loud and clear, whether you're watching a movie or just listening to music. It's not overly powerful at the bass end of the scale but there's a nice, spacious feel to the soundscape generally. There's a quad mic setup too and this is really next level. Combined with some clever background noise reduction software, voice recordings are probably the clearest and most true-to-life I've heard from a laptop without plugging in an external mic. This should give you all the cut-through you need on your next Zoom call.
The Matebook X Pro is packed with unique features that make it really stand out from the competition. Fingerprint login isn't super unusual but here the sensor is under the power button, so you can turn the computer on and log in all at once. The sensor is as fast and as reliable as any I've used on a phone. Other phone-like options include the three-finger swipe to capture a screen-shot. This lets you capture the whole screen, just one window or even a selection you choose by drawing with your finger. If there's any text on the image you grab, it's extracted automatically for you to copy and paste into any document, email or message.

But perhaps the most useful feature of all is Huawei Share. Simply tapping your compatible Huawei phone on the right-hand palm rest pairs it with the Matebook X Pro, instantly mirroring the phone's display as a new window on the laptop's screen. This allows you to manage anything on the phone - storage, messages, images, files etc, dragging and dropping them onto the Matebook X Pro or vice versa. Even cleverer still, any image or file you select on your phone can be instantly transferred to the Matebook X Pro with another single tap. There's a fun graphic when this happens that makes it look like the photo is literally sucked out of your phone before appearing on that big, beautiful screen in all its glory. Not only is this a cool trick, it's actually really useful, saving you looking for a lead to connect the two devices. Because Huawei Share uses NFC, you don't even need an active internet connection to make it happen.

These sorts of functions require plenty of processing firepower to work seamlessly and luckily the Matebook X Pro definitely steps up in the engine-room department. The device I reviewed was running a 10th-gen Intel Core i7 processor, 16GB of RAM and an impressive 1TB of fast SSD storage. Throw the powerful NVIDIA GeForce MX250 discrete graphics card into the mix and you have a PC that isn't just a business workhorse but is capable of some pretty high-level gaming between meetings too.

I was surprised to find how warm the Matebook X Pro felt on my lap after a few hours solid use and there's also some reasonably loud fan action going on as well. This is pretty unusual for a high-end SSD device and I'd suggest Huawei might need to spend some time on the cooling system in the next version.
Battery life was another minor letdown for me. Although the website claims "up to" thirteen hours of continuous video playback on a full charge, I certainly never got anywhere near that with my standard, everyday use. Luckily, the 65W pocket charger works quickly and is very small, so is easy enough to carry with you. Additionally, because the Matebook X Pro uses a standard USB-C connector to charge with, you can juice up your phone and other devices with the same charger which is nicely convenient. In fact there are two USB-C ports, along with a headphone jack and a standard-sized USB-A port on the other side. I'm pleased to see there's still one laptop maker out there who acknowledges people like to be able to plug things in sometimes.

Other than average battery life, a slightly warmer than usual lap and a couple of options missing off the keyboard (which can be replaced by function key shortcuts, by the way) I couldn't be more impressed with the Matebook X Pro. It's slim. It's light. It looks classy. The pop-up camera and fingerprint sensor provide good peace-of-mind privacy-wise. It runs like a rocketship and the screen is huge and is pretty to watch.

Oh, and that one-tap Huawei Share isn't just a fun trick, it's actually pretty useful.

This is a serious amount of laptop for $3199RRP and is definitely worth considering if you're due for an upgrade.


Click here for more information on the Huawei Matebook X Pro.