NOW YOU'RE COVERED. SO COVERED
Author

Publish Date

Tue, 9 Feb 2021, 12:36pm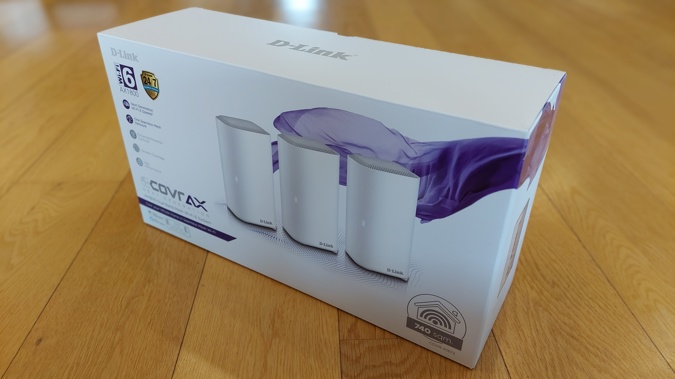 NOW YOU'RE COVERED. SO COVERED
Author

Publish Date

Tue, 9 Feb 2021, 12:36pm
Technology really does move pretty fast.
It seems like only yesterday I was reviewing my first mesh home-networking system. This was ground-breaking stuff; no more under-powered extenders with their own, different network names. Mesh technology meant you could stay connected to the same network anywhere around the house - as long as you had enough remote routers to cover the space.
Amazing.
Then...
Obsolete.
Wi-Fi 6 really is a leap forward - especially when it comes to your IoT devices at home. While not necessarily faster per se - that's mostly dependent on what kind of connection you have up to your house - what Wi-Fi 6 does really well is handle many devices at once. And now, more than ever, most of us need to connect many devices at once.
So...
Even if you have a mesh system installed in your home, if it isn't Wi-Fi 6, you're missing out...
The COVR-X1873 is a pack of three AX1800 dual-band mesh Wi-Fi 6 stations from D-Link. We've seen similar offerings from D-Link before but not Wi-Fi 6 in this form-factor.
I've reviewed Wi-Fi 6 routers and compatible extenders and to be sure, they're fantastic products in themselves. But the COVR-X1873 is definitely one of the most user-friendly, comprehensive, powerful and versatile home Wi-Fi systems available right now.
To start with, if you're going to compete in this market, you need to offer a foolproof, straightforward setup process. Using the D-Link Wi-Fi app is exactly that, walking you through the handful of steps required to get your primary COVR-X1871 router up and running step by step. Then, when it comes to powering up your second and third stations (or fourth or fifth, if required) there's not really any more setup involved - the secondary units pair themselves automatically meaning your new mesh Wi-Fi 6 network can literally be up and running in minutes. In fact, my only real gripe with the setup process is the app forces you to wait for an arbitrary amount of time between certain steps - like saving your configuration and rebooting the device. This actually seems to have nothing to do with how long it takes to reboot - in fact, the COVR-X1871's fire up extremely quickly, much faster than the two minutes the app makes you wait before moving onto the next step. Perhaps this is something D-Link will address in a future app update.
Meanwhile, the app experience is almost identical to using it with any other D-Link Wi-Fi device - you can fire off firmware updates automatically or manually, change the network name and password, set up a temporary guest network, and manage and any connected devices, even assigning them to different users with different parental controls. None of this is particularly new and most modern routers offer similar functionality via their apps.
I've always appreciated the fact D-Link lets you deactivate the status LED on its routers via a simple toggle in the app - if you've read my reviews before you'll be well aware how much I'm against unnecessary lighting displays. Unfortunately, while you can still do this on the primary unit of the COVR-X1873 set, for some reason, that option isn't available on the two remote stations. Super weird... but super unimportant - after all, it's only a little white light.
In fact, physically, that little light is probably the most eyecatching thing about these units. They're almost featureless, white rectangles other than a small D-Link logo in one bottom corner. They're not quite as small as some other, similar devices I've tried, although I think it's unlikely they'd be too tall for the vast majority of shelves if that's where you're wanting to fit one.
Of course, I've been rabbiting on about the wonders of W-Fi 6 - and that's not the only thing working to keep all your smart devices online and running to full capacity; smart roaming, MU-MIMO and smart steering all combine to prioritise which devices need access to the most amount of your available bandwidth, even saving battery on some devices if they only need to be connected some of the time.
I've surely saved the best for last though - in fact, I couldn't believe my eyes when I saw the rear input panel on each of these units. Each one has four gigabit LAN ports... that's on top of the input for the ethernet connection to your modem. That means you have the option of hardwiring another four devices at the site you've positioned each station. This is a massive plus for those of us using smart TV's, set-top boxes, gaming consoles and the like in multiple rooms around the house - until now I've been relying on multiple internet switches to do the same job. This is the first time I've seen this kind of versatility built into devices like these and I absolutely love it.
What's more, the COVR-X1873 offers maximum coverage - a single unit will cover up to 275sqm on its own - this pack of three will take care of a massive 740sqm. In my case, that means my whole section as well as my house. Boom.
At just under $600, this is not a budget solution but then, there are plenty of high-end modem/routers out there that don't offer anything like the coverage and versatility this system does. If you're not onto Wi-Fi 6 yet, this is a great way to do it. I've found it to be one of the most powerful, stable and user-friendly networks I've used to date.
Click here for more information and pricing on the D-Link COVR-X1873 AX1800, dual-band, seamless mesh Wi-Fi 6 system.