NOT MY STYLE - BUT MAY BE YOURS
Publish Date

Mon, 1 Jun 2020, 4:26PM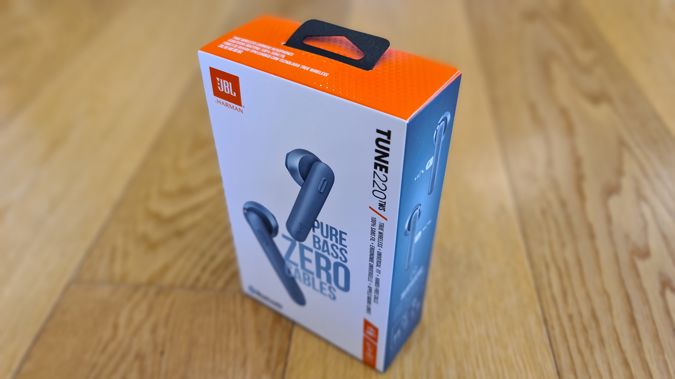 NOT MY STYLE - BUT MAY BE YOURS
Publish Date

Mon, 1 Jun 2020, 4:26PM
Ah buds.
Seems like only yesterday wireless earbuds were just a concept. Now they're absolutely everywhere, in all shapes and sizes and priced to suit every budget.
If you're not comfortable spending $300 or even more on something so tiny, be warned  - there are some pretty big gaps between the cheap and nasty and the more high quality items on offer. However, not all decent buds need to break the bank...
The JBL TUNE 220TWS is a good middle-ground option - both in terms of features and price.
The biggest question here is, are you a stick person or an in-ear person? Obviously, the external column-based design of the TUNE 220TWS means these buds are for stick people. I'm definitely more of an in-ear kind of a guy - although I do get why people go for this form factor.
There's far less fiddling around with different caps, cushions and fins to find the perfect fit... because there aren't any. Earbuds like these aren't designed to fit perfectly. They're meant to fit comfortably - and the TUNE 220TWS buds definitely do that. While there's no hermetically tight seal to provide passive noise cancellation, the upside is you can wear these for hours on end with no real fatigue or discomfort. This is partly due to their lightness, good balance and the feel of the soft-touch paint. (Black, white, pink or blue)
Despite not having outside noises safely sealed away, I found there was plenty of sound supplied by the buds themselves to keep distractions at bay. In fact, I keep getting into trouble while writing this review for ignoring the Domestic Manager... but only because I didn't actually know she was saying anything.
I've been extremely impressed by the clarity of the music reproduction. Yes, there's a pleasant amount of JBL's trademark bass kick (Or JBL Pure Bass Sound as they call it) but it's not at all overpowering and doesn't tend to muddy the general soundscape as can happen when other earbuds go for a big bass response. The overall result may not be quite as warm as other personal sound experiences but it's nice and bright, without being too sibilant or piercing. The steady thump, thump of Lady Gaga's latest dance tracks on Chromatica come across powerfully. Meantime, Sting's acoustic version of Fields of Gold shows off every finger-picked guitar string.
Call quality is great too. It's another big advantage of the column-style earbuds; if you stick the microphone at the end of the column, it's pointing towards your mouth, so it's likely to do a better job of picking you up clearly. This definitely seems to be the case with the TUNE 220TWS - very handy in the current age of Zoom meetings and other online video calls. In fact, I've found these to be great laptop companions indeed.
The JBL website claims you'll get about three hours non-stop use on a full charge and nineteen hours of charge time in the case. This is good, although far from the highest performing true-wireless earbuds out there. In saying that, I haven't tested these claims scientifically; I rarely wear earbuds for more than three hours at a time and there's a very clear LED indicator in the case to let you know when you need to plug it in.
Perhaps my biggest frustration is getting these things out of the case. It's definitely snug, no argument about that but my fat fingers struggle to grab anything firmly enough to slide them out. In fact, in one of my bungling efforts to prise the left bud out of the box, I accidentally shot it from the case and it fell on the footpath - not ideal. All this could have been easily avoided with one small design modification; a lid that flips all the way back instead of one that only opens to right angles - this simply isn't enough room for my fumbling digits to dig each earbud out its resting place, not easily anyway. It's a shame, because the two-tone case is very compact, comfortable to hold and looks great, with the JBL logo embossed on the front.
The on-board controls are a bit of a disaster, I'm afraid. There's an almost microscopic button, about the size and shape of a grain of rice on each earbud. They're hard to find and very uncomfortable to push because you have to press with enough force to jam the earbud into your ear to get it to work. The functions are fairly standard; one press to play/pause, or take calls, double press to return to the beginning of the track etc. But there's no volume control at all - this has to be done from the source device. Why JBL would include voice assistant control (which I'm pretty sure hardly anyone ever uses) instead, is a mystery to me.
Unfortunately, the TUNE 220TWS are not IP or IPX rated for dust, sweat or water resistance, so they're probably not a good option for rigorous exercise. I'm always feel a bit insecure wearing column-style buds running anyway; because they really only sit in your ears rather than fit in your ears, it seems like any decent jolt will send them flying. In defence of the TUNE 220TWS, I haven't actually lost one out of either ear while I've been using them, so perhaps my fears are unfounded. That soft-touch paint finish certainly adds an extra grippyness to help you feel more secure.
While perhaps not the best option for the gym, I'd have no reservations about recommending the TUNE 220TWS as a great commuter option, streaming video or music via phone or tablet and as I've mentioned, they're the perfect solution for online video chats. They look stylish, sound really good, pack a decent bass punch and they're less than $200. Now if I could just get them out of the case...
Click here for more information on the JBL TUNE 220TWS earbuds.