No More Printing Pain Points
Author

Publish Date

Thu, 26 May 2022, 1:42pm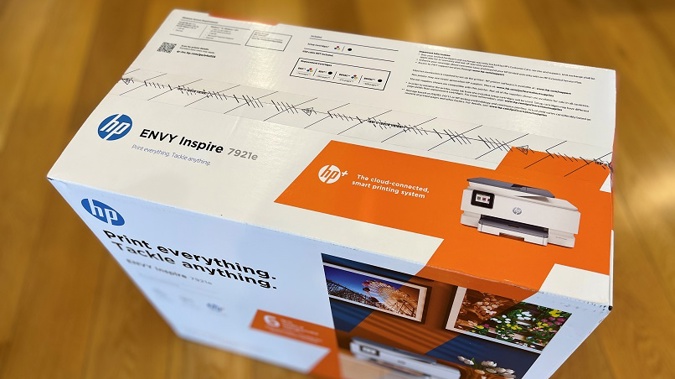 No More Printing Pain Points
Author

Publish Date

Thu, 26 May 2022, 1:42pm
How many people do you think would say they love their printer?
Nope, didn't think so. When it comes to tech frustration, few machines are capable of causing the acute psychological distress a printer can.
From paper jams to ink replacement, or my personal favourite; simply disappearing from your list of preferred devices, sometimes it seems printers were sent to try us by the very devil himself.
All of this is exacerbated by the fact printers often let us down just when we need them the most... the night before the assignment is due... when you'd been working on that photo collage for Nana's birthday or worst of all... when you need to print, sign and scan official documents - potentially putting important business transactions at risk.
When you think about it. it's all about reliability. Why can't printers just work?

The new HP ENVY Inspire All-in-One printer series just works. This week I've been trying out the ENVY Inspire 7921e and by all early signs so far, I'm impressed.
Aesthetically, there's nothing groundbreaking about this printer, although I do like the contrasting colours on the document feeder and the paper tray - I'm very relieved HP sent me the Surf Blue version and not the Portobello option. Portobello may suggest a mushroomy hue but it still looks beige to me. Just saying. 
Whichever colour you opt for, if you're environmentally responsible, you'll be pleased to know HP is doing its bit too. Not only are the new 7900 and 7200 series All-in-Ones constructed from 45% recycled plastic but for every page printed using an HP+ printer, HP has pledged to restore forests in equal measure - even sourcing its paper exclusively from "responsibly managed forests."
Anyway, the 7921e is on the larger side for a home printer but this is due mostly to the aforementioned document feeder. I've had printers both with and without feeders and it wasn't until I went without I realised I really prefer with. There's something satisfying about the set-it-and-forget-it process of plonking multiple pages into the top of the printer, simply pushing the scan button on your computer and coming back to an automatically compiled, multi-page PDF sitting in your designated folder when it's finished. I've decided that's a must-have feature for me.
I also appreciate a full-colour control screen. Again, I've used printers with no screen at all - just a few buttons that sometimes have multiple functions assigned to them. This can obviously get confusing quickly - especially if you can't remember what the little symbols are supposed to mean. A touch screen like the one on the 7921e is much more user-friendly - in fact you can tilt it up to face you. Pretty much all options are accessible from the scrollable menus and shortcuts on this screen - and you can even create your own shortcuts using the app.
Yes, of course there's an app; HP Smart. This is how you'll set the printer up in the first place and don't be scared, it's a very simple, guided process that's probably the most complicated thing you'll have to do with this printer. The most important step is joining your Wi-Fi network and as a mentioned at the top; connecting your printer to the Wi-Fi and keeping your printer connected aren't always the same two things. However, thanks to some pretty whizzy self-healing Wi-Fi tech, somehow HP has managed to get these new ENVY Inspire devices to connect and STAY THERE. Yay.
It gets better. These are HP+ printers. HP+ is more than just a fancy warranty; once registered you'll get a year of online support and the ability to access your printer from anywhere and from any device - either at home or out and about. You can even do things like scan to your phone, which could definitely come in handy if you've left important documents at home or maybe you need an instruction manual - perhaps a piece of music? Who knows?
But perhaps the most compelling reason to go with one of these new ENVY Inspire All-In-Ones is Instant Ink. I've talked about Instant Ink before but it's a good enough service to warrant another mention. Just by buying a 7900e or 7200e printer, you'll get a six month Smart Ink subscription for free. 
This means your printer will monitor its ink supply levels and order replacement cartridges to be delivered to your door. Although your printer comes with a couple of "Welcome" cartridges to get you going, within a couple of days of activating your Smart Ink account, an Instant Ink box will turn up at your door with two new, high-volume replacement cartridges. The monthly subscription charges vary depending on your usage and obviously six months is plenty of time for you to figure out which plan you should be on.
The good news is, it works out significantly cheaper; as much as half the price of buying your cartridges retail and you can't beat the convenience of prompt home delivery. I've been doing it for over a year now and I absolutely love it. I wonder if we can get them do an Instant Paper option too?
Speaking of which, another nifty feature on the 7921e is its dual paper trays - there's a separate tray for photo paper tucked in above the standard A4 tray. This is fantastic as it saves you the laborious process of emptying the tray of one kind of paper, putting the other in, then trying to explain to the printer which sort of paper you've just inserted.
If you've ever printed photos at home, you know exactly what I'm talking about and you're probably jealous knowing I now never have to go through that again.
The last thing I wanted to mention is a silly little thing but it's just one more way this printer is better than those I've used before. The power button is on the front. I know that sounds dumb but previous HP models I've used have had the button at the back, making it almost impossible to find. Our printer lives in the spare room and sometimes guests sleep in that room. That means we don't want power lights glowing in the night and we certainly don't want to risk an accidental print session at the wrong time. The ability to easily turn this thing on and off is a silly but welcome improvement.
The main point of the story is the one we started with; reliability. So far, this ENVY Inspire 7900e series printer has performed flawlessly, scanning, printing or copying to perfection every time. It hasn't disappeared from the home network once and it connects to any device that can download the HP Smart app - even devices that aren't on the same network. And best of all, it never runs out of ink. Ah, all my printer pain gone. Bliss.
Click here for more information on the HP ENVY Inspire 7900e All-in-One Printer series.