No Longer the New Buds In Town
Author

Publish Date

Mon, 1 Aug 2022, 12:31pm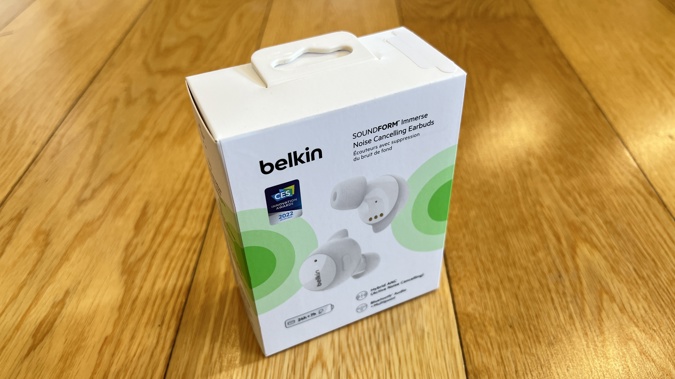 No Longer the New Buds In Town
Author

Publish Date

Mon, 1 Aug 2022, 12:31pm
Usually when I write an earbuds review, I start by complaining about how many earbuds reviews I've been writing.
This time though, weirdly, I feel like there's been a bit of a lull. Certainly a lot of the "big" brands seem to be in between flagship launches right now which means the market might just be ripe for the picking should another player decide to come along with its own premium offering.
That said, such an offering would have a lot to live up to; battery life, durability, sound quality and above all else, the fit would need to be spot on if a lesser known brand were to chomp up some market share and convince consumers to hand over $300+ for two tiny bits of plastic.
However, if that brand had a rock solid reputation for producing a wide range of other quality devices and accessories, that'd give them a pretty good head start...

Belkin definitely fired up its true-wireless earbuds department last year with the introduction of its SOUNDFORM range. I tested and reviewed both the SOUNDFORM Rise and SOUNDFORM Freedom models and they really surprised me with how well they performed.
Both were of a similar form-factor, a kind of hybrid sit-on/fit-in shape with external stems for the microphones. My main criticism of them was they looked a bit strange; slightly bulky and unconventional - perhaps too unconventional for people to try in favour of the tried and true.
Now there's a new, even more full-featured addition to the SOUNDFORM family; the SOUNDFORM Immerse. As you can see from the picture above, in terms of shape and size, these line up much more consistently with other popular high-end earbuds available right now. No stems here and the overall effect is much more subtle, although the buds are still on the large size comparatively speaking.
This doesn't mean they feel heavy or uncomfortable when inserted, however - quite the opposite. Not only are there three sizes of silicone ear tips in the box, there are also three wing tip options - these fit over the main body of each bud like a grippy sleeve, with a moulded tip to keep the bud firmly in place. I don't know what kind of silicone Belkin has used but it does an amazing job of holding each bud securely in my ears. I often find my left ear hole is slightly looser than my right and that bud will sometimes jostle out when I'm doing high impact activities like running. That simply hasn't been an issue with the SOUNDFORM Immerse. I put them in and they stay in.
They're also IPX5-rated for sweat and water resistance so between that and their ability to stay in no matter what, these are definitely a great choice for exercise.
That snug fit also definitely provides a decent amount of passive noise cancellation but the silencing story doesn't end there. The Belkin boffins seem to have quietly yet very successfully come up with some very effective Active Noise Cancelling tech too - like other similar devices you can cycle between ANC on, turning it off or a mixture with the Hear-Thru setting. This can be accessed via the SOUNDFORM app or using the tiny, physical buttons situated on the top of each bud. These are raised bumps that are fairly easy to find by feel, although because there are three settings, I found it hard to remember which of the three different tones meant ANC-On, ANC-Off or Hear-Thru.
The app gives you access to Belkin's most comprehensive list of features yet - from a good selection of customisable preset EQ's, to the ability to change which media controls do what in response to single, double, triple and sustained taps on the capacitive touch sensors. Yes, there are both physical and touch controls on each bud. You can't complain about a lack of on-board access here.
Belkin also seems to have a uniquely agnostic relationship with both iOS and Android manufacturers, as evidenced by the inclusion of features like Apple Find My to locate the charging case if you misplace it or Google Fast Pair, for easy one-touch setup with Android phones. Impressively, multipoint pairing works flawlessly across platforms too. I was able to swap between an iPhone 13 Pro and a Samsung Galaxy S22 Ultra with no issues at all.
If you read my review of last year's SOUNDFORM buds, you'll know I was already surprised and delighted by the overall sound quality. As you can imagine, for this premium offering, Belkin certainly hasn't made things worse.
"Geek In the Pink" from Jason Mraz - apart from being a cool song - is a master class in pop production; driven by a moog-style bass line, juxtaposed with acoustic rhythm guitar and obviously pounded into submission by Mraz's rapid-fire rhymes... all the elements punch through loud and clear but only if they have enough space to do so. The SOUNDFORM Immerse provides that platform; space but also warmth and clarity.
As I settle into the stripped back acoustic comfort of Amos Lee's "Sympathize," I feel like there's something organic going on here - almost like the difference between listening to speakers with wooden cabinets and those made out of plastic.
In fact, if excess plastic is something that keeps you awake at night, rest assured the SOUNDFORM Immerse packaging is some of the most environmentally friendly I've encountered - in the earbuds world anyway. The charging case comes wrapped in a biodegradable bag, nestled in a squashable cardboard mould. Personally, I'm not worked up about these things but I appreciate the effort.
As you can see, Belkin has certainly swung for the bleachers with the Soundform IMMERSE - you really do get all the high-end features here - even battery life is on-par (or superior to) other "big name" rivals. Belkin's website suggests seven hours playing from fully charged buds with another 24 hours in the case - you've got to be happy with that. I'm also happy the case charges wirelessly; when you can just pop your buds down on the charger after coming in from the gym or walking the dog, they're always fully charged next time you use them.
Although it's been a little while, I review a lot of earbuds. As a result, I have a few favourites I can't wait to get back to when I've finished writing about whichever new ones have just come across my desk. What's interesting about the Belkin SOUNDFORM Immerse is, I'm still wearing them.
Click here for more information on the Belkin SOUNDFORM Immerse wireless earbuds.