NO FRILLS, JUST BIG SOUND
Publish Date

Mon, 22 Feb 2021, 5:44PM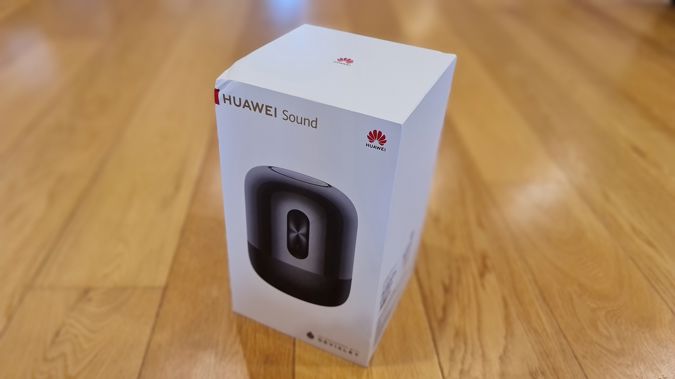 NO FRILLS, JUST BIG SOUND
Publish Date

Mon, 22 Feb 2021, 5:44PM
Speakers are smarter than ever.
No longer just the way we listen to music, they've become the centre of operations for the modern connected home. With a simple command, we can now fire off whole routines to activate air-conditioning, turn on lights... even water the garden.
Oh... and we can play music of course.
So where does that leave speakers that only play music? Is there still a market for them? And even if there is, why would you try and get into that market now?...
I've never met a Huawei I didn't like.
When it comes to delivering premium tech hardware, there are few other brands that do it as consistently. From enterprise infrastructure technology right down to developing some of the best performing smart phones the world has ever seen, Huawei usually gets it right.
More recently, we've seen personal audio products like true-wireless earbuds and frankly, stunningly good over-ear, noise-cancelling headphones.
Now it's time for a speaker, named simply, the Huawei Sound.
Initially I was pretty intrigued... I didn't really know Huawei had any kind of AI voice assistant to put into a speaker - then I realised that wasn't an issue; this isn't a smart speaker. (last year's Huawei P40 phones actually do offer a virtual assistant option named, Celia - but only in a limited number of countries)
That is to say, the Sound isn't particularly smart... but we'll come to its more clever features shortly. It certainly looks smart - similar in size and shape to other stand-alone bluetooth speakers on the market, about the size of a small indoor plant pot. It's all black - with a speaker grill circling the base and a super shiny cover on top that definitely does show the slightest fingerprint, so keep a soft cloth handy if you're moving it. The Sound's most distinctive feature is the pair of oblong openings on each side that let you see into the two SAM powered passive speaker modules that are key to the audio performance of this particular device.
There's a simple LED control panel on top, that only lights up when its nearfield detection senses your hand is close. This features just four touch controls, Mute, Play/Pause, Volume Up, Volume Down and Multifunction - or just hold your hand over the whole thing to play or pause - talk about a minimalist design ethic, which definitely resonates with my personal tastes.
While I'm sure the Huawei design team can take plenty of credit here, it's significant to note this speaker is in fact a collaboration with French sound engineering pioneers, Devialet; an innovative company with a guiding principle of providing distortion-free sound reproduction that looks pretty funky too.
There's certainly plenty of hardware packed into the Huawei Sound; three high-end, full-range tweeters in the base, pointing in every direction to capitalise on Devialet's SPACE technology and creating a 360-degree surround-sound effect if the speaker's in the middle of the room. This triple-tweeter array is teamed with a big 4-inch 40 watt woofer mounted right in the centre of the device. This really provides "punchy bass" as advertised, especially given it works in unison with those passive side units I mentioned earlier to suppress any distortion at all, no matter how loud you run the speaker. What's more, it's fun to watch the bass pulse in and out through those side cutouts.
The Sound definitely does pump out some serious volume for its size and thanks to all that Devailet tech inside, it truly is free of any rattle, vibration or buzz, even on the thumpiest of dance tracks.
While this isn't a smart speaker as such, there are three ways to connect. Yes, you can simply use the Sound as you would any other bluetooth device - it's easy enough to pair, either manually or via NFC. There's also a 3.5mm AUX-IN port concealed under a rubber flap at the back if you want to keep things old school and hard-wired. Interestingly, there's a third connection option - UPnP.
In theory, this means the Huawei Sound will appear on your Wi-Fi network as an available device for music streaming apps like Tidal, Deezer or Spotify. To set it up, you'll need to use Huawei's AI Life app, which also offers a few preset EQ effects and is how you install firmware updates. Unfortunately, it's not quite that simple, as you may also need to download a third-party plugin to stream from certain apps. For example, to use Spotify over UPnP there's an app called HiFy that shows the Sound as a speaker you can cast to. Unfortunately, I couldn't get it to work. A bit frustrating as the full version of HiFy isn't free. I had more success with another app called Hi-Fi Cast. This one is free and lets you cast any music stored locally on your device directly to the Sound.
Is all this trouble worth it? In theory, yes - because streaming over Wi-Fi means higher quality audio than streaming via bluetooth. In reality though, no. It's too damn fiddly and to be honest, the Sound does a pretty decent job of reconstituting compressed audio and bringing it back to its original, room-filling glory. (Or close to it, anyway) It's a shame Huawei hasn't been able to develop its own universal plugins that download automatically when you connect the Sound to your home network. That'd make its UPnP functionality much more viable.
Not to worry, as I say, the bluetooth performance is excellent. In fact, it's so good, I came up with a little hack. Just because the Sound itself isn't smart, that doesn't mean you can't pair it with another smart device, say a smaller, cheaper smart speaker you might happen to have lying around to control things like your lights. That's exactly what I did and the bluetooth connection proved so strong and stable I never had any issues.
Of course, to enjoy the full benefits of the Sound's impressive 360-degree performance, it's best placed in the middle of the room. One problem; it still has to be plugged into the wall. On the bright side, the cable from the external power supply is quite long, very thin and plugs in as inconspicuously as possible, right underneath the base of the device. Technically, this means if you were prepared to drill a hole in your table-top, you could conceal the lead completely.
Priced at $399 and given its lack of smart abilities (and finickity UPnP), you'd want to be assured this speaker delivers audio-wise. It does. Its "upscaling" tech does a great job of recreating compressed audio and it's stylish to look at too. What's more, if you have another little $70-$80 smart speaker to pair it with, you can send it voice commands anyway. I'm surprised Huawei has entered the wireless speaker market in this somewhat limited way but it's possible this is just the first of many, bigger, smarter things to come.
As a collaboration with Devialet and as a standalone piece of high-end audio hardware, the Sound is a success.