NEWER ISN'T ALWAYS BETTER
Author

Publish Date

Mon, 27 May 2019, 7:39AM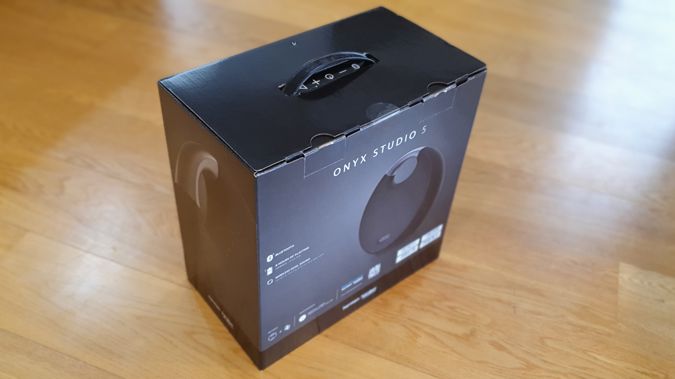 NEWER ISN'T ALWAYS BETTER
Author

Publish Date

Mon, 27 May 2019, 7:39AM
The Onyx Studio 4 from Harman/Kardon is the best bluetooth speaker I've ever used. It looks amazing, has decent battery life, there are some extremely useful features (like the ability to connect to other speakers) and most importantly, it sounds incredible.
But that's not what this review is about...
There's a new speaker in town, the H/K Onyx Studio 5.
I am, of course, a massive Harman/Kardon fan. They make beautiful noises come out of exquisite objects, pretty much without exception. Accordingly, the Onyx Studio 5 is indeed no exception.
On initial purview, it could perhaps be mistaken for some kind of haute couture handbag as seen in the window display of Kate Spade or Louis Vuitton. Indeed, the fifth generation Onyx Studio is considerably more portable than its predecessor. Not only does it feature an obvious and easily-gripped handle to carry it around by, the base is now wide, flat and non-slip, as opposed to the slightly less versatile three-legged arrangement we saw on the Onyx Studio 4.
Available in black or blue, with a contrasting aluminium handle, the black version leans slightly towards the charcoal side of the equation - very attractive. As usual for a Harman/Kardon device, the controls are minimalist to the extreme - bordering on being hard to find. They're simple raised shapes at the top of the speaker, below the handle so even if you can't see them easily, you can feel them; plus or minus for volume, a play/pause button, a bluetooth connection button and a power button. Only one tiny LED indicator to show when the Onyx Studio 5 is turned on or pairing. I love this subtle approach so much. Who needs masses of buttons and flashing lights from a device designed to be listened to?
Sounds incredible, of course. The 120mm woofer provides an extremely rich and warm bass experience, without dominating the higher frequencies and muddying them which is something I often encounter on other devices. There's plenty of sheer volume, enough to fill a large living room. You also have the option of pairing two Onyx Studio 5's together, to double your coverage. This is not a stereo option though, just two connected speakers playing the same stream.
And this is where I start to get confused.
The Onyx Studio 4 could connect to other speakers too, but not just other Onyx Studio 4's. It had a dedicated HK Connect+ button so you could pair it with up to a hundred other H/K and JBL speakers, even setting speakers up as left and right if you preferred.
And that's not the only feature Harman/Kardon has removed rather than added.
There's no mic function on the Onyx Studio 5, so there's no ability to take phone calls through this device or use it to activate voice-controlled assistants like Google Now, Bixby or Siri. Maybe nobody was using those options, so they didn't bother including them this time round, but it seems weird to make something less versatile than its predecessor.
There's an interesting hidden difference between number 4 and 5 too - the newer device has half the speakers. Only one woofer and one tweeter as opposed to a pair of each in the older model. Admittedly the single woofer is twice the size, although the solo tweeter in the Onyx Studio 5 is only a little bit bigger.
So... things sound slightly different.
I've listened to both devices back-to-back and I can definitely hear a contrast. What I can't tell you is which setup is better. Given both are probably the two best bluetooth speakers I've ever heard, I suppose it doesn't really matter.
The Onyx Studio 5 comes with a slightly bigger battery, although the actual playback time seems to be pretty similar at around 8 hours depending on volume and content being played. Helpfully, it turns itself off after a period of inactivity to preserve as much battery as possible. What's more, I was impressed with how quickly the speaker automatically re-paired with its source device each time I turned it back on.
Rather than charging via a microUSB or USB Type-C cable, the Onyx Studio 5 has its own power adapter which unfortunately doesn't charge the device particularly quickly - none of this is any different to how the Onyx Studio 4 plugged in.
Make no mistake, the Onyx Studio 5 is a truly awesome speaker, more portable than ever, producing a full, rich sound with plenty of power. Only trouble is, it simply doesn't have as many features as the old version, which would be fine, if it weren't more expensive.
If you're still up in the air about which one to choose, my advice would be to try and find a retailer selling both models and give each of them a good listen.
Click here for more information on the Harman/Kardon Onyx Studio 5 portable bluetooth speaker.