New Brain, Same Outstanding Laptop
Author

Publish Date

Thu, 13 May 2021, 1:09PM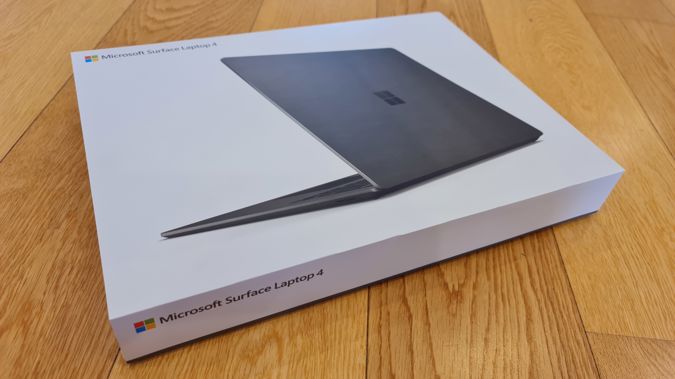 New Brain, Same Outstanding Laptop
Author

Publish Date

Thu, 13 May 2021, 1:09PM
By the time Microsoft introduced laptops to its Surface range, it'd really figured things out. From the premium build quality to the high-end performance, Surface Laptops have never failed to impress. This year, there's been a slight shift though with the introduction of AMD's Ryzen processors. Better? Worse? Any noticeable difference at all?
Let's just back up the truck a bit and assess this thing from scratch and see where we get to...

The Microsoft Surface Laptop 4 is an impressive-looking device, straight out of the box. Over the last decade, the Surface brand has really gathered momentum and the sight of those four embossed squares in the centre of the lid tends to mean there's something pretty special underneath.
It's big... admittedly I've been sent the 15-inch version in Matte Black - you can also choose a 13.5-inch display and there are four colours this year - the black, Platinum, Ice Blue and Sandstone. Oddly, you're restricted to certain colours depending on what configuration you prefer. For example, if you like the softer feel of Microsoft's Alcantara for your keyboard surrounds and palm rests, you'll be restricted to the smaller screen and a choice of Ice Blue or Platinum. If you want a Sandstone Laptop, you can only have the smaller version and in the Cool Metal finish. Meanwhile, you can only get the big boy in Matte Black or Platinum. I was at a briefing where the Microsoft representative was asked about the weird colour/material limitations and he claimed it was something to do with supply and demand basically. I guess people who are into Sandstone aren't into soft surfaces and big screens. Who knew?
But let's not get bogged down with colour schemes. My Laptop 4 is black and it's beautiful. The matte finish on the aluminium surfaces does a pretty good job of repelling fingerprints and grease, the device is very slim and quite light, given its size. There are generous palm rests due to the tall aspect ratio of the display opposite - that means plenty of room for a nice big trackpad too. Microsoft's "Invisible Hinge" is indeed very subtle, although the bezels around the display are less so - roughly a whole centimetre wide at the top and sides and even bigger again at the bottom. This is somewhat surprising, given the much higher screen-to-body ratio I've seen lately from other premium laptops and how elegant everything else is on this machine.
For instance, Microsoft has made a lot of fuss about how you can now open the lid with just one finger. Essentially, that's true - the screen/lid is very thin and light, yet sturdy with little-to-no flex. That hinge also helps with this too - it's firm but not too firm.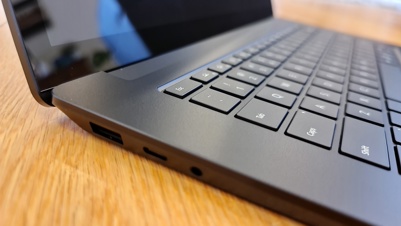 Which brings me to the port selection - there aren't many and I can never tell if this is a design decision or a practical thing. What I mean is, is there just not enough motherboard space available to fit in more slots or does someone just think too many holes in the side of your computer look a bit ugly? I really hope it isn't that second thing because personally, I can never have too many ports if possible. On the Laptop 4 you get a USB-A, a USB-C, a Surface Connect slot and a headphone jack. That's it. Now, admittedly you can charge via either the Surface Connect or USB-C but seriously... if you don't own some kind of external dock there's not a lot of gear you're going to be plugging in here.
And that's it. Those are all my complaints. I literally can't find anything else wrong with this laptop.
Keyboard? Impressively spaced out and wonderfully clicky.
Trackpad? Large (as already mentioned) which means accurate and useful for gestures like pinch-to-zoom - also nice and clicky.
Pixelsense touch display? Bright and clear and adjusts nicely to the ambient light where you're working.
Sound? Very good actually. This is weird because you can't see the Omnisonic speakers. In fact I had to search up where they are because I couldn't find them. They're under the keyboard. Clever. The Dolby Atmos-enabled result is very immersive. It's a great laptop for watching your favourite shows on.
Camera? Good enough - it's a 720p HD f2.0 sensor that provides a nice clear image in most lighting conditions and combined with the dual far-field mic array, you should have no issues being seen and heard at your next online meeting. Most importantly, it's Windows Hello enabled for a quick and secure hands-free login.
All of this is to be expected - as I've already said, historically Surface Laptops have been not just fine examples of the Surface range but right up there with the best Windows laptops available from any manufacturer. When you set yourself a high bar like that to live up to, people tend to get bogged down with any feature that isn't quite up to snuff - instead of acknowledging all the great things Microsoft has delivered yet again.
All well and good. But going with a new chip is akin to changing the Coke recipe; pretty risky if you don't get it right first time.
Not to worry, the Laptop 4 gets it right. Not that you're locked into the AMD Ryzen chip - there are Intel Core versions available too, although from what I've seen so far, I'm not sure they're worth the extra money and again, like the colour and material selection - depending on what screen-size, memory and storage options you choose, you might not get the option to choose which chip anyway.
Lucky for me, the device I'm using is running on the AMD Ryzen 7 4980U, with 16GB of RAM and 512GB of storage. The similarly configured Intel version is $200 more expensive and I'm here to tell you to save your money. This particular Laptop 4 is as fast and as powerful as any other laptop I've used. What's more, the integrated AMD Raedon graphics card means this is definitely one of the new breed of laptops capable of fairly high-demand tasks - like sound and video editing and even running many games previously only designed for consoles and specced-up gaming PC's.
Dirt 5, Yakuza: Like a Dragon and Gears all launched quickly and ran without a hitch. And as I've pointed out, the screen looks brilliant, the speakers sound terrific so the whole experience is nothing short of a pleasure.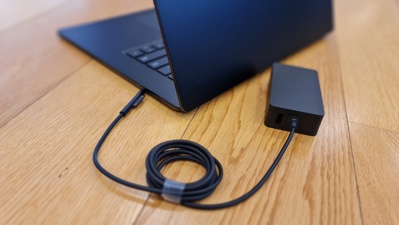 Perhaps the Laptop 4's most impressive claim is its up to 17.5 hour battery life. As I always point out - those sorts of numbers are meaningless as battery life is never consistent between one charge and the next. If you spend hours gaming today and you're just checking emails tomorrow, the power consumption is going to vary quite a bit. What I can tell you is I never had to put the Laptop 4 on to charge more than once any given day - and yes, I was generally using it for hours at a time. Like the impressive graphics performance, I'm starting to see a few more Windows laptops coming out with genuine. all-day battery life so it's good to know Microsoft has placed itself firmly among that leading pack.
And man does this thing run cool and quiet. 
As usual, the price might be a barrier for some people - the Laptop 4 in the configuration I'm using right now retails for NZ$3,199.00 - not cheap but also inarguably one of the best laptops available right now. The range starts at NZ$1,749.00 which is definitely more accessible and at that end of the scale you're still getting a really solid performer - albeit with a slightly smaller screen.
I've yet to be disappointed by any Surface Laptop I've used and this year is no exception - in fact, this time Microsoft has discovered even more ways to impress.
Click here for more information and pricing on the Microsoft Surface Laptop 4.