Never Judge a Set of Earbuds by Their Case
Author

Publish Date

Mon, 22 Nov 2021, 1:38pm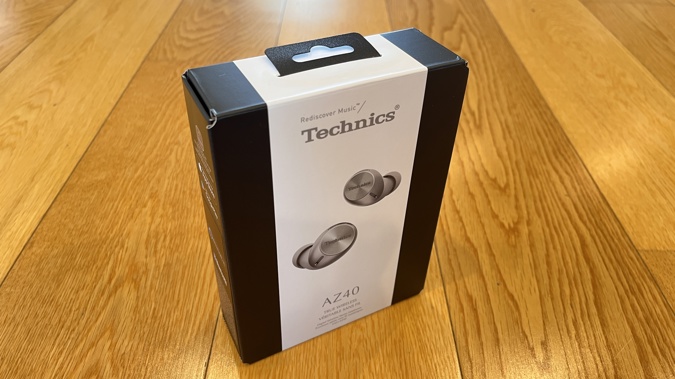 Never Judge a Set of Earbuds by Their Case
Author

Publish Date

Mon, 22 Nov 2021, 1:38pm
That's right, it's Earbuds of the Week time again!
You think I'm kidding? I have definitely got at least another two sets of earbuds sitting on my desk I haven't even taken out of the box yet.
I asked out loud the other night, "Why on earth would you try and compete in the earbuds market? Everybody's making them."
To my surprise, someone actually answered. They told me a) everybody wears them and b) they're easy to lose. I had to admit, both excellent points.
So if you're in the market, either because you're only just getting round to going wireless, it's time for an upgrade or one simply rolled under a bus the other night after a party (no, I haven't got over that yet) then I've got another option you may not have considered yet - but may be interested in.

I have to admit, until quite recently I didn't even realise Technics was still a brand. I think I thought it had kind of evolved into Panasonic for some kind of marketing reason around the turn of the century. Even now, I'm not completely clear how it all works but I think they're basically two arms of the same company and the Technics arm did indeed get put away for a while but was then brought back in 2015 when it turned out there was growing market for fancy turntables.
Well I guess they've decided earbuds can be fancy too, with a new range including the EAH-AZ40.
Unfortunately when I took these out of the box, my expectations plummeted. Terrible case. Just terrible. It felt... well... cheap. And plasticky. I know all charging cases are made of plastic but this one really screams it. Perhaps because I was sent the silver variant and it seems like it's just spray-painted on. It's also small and light. This is usually a good thing - a great thing even. But because of the feel of it all, I was just left with the impression the EAH-AZ40's might be a bit overpriced. The case doesn't charge wirelessly either, BTW.
Then I opened the lid and bunged the things in my ears.
The silver of the buds themselves (which is actually only the half visible outside your ear, the inside is a matching pale grey) is a much classier finish - with the appearance of machined and polished metal and a subtle Technics logo across the centre. They also come in black or rose-gold.
The shape seems a bit unconventional - the ear-tip angled quite sharply away from the rest of the body and yet I was impressed how easily and snugly each bud nestled into place. It was immediately apparent these would be great for exercise and other physical activity - matching up with their IPX4 water resistance rating. There are four sizes of silcone earpieces to choose from but as usual, I found the mediums they came with to be the fit for me. 
Man, these things are light and as such, very comfortable for long listening sessions. I've worn them for hours on end with no fatigue at all. There's ample battery life to support those long sessions too; Technics promises up to 7.5 hours from the buds with up to 25 hours in the case. That's decent.
The accompanying Technics Audio Connect app is also decent. It's design is quietly understated but there are a lot of features and customisations available - especially given there's no Active Noise Cancelling with the EAH-AZ40's - you'll have to move up a model if that's a deal-breaker for you. Meanwhile, you can adjust the EQ, tailor the touch controls to your preference, select your favourite voice assistant and interestingly, adjust ambient mode settings. Although there's no ANC, because the passive noise cancelling is quite effective, Technics has decided you can opt to let in conversation or all other sound if you so wish.
There's also a lot of tech built in to reduce background noise when you're on a call. This is obviously very effective as I've not had a single caller ask me if I'm on speaker or hands-free, even when I'm out and about.
I often leave the sound quality part of the equation till last, because it's just so subjective. Technically, it's possible to measure which frequencies are played at what levels but we all hear things differently - especially deaf old geezers like me. If I'm being super critical, I'd suggest the EAH-AZ40's are guilty of the same trap many other earphones fall into; great bass but a slight lack of detail in the mid-to-upper ranges. This means jangly pop and rock sounds can seem a little muddy, while jazz, hip-hop and disco absolutely deliver.
The smoky jazz-club vibes of "Witch Hunt" by Wayne Shorter sound just as real, exposed and organic as they should, while the middle-of-the-road tracks of Rob Thomas' new Christmas album are not quite as lively.
But listening to Ladyhawke's new album, "Time Flies" was so sublime I did it twice. In a row. It's as though the EAH-AZ40's were specifically built for Ladyhawke's bass-driven dancey grooves - the sheer power of the punchy bass lines was like a religious experience.
At an RRP of NZ$229.99, these earbuds are certainly not cheap, even though the case feels a bit that way. But once open, the buds inside really do deliver in terms of fit, battery life, functionality, call and sound quality - especially if you're all about that bass.
Click here for more information on the Technics EAH-AZ40 true wireless earbuds.