Need a Bigger Screen?
Author

Publish Date

Sun, 12 Jun 2022, 4:24pm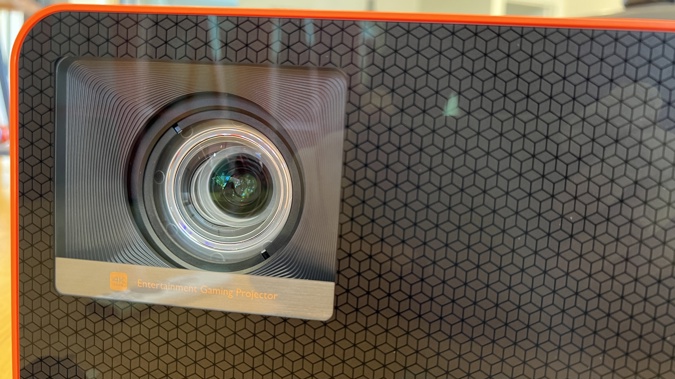 Need a Bigger Screen?
Author

Publish Date

Sun, 12 Jun 2022, 4:24pm
Well I'm on shaky ground again, reviewing something I've never reviewed before.
I know people use projectors at home. I get it's an effective way to maximise your screen size. I understand technology has come a long way since those boring educational videos a million years ago at school.
But why?
I have this other cool way to watch movies and play video games; it's called a TV. Are you seriously trying to tell me there's a projector that can do everything my TV does?
Alright, let's have go then...

The BenQ X3000i is a 4LED 4K HDR gaming projector and it's a lot smaller than my TV.
It's basically a fairly innocuous looking white cube with a black front - bordered in bright orange. As such, this is probably not a device that's going to blend in seamlessly with your decor. Mind you, depending on where you're intending to use it, it may even end up sitting on your coffee table in front of you. There are appropriate screw-holes for mounting it from the ceiling or you have the option of resting it on the included adjustable rubber feet - whichever way up works best given the corner placement of the lens.
Having never set up a device like this before, I didn't quite know what to expect but in fact, the most complicated thing I had to do was install the QS01 Android TV dongle that's included in the box. This is a full-functioned streaming stick you could plug into any display - BenQ sells them separately - and I don't fully understand why this doesn't come pre-installed or even built-in to the projector itself. Perhaps it's a future-proofing thing; if BenQ starts producing a better streaming stick somewhere down the track, I guess it'd be convenient to be able to swap it out.
Anyway, to plug it in you need a screwdriver - because you have to take the whole top cover off the projector to access the hidden compartment with the HDMI port and microUSB power supply. Once that's all done you're ready to plug the X3000i in and power it up. That's literally all it takes.
I was expecting to have to go about all kinds of calibration but it turns out, if you more or less point this thing in the right direction, it can take care of a lot of that stuff itself. This is just as well, as operations like adjusting the keystone is not something I've got much experience with.
After being guided through the few short steps to pair the remote control, you'll then be tasked with initialising your Android TV setup. Unlike other projectors that may just be mindless AV accessories, thanks to that QS01 Dongle, the X3000i functions just like any smart TV. Once logged in you can access thousands of apps - from Disney+ to Amazon Prime Video (for which there's a dedicated shortcut button on the remote). Oddly, no Netflix though. My research indicates some sort of licensing issue which makes viewing Netflix on this projector somewhat challenging, to say the least. Not only can you not install the Netflix app directly onto the dongle, you can't even cast from another device using the app, even though with a push of another shortcut button on the remote, the X3000i effectively transforms itself into a Chromecast.
The Netflix plot thickens... you can also Airplay to the X3000i from your Apple devices. Except, when I opened Netflix from my browser on my iMac and Airplayed it to the projector, all I got was the sound and a black screen.
In the end, I just plugged in an actual Chromecast and watched Netflix that way. Very strange.
My biggest challenge was finding somewhere in my house I could use the projector and plug things into it to test it out without annoying the hell out of everyone else. I don't have a projector screen so I needed a big, blank wall. This meant the spare room became my media suite.
The way I had the X3000i set up, it projected an image big enough to cover the entire spare room wall. However, when I measured it, it turns out that's only 91-inches. How disappointing. I mean, there are TV's with bigger screens than that... well... after a quick Google search I've found one; a 98-inch model that costs NZ$16,999.00. Meanwhile, the X3000i retails at just NZ$3,799.99 and will comfortably project an image up to 200-inches. After doing those sums, I'm starting to understand why people are into projectors. 
The bonus of setting everything up in the spare room is that's where we keep the ironing board. By placing the projector on that, I was able to lie in bed to play games or watch TV. Not bad.
Especially given what an amazing job the X3000i does - even just on an ordinary wall.
I don't begin to even come close to understanding the technology involved in projecting a bright, crisp, clear, colourful 4K picture like this. I've read quite a lot about it and it's a bit like trying to read a foreign language. What I do get is there's an extra blue LED in there which is largely responsible for the impressive brightness the X3000i is capable of.
While you can obviously access a long list of picture, sound and other settings, there are also presets to make life easier for you. If you're like me, you'll have a bit of a play around with all this stuff and then leave it on one setting you prefer for most operations. This will probably differ quite a bit between users depending on whether they mostly game, watch sport or enjoy movies.
In fact, I found watching TV was a lot like being at the movies. As I caught up on a few episodes of Apple TV's "For All Mankind," the extreme close-ups of the astronauts' faces as they went about life in their cramped little moon-base made them seem two or three times normal size - much like on a cinema screen. For some reason, natural skin tone is often the one thing electronic displays struggle to reproduce - I'm not just talking about projectors here, I mean TV's as well. In the past I've spent ages fiddling around with colour, brightness and contrast just to stop the actors on-screen looking sea-sick. I couldn't believe how natural  faces looked from the X3000i. No wonder BenQ has actually won awards for skin tone. (Who knew there were awards for that?)
Sound is the X3000i's weak spot. This is more due to the form factor - not really because of any technical shortcomings with the stereo 5W speakers. The main problem is, regardless of whether you've positioned the projector on a table in front of you, a shelf (or ironing board) behind you or the ceiling above you, none of those places are particularly close to the projected image. No matter what kind of wizardry BenQ's treVolo audio team can come up with, nothing's really going to make the sound come out of the opposite wall. The speakers get reasonably loud, with good dynamic contrast but they're still trapped inside the projector.
Thankfully, there's an HDMI eARC, optical line-out and even a 3.5mm AUX jack so you can connect an external sound system. I don't mark the X3000i down for this at all; I wouldn't use a TV's built-in speakers either. That's why God created soundbars.
Ultimately, this device is being marketed as a gaming projector and this is where the experience truly started to blow my mind. I've never played games on a display of this size before and it's hard to describe how immersive the experience is. While flying my X-Wing fighter through the battle-fleets and asteroid fields of Star Wars: Squadrons, I found myself literally looking up, down and from side-to-side to avoid enemy fire and lock in on my targets. While researching projectors for this review, I learned about a lot about screen lag but if there's any here, I certainly can't tell.
The 3D-like design of Marvel's Guardians of the Galaxy is, at times, quite breathtaking - or at least it is when projected at a resolution of 3840 X 2160, at a 240Hz refresh rate. The illusions of height, depth and distance as you inch your way across narrow bridges of space junk are so real, they're dizzying.
As you can tell, for my first hands-on experience with a home projector, the BenQ X3000i has made quite an impact. In all honesty, I can't claim this would be an exact replacement for a conventional TV - as bright as it is, in full daylight a TV will probably be a much easier watch... although you don't get any reflection from a projection. Obviously, my time with the X3000i would also have been greatly enhanced if I'd been projecting onto a proper screen and not just a painted, off-white spare room wall.
That said, if your gaming rig is set up somewhere you can pull down the blinds and crank up some serious surround sound (or better still, a headset) why wouldn't you upscale your display to room-sized proportions? It's crazy.
Click here for more information and pricing on the BenQ X3000i gaming projector.