Mid-Range Price But Not Much Compromise
Author

Publish Date

Fri, 30 Apr 2021, 5:56AM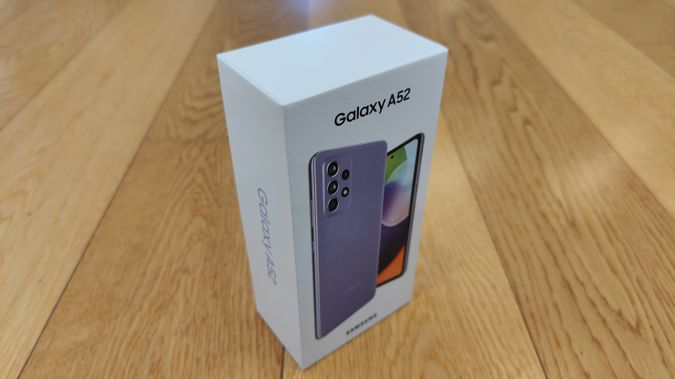 Mid-Range Price But Not Much Compromise
Author

Publish Date

Fri, 30 Apr 2021, 5:56AM
Well they've gone and done it again.
Mere months after launching its flagship Galaxy S21 series in a surprise mid-January attack on the opposition, Samsung is back with its A-Series of mid-rangers and as we've seen before, they're pretty damn good. In fact, after using one for a few weeks I'd have to say this year's crop are so good, there might be a few people out there who end up with buyer's remorse if they went early on one of those bright and shiny S21's...
The Samsung Galaxy A52 is pretty much slap-bang in the middle of Samsung's mid-tier offerings. Priced at just $599, the challenge here is to figure out which flagship features have been left off to make the handset so affordable.
There's a choice of four colours and they're all awesome apparently; Awesome Violet, Awesome Blue, Awesome Black an Awesome White. I had the violet one and yes, I can confirm, it was fairly awesome.
Unlike the top-of-the-line models which are all about glass and metal, there's definitely more of a plastic feel going on here but I don't mind it. In fact, the way the rear camera module is moulded seamlessly into the rest of the casing is much more comfortable to handle - especially when slipping the A52 in and out of your pocket. The back is smooth but not shiny, so doesn't show fingerprints. The phone is light and feels kind of flimsy but it isn't at all - in fact after more than a week of use and abuse, there are no marks or scratches to be found, even after one particularly spectacular flip off the arm of my sofa, ricocheting off the edge of a side table and clattering onto a hardwood floor. (I mean, you have to test these things out, right?)
If you're used to a massive screen, this might be just big enough. The A52 sports a 6.5-inch FHD+ Super AMOLED display and as is par for the course for most Samsung devices, the quality is literally brilliant. The combination of a small cutout for the selfie cam and a fast and reliable on-screen fingerprint sensor ensure good screen-to-body ratio although the display is flat, not curved at the edges so it's not quite the infinite viewing experience of it's pricier cousins.
The first thing I was struck by when using the A52 was how easy it was to use - powered by the Qualcomm Snapdragon 720G and 8GB of RAM, it positively sails along, running the exact same operating system as the big boys; Samsung One UI 3.1 on top of Android 11. That means you have access to the seemingly endless selection of tweaks and customistations my favourite OS has to offer, from system fonts to a home screen that actually rotates to landscape when you're holding the phone sideways.
The next thing that blew me away was the excellent camera quality - especially for close-up and portrait shooting - not so much for long-distance and zoom shots although ultra-wide does a pretty nice job. As you can see, there's a full quad-cam array on the back and I was surprised how quickly the camera app responded - very fast to focus. Night mode is definitely the way to go for low light shooting - the shutter speed isn't restrictively slow and the results are so much clearer. There's also a new "Fun" mode - featuring a constantly updating selection of filters to streamline your social media uploads.
Because I review a wide variety of phones, I often feel a little hamstrung when dealing with devices in this price range but that just wasn't the case with the A52 - the only feature I genuinely missed was wireless charging. It has decent battery life anyway and I never came close to running out of juice, even at the end of the longest of days when it might be almost twenty hours between plug-ins.
For all intents and purposes it runs like a flagship does; smooth, reliable and no hiccups at all. It's even IP67 certified against dust and water - many far pricier phones fail to include that.
You also get 128GB of internal storage with the option of microSD expansion. This isn't even an option on the S21's and neither is the headphone jack. I don't really care about headphone jacks but then I have a cupboard full of bluetooth earbuds and headphones. As it happens, I was staying at my father-in-law's place recently and he doesn't have smart speakers, so the only way to play music from my phone (you know, something not Rod Stewart) was to plug directly into the sound system. Luckily, I was using the A52 at the time so was able to give Rod the flick.
Even if you don't have something to connect to, the A52 also boasts Dolby Atmos-capable stereo speakers. Honestly, it's really hard to come up with something this handset won't do. Very impressive for the price.
And the violet really is awesome.
Click here for more information and pricing on the Samsung Galaxy A52.