MICROSOFT'S PLUCKY LITTLE BATTLER
Author

Publish Date

Wed, 25 Nov 2020, 8:14AM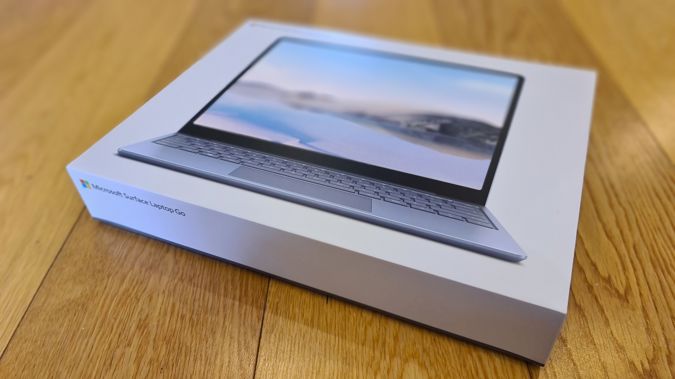 MICROSOFT'S PLUCKY LITTLE BATTLER
Author

Publish Date

Wed, 25 Nov 2020, 8:14AM
For all its highs and lows... and really low lows... 2020 has reinforced a really interesting trend in the world of devices... the fan edition.
Whether it's a phone, a tablet or a laptop, manufacturers have finally realised there's a big market out there for people who prefer performance over added extras, substance over fluff.
Especially if there are serious dollar savings to be made.
Yes, this year I've discovered a number of devices that "do the job" pretty darn well - without breaking the bank...
Just when we thought we'd seen every possible combination in Microsoft's Surface range, we're now presented with the Surface Laptop Go, the lightest of the Surface laptops weighing in at just over 1.1 kilos... which is basically nothing at all.
The Surface Laptop Go is available in three colours; Ice Blue, Sandstone and Platinum, as pictured here. The top is a very sturdy-feeling aluminium while the base is a polycarbonate resin system composed of glass fibre and 30% recycled materials. The whole device still feels very premium and finished to high standards. The hinge is firm and there's little to no flex in the screen when opening and closing. It's very slim when closed and because the Microsoft logo etched into the lid is totally reversible, I often can't get it open on my first attempt because I'm holding it the wrong way around. (That's an operator error, by the way. Not a design criticism)
If you
are clever enough to get the Laptop Go open, you might be surprised to discover a full-sized keyboard given the compact form-factor. It's a fairly no-frills affair - no back-lighting and just an average amount of travel but there's still a full compliment of function keys and shortcuts for things like Home, End, Brightness and Volume. I've found typing to be no issue at all however playing games is more of a challenge. There
are
cursor keys, but Up and Down are only half-sized so that's pretty fiddly and there's no right-hand Ctrl key. However, there
is a fingerprint sensor, under the power key. This works quickly and consistently.
It's there in lieu of a Windows Hello camera, one of the first major compromises Microsoft has made on this device. So no face-unlock and a lower-spec 720p camera than you'll find on some of the more expensive Surfaces. Yes, the picture/video quality is a little grainy so that's something to consider in the age of online classes and meetings. On the upside, the camera is tiny and takes up no extra space on the top bezel.
In fact, the top and side bezels are impressively narrow for a laptop in this price-range - only the much larger bottom chin really getting in the way. As the display is only 12.4-inches, this really is a highly portable device. You won't feel cramped in terms of viewing experience either; like other Surfaces it sports a 3:2 aspect ratio which has definitely become my favourite screen-shape - there always seems so much more space. Not quite enough space opposite for the oversized trackpad you might find on larger laptops although this one does a fine job.
My next big surprise was the fact the PixelSense display is a 10-point touch screen; another one of those high-end features I expected to be shaved off to save money. This is great, because I find a combination of trackpad and touch-screen works pretty much as efficiently as a separate mouse. You can use a mouse obviously - the Surface Modern Mobile mouse will pair pretty much automatically and comes in a range of colours to match the Laptop Go. Of course, you can pair any bluetooth device and there are both Type-C and USB-A ports to plug anything else into.
You can actually charge the Laptop Go via that USB-C port but obviously it has the usual Surface Connect port for the included 39W power supply. This charges the Laptop Go very quickly - much faster than most other laptops I've used this year. As for how long that charge lasts, it's pretty good - not the longest battery life around but it should get you through a school day or back-to-back business meetings without too much trouble.
Just back to that screen for a moment; make no mistake, this is where Microsoft has made the biggest cut in specifications to get the Laptop Go's price down. At just 1536 X 1024 this is a pretty low-res display by 2020 standards. It's bright enough but I've seen a lot of complaints about fuzzy text etc. Personally, I've had no real issues - Netflix looks fine to me for example. On the other hand, don't get your hopes up about doing any serious gaming on this thing - a simple platform/adventure game like The Touryst works fine but a proper FPS like Gears 5 won't even load.
This isn't just because of the display of course, there just isn't the processing power or dedicated graphics capabilities to handle high-resource gaming or full-on video editing. In fact, when I did try to run Gears 5, a fan cranked up and ran so loud I thought the whole computer was about to spin off my lap! My review unit is the fully-kitted out version - 10th Gen Intel Core i5 processor, 8GB of RAM and 256GB of SSD storage. Everything I need to do on a daily basis works perfectly - even audio editing which involves the exchange of large sound files to and from the cloud. Start-up and app launches seem quick enough so as long as you're not planning a career in video production or professional gaming, I don't really know what more you need.
This is the whole point of the Surface Laptop Go - all the stuff you need, none of the stuff you don't.
Of course, at $1749.00 for the configuration I'm reviewing, this is not really a budget laptop but it's certainly a lot more accessible than plenty of other devices out there with similar specs - or worse, with more specs than you need to do the things you want to do.
Click here for more information and pricing on the Microsoft Surface Laptop Go.