MICROSOFT GOES AGAIN
Author

Section

Publish Date

Friday, 14 September 2018, 9:35a.m.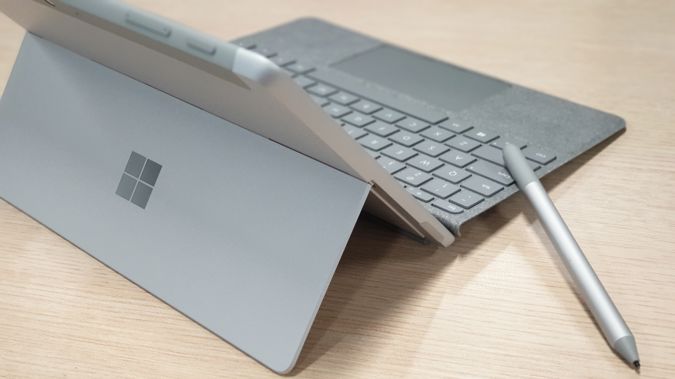 Cards on the table... I am a Windows guy.

I've always preferred P.C. over Apple.

I'm a Microsoft man.

The reason, as I've often explained, is I have to be able to set things up the way I want - not the way the device says I have to.

Unfortunately, Microsoft hasn't always got it right. As an early adopter, I've fallen into the trap of updating to devices and operating systems that aren't quite ready.

Windows Vista, for example. In some ways, a massive leap forward for Microsoft, but mostly an operating system that just constantly annoyed everyone who used it with its incessant notifications and permission requests.

The first Microsoft Surfaces were a bit the same; a great idea in theory - a tablet that works like a laptop. But in order to fit the form factor, a lot of compromises were made under the hood that left the first few generations underpowered, underfeatured and users somewhat underwhelmed.

The Surface Pro changed all that. This was the real deal, a fully functioning Windows experience, but packed into the slim, lightweight and uber-portable Surface profile.

Now Microsoft really brings Surface to the masses...

The Surface Go is Microsoft's big play to win back the battle for the schools.

The Go is the slimmest, lightest, most compact of the Surface range to date, making it a genuine contender for the "D" if you kid has been told to BYOD.

My kids attend Orewa College, one of the country's first BYOD schools and while it was always supposed to be any device you like, in reality, life was more complicated for you if you weren't using an iPad or a MacBook. Sounds like a few years down the track, the teaching staff have adapted the curriculum to be more accepting of Windows and Android devices and Microsoft are working hard (especially here in New Zealand) to provide holistic I.T. solutions to help schools step forward into a more "connected" learning environment.

So the platform is nearly ready - now we need the device. The Surface Go could well be it.

Although the 10" PixelSense display is smaller than what we've seen on the Surface Go, it doesn't seem cramped at all. It's very clear and is able to be run at a high brightness level, although that will obviously affect battery life.

Battery life has been one of Microsoft's biggest challenges when it comes to taking on the iPad's all-day performance. Full-sized laptops have always struggled to go more than a few hours and even the last few generations of the Surface haven't fared much better.

The Surface Go promises a big improvement in this department... although I'm not completely convinced it delivers. On the 128GB 8GBRAM device (the same variant I'm writing this review on) Microsoft claims to have achieved up to 9 hours of continuous video playback. I'm highly sceptical about this, although I haven't performed the same kind of test myself. All I can really go on is the battery indicator, which of course, is no use at all.

How hard is it for Microsoft to tell me how much battery is remaining? One minute 50% percent means 1hr38min, the next minute 49% means 3hr02min. This does not inspire confidence, especially if I'm a student using this device for my afternoon classes.

In saying all that, I know I have used the Surface Go for several hours between charges. Just not nine.

The design is familiar if you've used a recent iteration of the Microsoft surface, with the same magnetic charging dongle that conveniently plugs itself in either way round. Unfortunately, the Surface Go has lost its full-sized USB port in exchange for a singe USB Type-C port. While very modern and compact, it certainly isn't as versatile when it comes to plugging in storage drives or other peripherals like mice or keyboards.

I suppose the idea is, you're meant to do everything wirelessly via bluetooth or NFC - a good theory, but this is where Microsoft gets itself into trouble. In reality, accessories that physically plug in still tend to be faster and more reliable.

So I just connected a USB hub and plugged everything into that instead.

Like its predecessors, the whole point of the Surface Go is to pair it with a matching keyboard case. I'd go a step further and suggest it's completely pointless without it. Yes, you have the option of using the Surface Go in either tablet or desktop mode, but I can assure you I wouldn't be able to write this using the on-screen keyboard because it keeps covering up my text and I can't see what I'm typing. Not that I care, because the Surface Type Cover is one of the most ingenious things ever invented.

I especially love the way it magnetises itself into place. I don't know why, it just feels cool. Because the Surface Go is smaller, so is the keyboard and I'm not going to lie, it does feel a bit cramped at first. Like anything though, once you've used it for a few hours you get used to it and it stops being an issue.
The speakers are bright and clear, without pumping out the sounds at any massive volume. Good stereo separation though, which made watching Netflix and other video streaming very pleasurable.

Connectivity is great - stable and versatile. WiFi, bluetooth, NFC... thanks to the latest Windows 10 operating system, I found it extremely easy to project both from the Surface Go to other screens as well as to it from my phone etc...
What can you say about the cameras on a tablet? I've never been blown away by the photos taken on a device like this and the Surface Go isn't about to change my mind. At least there are both forward and rear facing cameras and they do a solid enough job. Images are sharp, there's an HDR function and the facial recognition works fairly quickly in most lighting conditions. Recently Microsoft has developed some pretty user-friendly 3D editing tools and it's fun to combine these with the cameras to create your own Augmented Reality. Conjuring up videos featuring you playing with a bunch of stuff that isn't actually there is now pretty easy and the Surface Go seems to have the processing power to handle it.

What has impressed me most is the genuine P.C.-like performance of this device. For the first time in my experience with a Microsoft Surface, everything works - smoothly and quickly. Even audio editing with Adobe Audition went without a hitch. Admittedly, I'm using the more turbo-charged model; 8GB of RAM with 128GB SSD... although it's the same processor in the lower-priced model, just half the RAM and only 64GB of eMMc storage.

Quite a price difference here - $699 for the lower-spec version, $949 for the one I'm running.

I would have thought $949 is heading towards the upper end of what parents would be prepared to pay for a take-to-school device. And there's a kicker; the type cover is another $220, which seems crazy expensive, as good as it is.

Let's not forget the Surface Pen of course - the multifunctional stylus that's more than a versatile drawing tool, it can convert handwritten notes into text and even launch some apps. That'll be another $159.95 thanks.

Somehow Microsoft needs to find a way to build these accessories into the price and include them with the device itself - especially when they're not being marketed as optional extras, more like essential tools, which is actually what I've found them to be.

If Microsoft can do that, bring down the price of the type cover and the pen, the Surface Go will finally be able to compete with the iPad as the go-to device for schools. It really does have all the functionality of a full-sized, powerful laptop, in a light, slim, super portable package, something the iPad will never be able to deliver.


Click here for more information and pricing for the Microsoft Surface Go