Meanwhile, at the Other End of the Market...
Author

Publish Date

Mon, 8 Nov 2021, 6:00AM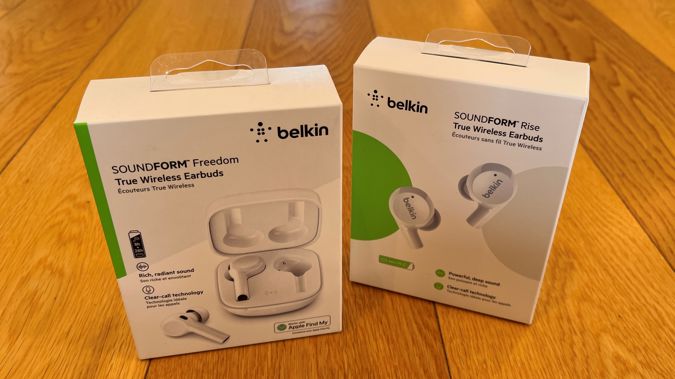 Meanwhile, at the Other End of the Market...
Author

Publish Date

Mon, 8 Nov 2021, 6:00AM
At last count, I've reviewed approximately seventeen-million different earbuds. This year.
The thing is, most of those have been at the upper end of the price scale - lots of features, costing lot's of money.
It's easy to forget not everyone has $350 to spend on two tiny bits of plastic that might fall down between the couch cushions only to then be found and eaten by your new puppy. Delicious.
Of course, there are alternatives.
The question is, as usual, how many optional extras are you prepared to give up in order to keep things affordable?

Belkin is back with its new range of SOUNDFORM true wireless earbuds; there are three models to choose from; Freedom, Rise and Move Plus but interestingly, even the top-of-the-line Freedom is only priced at NZ$229.99 - a lot of money but not a crazy amount, especially compared to other high-end buds.
So I couldn't help but wonder how they stack up against those other big names and in fact, how about Belkin's own SOUNDFORM Rise model, a hundred dollars cheaper at NZ129.99? Value for money or a few too many corners cut?
Firstly, in my view, neither of these designs are going to win any fashion awards. Both the Freedom and the Rise are a hybrid of the open-fit form-factor but still with silicone ear tips (three sizes included) for a secure fit. Both models have microphone stems pointing down although the stems are short and stubby on the Rise buds. To be honest, they're a bit clunky-looking on the Freedom too, but to look at, the Rise in particular seem to really stick out in all directions. There's nothing particularly smooth or streamlined about either model and they're only available in black or white.
Personally, I'm not too worried about how earbuds look - when I'm wearing them, I can't see them anyway. How they feel and how they sound is a lot more important - and this is where things start to get interesting. I've actually found both models to be very light and comfortable. Generally speaking, I'm not usually a massive fan of the stem-hanging-down design but I found both of these sat in my ears fairly securely, especially the cheaper SOUNDFORM Rise. Both models are IPX5 splash and sweat resistant and I had no issues while running or digging in the garden - again, I found the Rise stayed in place particularly well.
Neither model offers active noise cancellation, which might be an immediate red flag for many purchasers - especially commuters who like to block out the sound of their train or bus on the way to work. I've certainly grown accustomed to the blissful bubble created by ANC as I go about my day but I have to point out, the passive noise cancelling offered by the snug fit - again, especially on the Rise buds - is really very effective. It's easy to forget how just sticking something in your ears will keep a lot of noise out and you don't necessarily have to get to carried away with more tech to enhance that effect.
The SOUNDFORM Freedom does boast ENC (Environmental Noise Cancellation) when your taking or making calls. This is to reduce background noise on your mic, so the other person can hear you more clearly. If you do a lot of phone calling while you're out and about or you're planning on using your buds for video calls, this could well be a factor.
The tight seal of the silicone ear tips aids with sound quality too, especially when it comes to bass response. I'm always surprised when tiny earbuds can pump out a genuinely powerful beat but Belkin has achieved that very well. Yet again, I feel like the Rise outperforms its more expensive stablemate in terms of listening quality, despite the Freedom boasting a bigger 8mm driver over the 6mm in the Rise. Neither one is an example of pure audio excellence - there's something a bit flat and lifeless going in the mid-to-high frequencies - but I've heard worse.
Unfortunately, there's no way to adjust the EQ for either model, unless you can do that from your source device. This is because there's no companion app for these earbuds, perhaps Belkin's single major omission here. No app also means no firmware upgrades and no control customisation - let alone more niche features like fit tests and sound tests we've seen from other manufacturers recently.
Some earbuds even help you with bluetooth pairing via their app but with these SOUNDFORM buds, it's a more old-school, manual operation.
The capacitive touch controls are all there though; the usual play/pause/skip and answer and my favourite, volume up and down. You can also summon your virtual assistant with a long press on either bud.
Funnily, there are some features many other makers don't offer. Both charging cases can be charged wirelessly, not just via USB-C. This goes some way towards offsetting the fact those cases are rather bulky, creating quite a bulge if they're in your pocket.
Battery life is excellent too - seven or eight hours from the buds with up to 28 hours in the Freedom case. Those are premium stats.
Then something that really sets the Freedom buds apart - Apple Find My functionality. If you are pairing to an iOS or MacOS device, you can add them to your list of things Find My can locate if you can't - although this only works for the case, not the individual buds.
Is Find My enough to warrant spending an extra $100? Because in practical terms, other than slightly more battery life and ENC for clearer calls, there's not a lot of difference between the Freedom and the Rise and as I've suggested, I prefer the fit and the sound on the cheaper buds anyway.
So my recommendation would be to ignore their stubby, stalky looks and go with the SOUNDFORM Rise - that's if you can live without the customisation features of an app.
Click here for more information and pricing on the Belkin SOUNDFORM Freedom.
Click here for more information and pricing on the Belkin SOUNDFORM Rise.