MAXING OUT YOUR MESH
Author

Publish Date

Wed, 26 Aug 2020, 11:38AM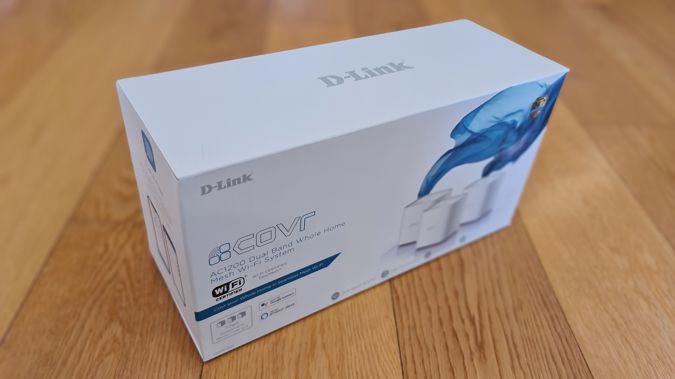 MAXING OUT YOUR MESH
Author

Publish Date

Wed, 26 Aug 2020, 11:38AM
Okay, so you're back working at home. Or maybe you're back at work. Or maybe a bit of both. Complicated times for everyone.
Even if you're not working from home, let's be honest, we're all spending a lot more time there... and undoubtedly a lot more time online. Streaming, browsing, gaming, scrolling... chances are you're going to be plugged into the web again tonight.
So make things easy on yourself. Whole home Wi-Fi is now more straight-forward then ever before...
Wait. Didn't we do this already? Lockdown Part I. Back in May. Remember?
Well, yes... D-Link did have a convenient, two-piece mesh Wi-Fi solution available earlier in the year which worked very well and proved popular.
But sometimes two just isn't enough.
Now there's the COVR-1103; three easily configured mesh modules in one box.
I'm not going to try and convince you there's anything different about this kit from the one we looked at earlier in the year... other than there's more. And when it comes to Wi-Fi coverage, there's nothing better than more.
Just as a quick reminder, each COVR-1100 unit is an inconspicuous, white cube with a single, tiny LED on top that can be disabled after setup. They're small enough to sit just about anywhere without being noticed - shelves, side tables, benchtops - wherever.
Also, these units can be switched from router to bridge mode, offering you a wireless connection between devices if that's what you need. There's an ethernet port on each unit so you can hardwire things like TV's or desktops. But the main point of the exercise is ensuring every smart device in your home has the strong, reliable Wi-Fi access it deserves.
That's the beauty of D-Link's COVR system - even if three access points don't quite blanket your whole house (we're talking about 464sqm of coverage here though, so they probably will) you can just keep adding more COVR-1100's to fill in any dead spots.
A word of advice though; walls, metal, electrical appliances... these things are all working against you so make sure your primary unit (the one that's actually physically connected to your modem) is as central as possible. Although most Wi-Fi enabled devices will have no issue staying connected as you move from one unit's range to another's, if a remote unit is too far away from the primary one, its connection might drop in and out. This means your phone or tablet can get confused between which thing it's trying to communicate with and that's when video will stop streaming, music will cut out or downloads will be interrupted. During my testing I found Apple devices were particularly prone to this kind of signal confusion but it was quickly solved with a slight repositioning of my remote stations.
Setup is so, so simple. In fact, I've discovered it's even easier than D-Link leads you to believe. When I first reviewed the COVR-1102 two-pack, I complained about how the app made you wait too long between steps - the devices seemed to be paired minutes before the app would allow you to move to the next step. I've now proved that is definitely the case. So don't use the app. The app is great for configuring your internet connection and Wi-Fi network name and password - but you only have to do that for the primary unit. That information is automatically mirrored onto any new unit you add. The most efficient way to do this is by simply connecting the new station to the primary one via ethernet cable and switching it on. The LED on top starts red, flashes orange for a bit then turns solid white in about a minute. Then you can unplug the ethernet cable and you're done. No app or browser-based setup required.
Now remember, although you now have a strong Wi-Fi signal all through the house, anything connected to it is still eventually running back through the same primary unit, connected to your modem. While this may sound like a potential chokepoint, I really haven't found that to be the case. There's a lot of smart-steering technology going on to ensure each connected device gets served with as much internet as it requires, when it needs it. Make no mistake, there are other routers with more capacity and higher speeds but I've got two teenagers, a Domestic Manager and me streaming, working, gaming and scrolling hard-out and I haven't run into any issues yet.
What the D-Link Wi-Fi app does do is make it extremely easy to manage your new mesh network - you can set parental controls for specific devices, create a guest network, change your password or just turn off those tiny LEDs. The COVR units are even Amazon Alexa and Google Assistant enabled, although I've never felt the need to talk to my router.
Whether you're trying to connect a large home or small workplace, the COVR-1103 is certainly a budget-friendly, adaptable and above all, straight-forward way to do it. Especially now I've learned how to set it up without the app!
Click here for more information and pricing on the D-Link COVR-1103 seamless mesh Wi-Fi system.