MAKING PERFECT COFFEE EASY
Author

Publish Date

Mon, 11 Jan 2021, 3:33pm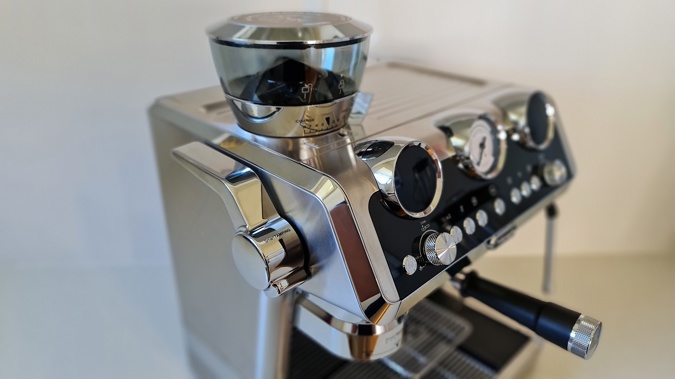 MAKING PERFECT COFFEE EASY
Author

Publish Date

Mon, 11 Jan 2021, 3:33pm
I've been on holiday at the beach.
Sun. Swimming. Leisurely walks. I even finished reading two whole books.
There was only one problem; the coffee was terrible.
Now, before you start shouting, "First world problems! What are you complaining about? There are people in other countries who'd kill for the chance to go out and enjoy a coffee in the sunshine!" I get all that.
But coffee is coffee. It's not just a habit. It's an essential. For someone who works in breakfast radio like I do, it's extra essential.
So if it sucks, the world goes out of focus a bit.
Lucky for me, my year of gadget reviews couldn't have started with a better device...
The La Specialista Maestro is a very flash name for a very fancy home espresso machine from De'Longhi. In fact, the people at De'Longhi think this machine is so good, they actually sent a guy called Giovanni to help me set it up. 
Giovanni is from Sicily. Giovanni rides a motorcycle. And yes, Giovanni looks and sounds pretty much exactly the way you're imagining.
And there's no doubt Giovanni loves his coffee.
Personally, (just between you and me) I don't actually know anything about coffee. I know when it's good, I know when it's bad but I don't really know why either of those things happen. Giovanni does. Until now I've been using a fairly entry-level espresso machine at home and I've been combining it with the frothy-milk half of a separate capsule coffee machine because I'm basically too lazy to froth the milk myself.
The La Specialista Maestro panders to my laziness brilliantly. Not only does it promise a perfect espresso, it offers latte, cappuccino and flat white options too. Oh, sure there's still a steam wand if you insist on making life hard for yourself but my motto is, why make life hard for yourself? Especially first thing in the morning.
However, as Giovanni insisted on pointing out, there's a lot more to the perfect cuppa than a few beans, hot water and some fluffy milk.
So let's cover some of it off - starting with La Specialista Maestro's "Bean Adapt Technology." This allows you to find the perfect balance between grind, dosage and temperature. None of this is standard, apparently. There are many variables including what beans you're using and even the weather conditions! Fortunately, De'Longhi has made calibrating the machine so simple, even I understood what Giovanni was doing to adjust the size of the grind and the dosage the grinder automatically dispatches - this is clearly shown on a digital LED display.
In fact, the display is one of the Maestro's strongest selling points; it leaves you in no doubt when you need to do things like add water to the tank or beans to the grinder and what's more, it won't work if you haven't got those things ready.
But probably my favourite feature of all is the Smart Tamping Station.
If you've used an espresso machine before, you'll know the recommended amount of ground coffee for the filter holder is way too much for it to hold before you tamp it down. This inevitably means coffee grounds all over your machine and benchtop. A real mess and to be honest, a waste of coffee. The alternative is to grind less coffee and put up with a weaker shot. Thanks to the Smart Tamping Station, you pull the tamping lever down before disconnecting the filter holder. This means you not only tamp the grind to the correct pressure every time but not a single grain spills out. I'm pretty sure that's why it's not just La Specialista - it's a Maestro too. No grinds to wipe up after is a major, major plus.
Then so is what happens next.
There are six pre-set coffee options, again selected via an easy-to-read digital display. In fact, because you can choose single or double shots, there are effectively twelve programmable slots for you to set up to suit the preference of anyone in your house. This is a straight-forward process of pushing the program button to save the duration of each step of the coffee you like for your particular cup - not much different to saving your favourite radio station on a car stereo.
That includes milk for lattes, cappuccinos and flat whites - there's a separate stainless steel milk jug with an adjustable automatic wand head with which you can easily control how creamy or frothy you'd like your coffee to be. This slides in and out of the machine with ease and is dishwasher safe as well as having its own automatic rinse setting before you remove the jug if you want to just pop it back in the fridge for later.
I realise I've made the whole process sound frightfully complicated which makes me a terrible writer because in fact, the complete opposite is true. Once Giovanni walked me through the calibration and programming steps my morning coffee immediately became the simplest operation in the world; attach the filter holder, let the La Specialista Maestro provide you with the perfect grind, use the unique tamping lever to tamp without any spillage then it's a single button push for your espresso and milk just the way you like it. Every time.
This thing looks like a spaceship but it operates more like a TV remote. Actually, it's way simpler than a TV remote.
I've found clean-up to be a breeze too, especially without those spilled grinds to worry about. A once-over with a damp cloth is usually all it takes and the drip tray is also dishwasher safe if you want to get more carried away.
So yes, there's a bit of setting up to do with the La Specialista Maestro and I know not everybody has access to their own personal Giovanni. However, there is an instruction manual in the box and plenty of helpful video tutorials to be found online. And as I say, once everything is set up, the perfect coffee is basically only a single button-press away, every time. It's almost as though Giovanni is there making the coffee for you. At almost two-thousand dollars, this is obviously at the more luxury end of the kitchen appliance market but is that really so much to pay for your own personal Sicilian barista at your beck and call at the push of a button?
Obviously I should have taken it on holiday with me. Unfortunately the boot was full. Why didn't I just leave one of the kids behind?...
Click here for more information and pricing on the De'Longhi La Specialista Maestro pump espresso machine.