Make Two Compromises and Get a Half-Price Flagship
Author

Publish Date

Wed, 6 Apr 2022, 2:44pm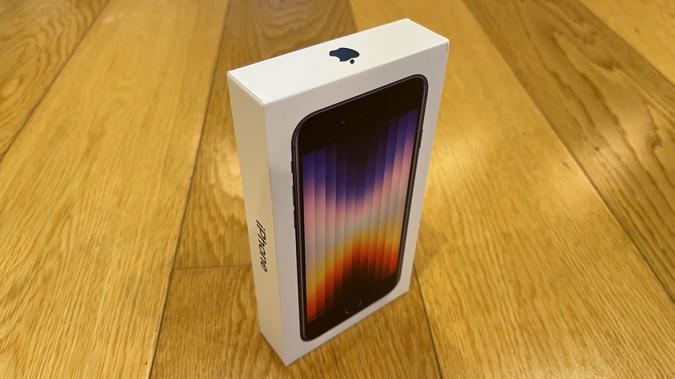 Make Two Compromises and Get a Half-Price Flagship
Author

Publish Date

Wed, 6 Apr 2022, 2:44pm
I am not an experienced iPhone user. In fact, I've only really spent a lot of time using them since the iPhone 12 - the previous generation to the current crop.
However, there is one other model I've had a bit to do with; the iPhone 8, launched back in September, 2017. That's because it was the best iPhone my youngest could afford when she decided only an iPhone would do. The reason I was involved is because she kept dropping it and breaking it. Mostly just the screen but eventually the home button too. Oh, and we replaced the battery somewhere along the way as well. By the end of it I felt like we were working together on some kind of classic car, desperately doing whatever it took to keep it on the road.
Oh how things have changed.
But not really...

No, this isn't an iPhone 8 from five years ago. It's the all new iPhone SE, the third generation of Apple's more budget-friendly Special Edition line.
There's no avoiding it; using the exact same physical design after all this time is perhaps one of the boldest decisions Apple has ever made. Or perplexing. Depending on how you look at it.
Most reviews I've read so far have been kind of scathing about the retro look of this year's SE. But then most reviewers aren't in the target market. They probably have their choice of the latest and greatest premium handsets and would never even consider using a sub-$1000 phone as their primary device.
16 year-olds buying their first iPhone for themselves (or parents buying a phone for even younger kids) have a different set of priorities. For instance; my now 18 year-old has just upgraded to a higher spec iPhone and when I asked her how she was enjoying it, the first thing she told me was how much she dislikes Face ID and wishes she still had a fingerprint sensor and a home button.
Perhaps she should have gone with the iPhone SE.
While the latest version of iOS 15 now supports Face ID even when wearing a mask, it turns out many users still feel uncomfortable about registering their own portrait as a method of unlocking their device. The SE is now the only iPhone with a fingerprint scanner instead. It works really well, by the way - with excellent (and adjustable) haptic feedback under the home button.
But you can't deny the massive black strips top and bottom of the iPhone SE's display are now relics from a bygone era and make this handset look decidedly low-rent. Well, that and the fact the display on this thing is tiny; just 4.7-inches still - that's even 0.7-inches less than the screen on the iPhone 13 mini, which is a smaller phone altogether.
And that's the first of two major compromises you'll have to make if you choose the iPhone SE over just about any other phone in its price-range; screen size. The Retina HD display is fine in terms of brightness, clarity and colour but there's no way you're going to love gaming in such a cramped environment and bingeing the new season your favourite show while squinting the whole time sounds equally unenjoyable.
Still... I rarely game or watch much video on my phone, so that doesn't really worry me. 
In fact, as I may have hinted at early, the thing I really appreciate from the screen on my phone is how tough it is - surprisingly, Apple uses the same ceramic-infused glass as it does on its iPhone 13 flagships. And this is the first hint at why I recommend you look past the old-fashioned look of this phone and actually try it out.
The glass isn't the only thing the SE has in common with its iPhone 13 cousins. It's 5G. It charges wirelessly. It has an IP67 water and dust resistance rating. You can make contactless NFC payments via Apple Wallet. But most significantly, the iPhone SE is powered by the exact same A15 Bionic chip and as we know, that's a very powerful chip indeed.
Believe it or not, the everyday operation of the SE is basically identical to the other 13's - which is to say fast, smooth and reliable. Apps install and load quickly and you can run many at once, easily swapping between them. For some reason the Control Center shortcuts panel is accessed by swiping up from the bottom rather than down from the top-right, but that's about the only significant difference I've encountered in terms of the software experience. 
I mentioned gaming earlier - while it's true squeezing my fat fingers onto the correct virtual controls given the tiny display is a bit of a challenge, the SE runs games like Apex Legends Mobile with no issue whatsoever. That A15 Bionic chip bings plenty of graphics grunt with it too. This little phone is a rocket.
A pocket rocket in fact. It's so small and light (even with a case on) I can hardly feel it in my pocket. I really love that.
I was also surprised how good the stereo speaker setup is - yes, another feature seldom found on devices in this price bracket. I'm not claiming there's much in the way of bass response to get a party started but for an avid podcast listener like me, there's plenty of distortion-free volume from the downward-firing speaker/earpiece combo.
Where I was expecting everything to fall down was the camera. It's the first thing you notice on the back panel; still just one lonely lens. My expectations were low.
And yet...
Look, I can't say I don't miss the option for Ultra-Wide shooting and when I'm restricted to limited digital zoom this is unlikely to be the camera-phone I take on holiday to capture those magic moments. True to its retro style, neither the 12MP primary shooter or the 7MP selfie-cam perform particularly well in dark conditions and while there is a Portrait Mode, it only works for people - not animals, objects or unforgettable plates of food. There are definitely limitations.
At the same time - and yes, due in large part to that magical A15 chip - I'm confident the picture quality from this year's iPhone SE will absolutely smoke shots taken by the previous 2020 version. What's more, I found video quality from both front and back cameras to be really good - which is more important than ever given how many online meetings we're all forced to attend these days.
This is far from the best camera array going - even when compared to other phones of a similar price. Most of those offer at least two, if not three rear-facing lenses - perhaps even an optical zoom option. 
So there you have it; camera functionality is the other compromise you'll have to make if you choose the iPhone SE.
If screen size is important, this isn't your phone. If photography is your priority, this isn't the one either. However, how important is price?
The base-model iPhone 13 starts at NZ$1449.00. A 64GB iPhone SE is just NZ$799.00. 
That's not quite apples with apples though, as the iPhone 13 doesn't have a 64GB model and I'd certainly encourage you to pay the extra $100 for the 128GB iPhone SE. Even at that price, you're getting more "flagship features" than most other mid-priced phones. Things like wireless charging, water resistance and NFC should certainly be a given these days but it isn't always the case. And the A15 chip is basically unbeatable.
I still don't really understand why Apple dressed up a brand-new phone in a five year-old suit but the more I use it, the less I care.