Looking Cool Goes a Long Way
Author

Publish Date

Mon, 30 May 2022, 5:35pm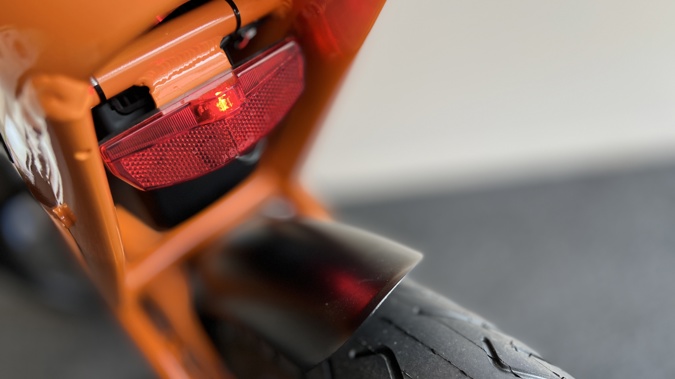 Looking Cool Goes a Long Way
Author

Publish Date

Mon, 30 May 2022, 5:35pm
This is going to be another one of those reviews that starts with me explaining how under-qualified I am to write it.
If you were mean-spirited, you might suggest that probably applies to most of my articles but I'd argue I have a reasonable knowledge about some things; smart phones for example. Earbuds, definitely. But bicycles? Not so much.
Still... my philosophy is if you can plug it in, it's a gadget. If it's tech, I want it.
And when I saw this particular piece of tech, I really wanted it.

Based loosely on the Chopper-style bikes of yesteryear, the BoostBikes Apache is not your conventional eBike. Whether you choose Gloss Grey, Matt Black or Gloss Orange, this is guaranteed to be a head-turner - and not just because it can get you up a hill without pedalling.
From the low-rider styling to the motorcycle-like seat to the chunky handlebars, everything about the Apache has been crafted for coolness.
As a result, casual observers may not even realise this is an eBike at first. The 48V 16.5Ah lithium-ion battery is not massive and it slides snugly under the oversized seat, almost obscured from view. As for the 500W rear-mounted electric motor, I'm always amazed at how compact these things can be and this one is no exception. If it wasn't for the slight electrical hum that kicks in when using pedal assist, onlookers could be forgiven for missing the electric part of this bike altogether.
While it is possible to pedal it without any motorised assistance at all, it's quite an effort; remember, the Apache does weigh in at 27 kilos. That's still light enough to be loaded onto a standard back-rack though (as long as it's a pretty solid one). I also had no issues maneuvering it around in my garage - despite being endearingly chunky, it's also compact so quite easy store.
As far as gadgets go, the Apache is definitely one of the more straight-forward ones to get your head around. There's a small controller for the LCD display mounted next to the left hand-grip. You turn the bike on with a long press of the central power button, then it's simply a matter of adjusting the five levels of pedal assist with the up and down controls.
There's also a red button on the left-hand side to turn the large headlight on (this switches on the tail-light as well, although that comes on automatically when you use the brakes too).
There's a similar red button adjacent to the right hand-grip. This activates the throttle which works just like one on a motorbike handle - in fact, at this point, the Apache works just like a motorbike. While there are seven manual Shimano gears available, thanks to the electric pedal assist I've left it in high gear the whole time.
Even when crossing busy intersections, that power boost kicks in pretty much as soon as you start pedalling so I've never felt the need to change down a gear, regardless of the terrain.
That's not to say this is an all-powerful beast that straightens curves and flattens hills. In fact, the first time I took it out it was extremely windy and if I was pedalling uphill into a stiff head-on breeze, I struggled to squeeze much more than about 15km/h out of the Apache - a far cry from the 40km/h maximum speed listed on the website. However, downhill with the wind at my back, I could exceed that 40km/h easily - and felt very comfortable reclining back on that big, wide seat in the process.
An extra $140.00 gets you a front fork suspension upgrade which I'd definitely recommend if you're considering riding the Apache anywhere other than the street or on cycleways. In fact, there's every reason to try a little off-road action - the 20" x 4" fat tyres provide excellent stability and traction - I was only using the slick street versions but there's a knobblier all-terrain option if you're determined to give paved surfaces a miss.
After riding it around for a week or so I'm starting to get a real feel for what this bike is all about - and what it's not. The range is listed from 25-50km but of course that's so variable depending on how much pedalling you're doing as opposed to how much you rely solely on the electric motor. I'd certainly be a little nervous about a long commute, although the battery does charge in just a few hours using the supplied fast charger which plugs in just as easily as a phone charger does.
The Apache probably isn't going to win any speed prizes either - but I don't think that's a surprise, it's not exactly built like a racing bike and to be honest, there comes a point where an eBike becomes an electric motorbike. That kind of power and speed means more risk in terms of road safety too - this bike stops just short of that and therefore keeps things fun.
Ultimately, that's the word that keeps coming to mind; fun. It looks fun, it's fun to ride and yes, it's fun to see people seeing me ride it. While some things about this bike are practical - the big, go anywhere tyres for example - some things are totally whimsical; there's nothing logical about a seat that's almost too wide to comfortably pedal from - but who cares?
Starting at NZ$3290.00, the Apache is a fairly expensive toy and make no mistake, that's exactly what it is; a toy. However, surely most of us would like an expensive toy or two if we could afford them - especially one as well crafted as this one.
Click here for more information and pricing on the BoostBikes Apache.