LOOKING BACK IN TIME FROM YOUR FRONT DOOR
Author

Publish Date

Wed, 3 Jun 2020, 12:28PM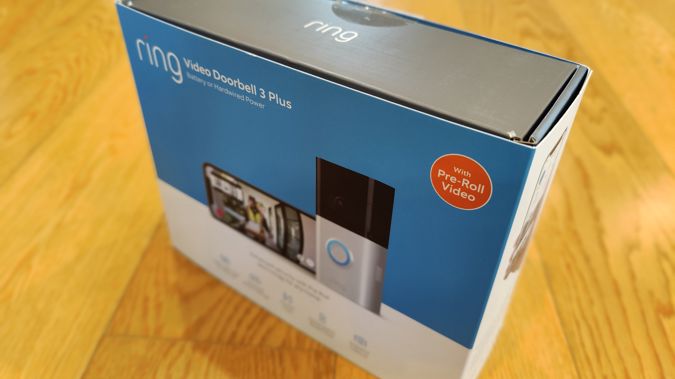 LOOKING BACK IN TIME FROM YOUR FRONT DOOR
Author

Publish Date

Wed, 3 Jun 2020, 12:28PM
Over the last few years, Ring security cameras and video doorbells have established themselves as dependable, durable and subtle devices capable of displaying and recording useful, high quality footage of what's happening at your doorstep and beyond.
This year marks the third generation of Ring's classic camera-in-a-doorbell. At $419 for the Plus version, this is certainly not a budget option. However, rest assured, you'll get far more than budget results...
If you haven't come across a Ring Video Doorbell before, let me cover off some of the basics. The Video Doorbell 3 Plus is a D.I.Y. option for entranceway surveillance. There's a small, but powerful camera built into the device and a large, visible doorbell button which not only sounds a chime but fires off several other possible functions via your home's WiFi network.
The Video Doorbell 3 Plus can be set to send notifications of physical bell presses and detected movements to your mobile device, or to the phone of anyone else in your household too. You can then choose to monitor a live feed from the doorbell's camera and microphone - even talking with the person at your door if you wish. Remember, you don't have to be home to do this; you can open the Ring app from anywhere.
Even if you're not able to deal with any visitors or deliveries in real time, the Video Doorbell 3 Plus will record what it sees for you to review at your leisure.
Of course, there are other video doorbells and security cameras that offer similar functionality. so what makes the Video Doorbell 3 Plus so special?
For starters, ease of installation. Every time I set up a Ring device, I'm amazed by how many tools and accessories are included in the box to allow for a multitude of installation variations. Not only can you choose to run the Video Doorbell 3 Plus on mains supply or the included rechargeable battery, but there's a choice of faceplates; Satin Nickel or Venetian Bronze. There are two angled mounting plates to allow you to tilt the unit up, down or sideways if necessary. My preferred install site was a weatherboard wall, so the angled plate was ideal to keep the camera pointing more-or-less horizontally. There are plenty of screws of all sizes and the Video Doorbell 3 Plus now lets you easily remove the faceplate to access the battery, without having to take the whole unit off the wall.
There are two kind of app out there; the frustrating, poorly designed ones and the ones that just work. The Ring app definitely falls into the latter category. Everything is presented clearly, even though there is certainly now a long list of set-up options to work through. The step-by-step app-based guide is fairly foolproof, although I recommend establishing your WiFi connection in close proximity to your router before taking the doorbell outside - this took me a few a attempts despite the Video Doorbell 3 Plus now offering dual-band connectivity. Once set up, the WiFi connection remains stable.
What's more, enabling the Ring skill in your Alexa settings will let you access the doorbell from Amazon video devices like the Echo Show. That's right, Alexa will show you your front door. All you have to do is ask. Alexa-powered smart speakers can also be selected to play the chime from your doorbell so you're guaranteed to hear it all over the house.
Alternatively, you can use Ring's own Chime or Chime Pro - this second device also works as a WiFi repeater if your front door is too far away from your router for a reliable connection.
By now you can see this is a very smart doorbell indeed. The 1080p HD video quality is crisp and clear day or night. Sure the images are distorted at the edges due to the camera's fish-eye format - but that doesn't make them any less useful. There are several new options for customising motion detection zones and sensitivity - very important if your entrance is close to the street as getting a notification every time somebody simply walks, rides or drives by is just annoying.
In fact, the Video Doorbell 3 Plus can now tell the difference between a person or something less interesting, like a cat. I don't know about you but I prefer not to receive notifications from my cats.
So a heck of a lot of features there... but my biggest issue with the Video Doorbell 3 Plus, or indeed any Ring product is the subscription service required to store video. There are many other camera options out there that let you record to a local hard drive or SD card, or even a cloud service of your own choice. Not Ring. Now to be fair, at just $45 to cover one or two Ring devices for a whole year, it's a subscription that's hardly going to break most people's banks.
$45 is not much to pay for the peace of mind the Video Doorbell 3 Plus offers, especially when it gives you access to its new star feature; Pre-Roll. This is a 4-second black-and-white recording of what happens before the doorbell records any events. While at face value this may not sound massively useful, when you think about it, it's often the moments before the camera detects movement or people that matter most; delivery people rush up, drop their packages, turn their backs and leave. Thieves tend to do the same. (Although that middle step changes to picking up the package instead.) This means without Pre-Roll, you're often left with a crystal clear video of the back of whoever came to your door. Not all that helpful. Ring's new 4-second clips make all the difference.
Other than the slight niggle of having to pay to record, the Video Doorbell 3 Plus is another solid performer from the Ring line - I particularly like the way I can make it chime through my smart speakers and those 4-second Pre-Roll vids are definitely a useful feature to have.
Click here for more information and pricing on the Ring Video Doorbell 3 Plus.