LIGHTNESS IN THE NEW ERA
Author

Publish Date

Wed, 18 Sep 2019, 7:41PM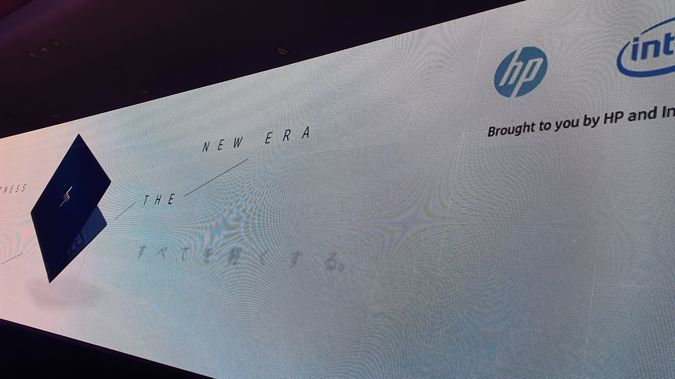 LIGHTNESS IN THE NEW ERA
Author

Publish Date

Wed, 18 Sep 2019, 7:41PM
Okay, admit it, I didn't come up with that headline, it's all HP's doing. But when it works it works.
The real question is; how new and exciting can a business laptop be?
Today I found myself in Tokyo's Trunk hotel, which HP and Intel have completely taken over to introduce their newest convertible to the world.
Ever feel like all that Hyper Globalisation is getting the best of you? Apparentlly, the HP Elite Dragonfly is going to take care of all that.
From what I can gather, we've all become international business travelers, unshackled from the bonds of being stuck at one desk, in one building, in one city. Therefore we need a device that's lighter than air, is virtually indestructible and has enough battery life to last through even the worst airport delay.
Weighing in at less than a kilo, pressed into a very slim form factor, there's no doubt the Elite Dragonfly is an eminently portable business laptop. Not just a laptop of course, the Dragonfly can also be used in tent and tablet modes. This is only the tip of its versatility though, as HP has also released a range of integrated peripherals to complement this flagship business tool. There's a choice of curved monitors with built-in docking functions and a tricky looking bluetooth travel mouse too. Everything can be brought together using a new feature called HP Device Bridge - and I mean everything... Android, iOS, PC - content from all these devices can now easily be shared on one screen
There was also a big emphasis on how "intergenerational" the modern workplace has become. HP claims by 2025 75% percent of workforce will be millennials, (god help us) and weren't ruling out the possibility of up to five generations sharing the same workplace in the near future. This presents certain challenges for any laptop maker, especially in terms of design aesthetic.
Generally speaking, older workers are looking for a sensible, business-like appearance while cool, young hipsters need more pizzazz in their lives. That's why HP has tried to walk down the middle with a unique precision cut CNC magnesium chassis that isn't just blue, it's Dragonfly blue.
Following on from the innovative wood and leather of the previous Spectre and Envy, this all new, super slim, blue take on things is certainly easy on the eye.
Despite its minimalistic form factor, the Elite Dragonfly has plenty of goodies packed in under the hood - 16GB of RAM, up to 2TB storage but probably the battery performance is one of the star features of this device.
There's a lightweight battery option that promises up to 16.5 hours use or a long-life variant that delivers an unheard-of (up to)24.5 hours on a single charge. Admittedly, this latter power option will tip the scales over that magic 1kg mark ever so slightly, but probably worth it, don't you reckon? Even if real-life usage is only two-thirds as good as they claim, finally here's a laptop that gives you the confidence to really leave the office - to another hemisphere if need be.
Ironically, the Elite Dragonfly comes with HP's Workwell feature built in - software that reminds you to take breaks, get up and stretch etc. We've started to see this kind of work-life-balance software appearing on smart phones and tablets - perhaps more important than ever on a computer with enough battery to last all day and all night.
Another pre-installed feature is HP's own cyber security solution, Suresense. We were shown a pretty compelling demonstration of how it may prevent Zero Day attacks more effectively than other, conventional anti-virus options, but until I see it working in everyday use, it's a bit hard to tell.
One thing I have been able to test, if only briefly, is the Elite Dragonfly's redesigned keyboard. Plenty of travel but somehow they've made it quieter. Not sure how important that is to you, but nice to have a full-sized keyboard on a 13" device.
Many promises of durability were also made, which is reassuring given the very high screen-to-body ratio, some of the most narrow bezels you'll find on a business laptop. I haven't had the chance to drop one yet, but it certainly feels solid and hard-wearing. There's even an oleophobic coating over everything to reduce the effect of greasy fingerprints. Great news for me. I'm annoyingly greasy.
Sure, I haven't been able to use this thing in my everyday life yet, but if recent HP devices like the Spectre are anything to go by, I'm pretty confident this is a premium business tool that will definitely deliver. Whether it will deliver over $3000-worth of performance, who can say, but certainly if outstanding battery life in a tiny form factor sounds good to you, you might need to find some budget.
Or maybe I've just been dazzled by the flashing lights and special effects at the launch event here in Tokyo, who can say? One thing's for sure, "Bad Guy" by Billie Eilish does make truly excellent incidental music at a presentation like this.