LET THE GAMES BEGIN... IN YOUR HEAD
Author

Section

Publish Date

Thursday, 18 April 2019, 9:30AM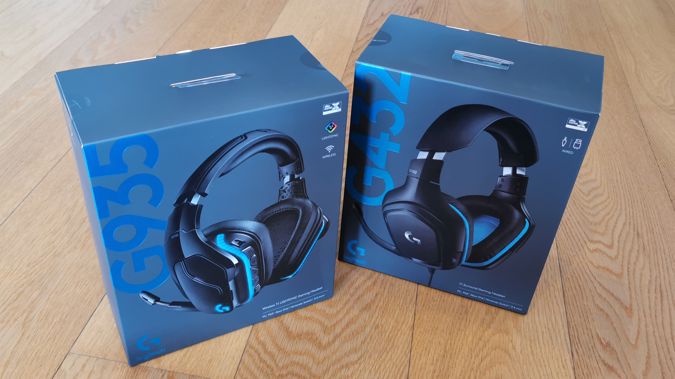 There are a lot of ways to plug yourself into the Matrix. Assuming you have some decent hardware to play your games out of and a nice big screen to see them with, it'd be a shame not to treat yourself to an immersive audio experience too.
But what's the difference between a mid-range headset and something with a few more bells and whistles?
And are those bells and whistles a bit over the top?
Logitech has launched a whole new range of G-Series gaming headsets to cater for most budgets and technical demands.
You can start with a fairly simple stereo, wired setup for $139.90 or splash out on the G935 7.1 surround sound wireless rig, complete with RGB lighting for $349.90.
We'll come to that one shortly but, assuming you'd prefer surround sound to stereo, let's check out the G432 - which I think represents excellent value at $169.90.
The G432 is a wired headset, but one that comes with a lot of options. It has a generous 2-metre cable which is probably plenty long enough to reach the rear socket on your PC tower if need be. This will plug into the hybrid headphone/mic jack you'll find on most laptops, tablets and phones.
However, most PC's have separate mic and headphone sockets, either on the front or back of the tower or both. Luckily, Logitech includes an adapter cable to split the lead into separate mic and headphone feeds.
This is all well and good, but the G432 is actually a 7.1 capable headset and to make the most of its surround sound abilities, you'll need the final attachment included in the box - a USB dongle you plug the headset into.
This allows you to tune your audio experience through the extremely user-friendly Logitech G Hub app, easily downloaded from the Logitech G website. Using the app, you can choose from preset profiles and EQ's, or adjust these manually, even fiddling with the levels on each individual speaker if you wish.
If you ask me, that's a lot of functionality for $169.90.
The G432 is constructed mostly from a durable, matte black plastic, with a metal headband protected by the same leatherette cushioning you'll find on the ear-cups. There are a few bright blue highlights here and there, but aesthetically there's not much to write home about.
On the other hand, I found that cushioning to be extremely comfortable, quite breathable and although the headset leans towards the larger side, it's pretty well balanced so doesn't feel heavy at all when you're wearing it.
The mic boom, fitted on the left side, flips up out of the way and mutes when you're not using it. I found the mic quality clear enough, without being anything close to studio performance, although it certainly picks up quite a lot of background noise if the volume is wound up.
On the back of that same left-hand earcup you'll find a convenient volume wheel, so you can adjust the playback level directly, without having to open any settings on your device, mid game.
The sound is pretty great - you can certainly wind things up nice and loud and the surround experience can be further enhanced by selecting DTS mode if you prefer. It's the only way to play a first person shooter, or even a race-track game - the 7.1 effect really does put you in the middle of the action.
The G432 wouldn't be my first choice for music appreciation - the speakers are good, but not super accurate over the full range of highs, mids and lows. Also, you'd look a bit stupid walking down the street listening to Spotify wearing a headset like this.
I'd almost consider it with the G935 though.
This is Logitech's full featured headset and it's damned impressive.
In saying that, I do have to start with a slight negative; it's huge. If the G432 is on the large side, the G935 is a monster, but there's a reason. The deluxe leatherette earcushions are big enough to fit right around your whole ears, sealing out any distracting background noise. The earcups themselves are extra deep too, so the surround sound effects really do have the space they need to seem as realistic as possible. The well-padded steel headband is shaped to provide even better balance than the G432, so again, despite its size, once you've put the G935 on, it's comfortable enough to wear for hours at a time - and I have.
Just because it's big, doesn't mean it's not beautiful. There's a more solid feel to this headset, built with an attractive combination of matte and shiny, patterned plastic. All black... until you power it up.
There's a strip of RGB LEDs running up each earcup as well as an LED Logitech logo. These are totally customisable using the Logitech G Hub app. Choose your favourite colour, flash on and off, cycle through all the colours - even sync your light scheme with other Logitech peripherals. Of course, if you think lighting up something you can't see because you're wearing it on your head is stupid... you can turn the lights off completely.
This will save you a bit of battery life, which might be important if you're an all day (or all night) gamer. Either way, you should get at least 8 hours out of a full charge - via the included microUSB cable. If you're involved in a real marathon, the charging cable is plenty long enough to leave plugged in while you're playing.
The G935 connects wirelessly via its supplied USB dongle - this is a 2.4GHz connection, not bluetooth, so there's no latency whatsoever and it's crystal clear. I've used it in various locations and have yet to encounter any interference or dropouts whatsoever. When you're not using it, you can hide the dongle away behind the magnetic cover on the left earcup. Very secret squirrel.
You can connect via standard 3.5mm audio cable too. Strangely, this isn't an attractive braided lead like the charging cable is. Maybe Logitech would rather you just did the cool thing and play wirelessly.
Logitech's Pro-G speakers really are next level - they call the sound design "Anti-Assassin Audio" - the idea being no-one can sneak up on you anymore because you'll hear them coming. I'm no pro gamer, but I definitely feel like one wearing this headset. I've never been so immersed in the action. There's a much better bass response here and unlike the G432, I've been more than happy to play music through the G935 while I work. Again, due to its bulky profile, you're hardly going to be wearing these while you work out, but the playback quality is right up there.
The mic quality is definitely a step up too - very clear although like the G432, if you have the level too high you'll pick up a fair amount of background noise. The mic boom not only mutes when flipped up, but it recesses back into the left earcup completely, so you almost can't see it at all. 
That left earcup is definitely where all the action is - not only is the power switch and volume wheel on the back, but you'll also find three fully programmable function buttons. We're not just talking Play, Pause and Skip here - using the Logitech G Hub app, these buttons can be used to change sound and lighting profiles too. That's right; you can even create different profiles to match different games. There are so many ways to customise the G935, it might seem overwhelming, but the app is very well designed and all those options can be accessed in just a few clicks.
My only complication with either of these headsets was the initial setup. I installed them on two different Windows 10 PC's and had to run the sound troubleshooter to get them to work as my default devices. Not a major - maybe a future update from either Logitech or Microsoft will sort this.
Whichever headset you choose from Logitech's new G-Series, I'm confident you'll be more than satisfied with the sound, the build quality and value for money. Once again, Logitech has shown it certainly knows how to build great gaming accessories... although you might want to invest in a headset stand to save yourself some desk space!
Click here for more information and pricing on the Logitech G432 wired gaming headset.
Click here for more information and pricing on the Logitech G935 wireless gaming headset.