LESS NOISE FOR LESS MONEY
Author

Publish Date

Thu, 12 Sep 2019, 10:32AM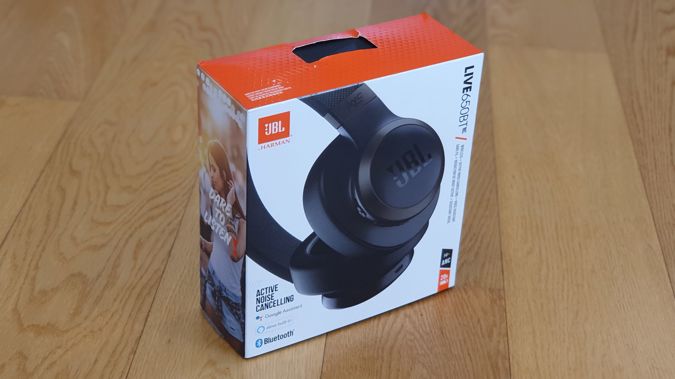 LESS NOISE FOR LESS MONEY
Author

Publish Date

Thu, 12 Sep 2019, 10:32AM
Seriously, who are these people who have hundreds and hundreds to spend on headphones?

Yes, it's great to listen to your favourite tunes on a nice set of cans, but for four, five or even six-hundred dollars, you could just about hire a live band!

Add Active Noise Cancelling into the mix and you might need to take out a loan.

Can we have some kind of compromise please?...

The JBL LIVE 650BTNC is by no means a budget headset, but at well under $300, you'll still get most of the premium features.

For starters, it's a pretty damn attractive piece of kit. Available in white, blue or black with copper accents as pictured above, the LIVE 650BTNC is more the size and shape you'd expect from an on-ear headset, but it's all a trick, because the actual ear cups are plenty big enough to fit over my weird, giant ears with no issues.

Because it's a bit smaller, it certainly feels light and very comfortable, enhanced by the PU leather and memory foam ear cushions and fabric-covered headband. In fact, the LIVE 650BTNC is so light, at first it almost felt flimsy. This was totally misleading though, as I've been using the headset for several weeks now and there's been absolutely no sign of wear and tear whatsoever.

In fact, I haven't actually charged it in all that time either. Obviously I did a full charge when I first set it up, but seriously, I've been listening to podcasts, music and watching movies for two weeks now and the JBL Headphones app tells me I'm still on 80%. That can't be right. I do wish the charging lead was USB Type-C, but I guess you can't have everything.

So that app... not to be confused with JBL Connect, which is the one you use to control and update speakers, Headphones is simple and uncluttered - almost to a fault. There are only three preset EQ's; Jazz, Vocal and Bass - although you can create your own profiles too. This is actually quite user-friendly; you simply drag an equaliser curve up and down to suit your preference - then you can call your new preset whatever you like. No fiddling around with frequency faders, it's much more intuitive.

And it really works too. At its default setting, the LIVE 650BTNC skews a bit bass-heavy for my tastes - it's great to have a big bass bang when you want it, but too much boom can muddy everything else. I was absolutely able to mitigate this with my own EQ setting, boosting highs and mids while still retaining some low-end punch.

In theory, you're supposed to be able to connect to multiple devices simultaneously, taking turns to play tracks. However, I think this needs to be with similar devices, because when I tried it with my phone and my TV, the TV took over and I couldn't get anything out of my phone till I reconnected everything. Maybe a future firmware update will sort this.

These updates happen via the app, over bluetooth - but because it's bluetooth, I have to say, it's pretty slow. Take my advice, if you see an update is ready to download, don't be fooled into thinking you can quickly apply it 60 seconds before leaving the house.

I actually had a few minor issues with the bluetooth connectivity - just little dropouts every now and then, both when connected to my phone and my telly. Again, maybe this is something an update will fix. It didn't happen often enough to annoy me, but it did happen. If you're really worried about maintaining fidelity, there is of course a 3.5mm AUX cable included.

It's a shame, because the Active Noise Cancelling is fantastic, especially given the price range we're dealing with. There are plenty of other headsets in the $200-$300 area that don't sound this good and don't offer any ANC at all. Sure, it's not world-beating tech, but I've found it's definitely good enough to block out other music that may be playing in the room and tackles transport and commuter noise with aplomb. There's also very little of that noise-cancelling "hiss" you can sometimes experience during very quiet patches in what you're listening to.

My major criticism of the LIVE 650BTNC is the controls. They feel plasticky and they're all jammed in together on the right ear cup. It's almost impossible to tell if you're turning the ANC on or answering a call, let alone raising the volume or skipping a track. The sole exception is activating your voice assistant (Alexa, Google or Siri) This is the only control on the left ear cup and instead of a physical button, you just tap the ear cup itself. It seems weird JBL couldn't smarten things up for all the other functions too. In saying that, you can set those actions in motion using your voice assistant anyway, so maybe they're redundant.
There's a fabric carrying pouch included in the box. The headphones fold flat allowing you to slip them into this reasonably compact bag so you can tuck them away when not in use.

In my testing call quality has been pretty acceptable through this headset, although I've read other reviews complaining of poor mic quality and its tendency to pick up a lot of ambient noise. I've found this to be the case with most over-ear headsets though and the friends and family I've called on this one seem to be able to hear me just fine. I don't know too many people who choose headphones to make phone calls with though, so it's a bit of a non-issue for me.

As always, the really important bit is sound quality and I've been impressed how well I can tailor the LIVE 650BTNC to my personal tastes. If you're looking for decent Active Noise Cancelling under $300, it's a great option.