KING OF TABLETS
Author

Publish Date

Sun, 30 Aug 2020, 3:39PM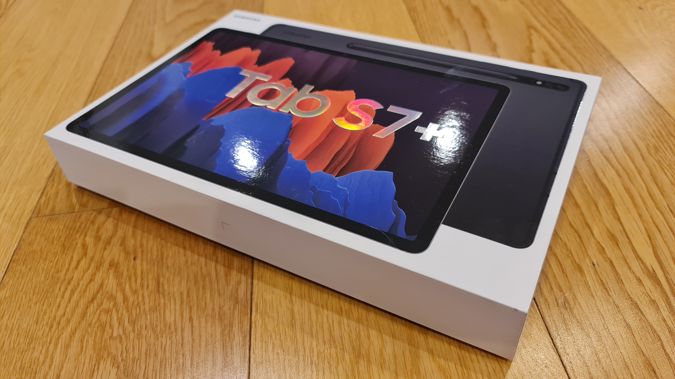 KING OF TABLETS
Author

Publish Date

Sun, 30 Aug 2020, 3:39PM
Before you buy that new laptop, just quickly ask yourself; are you sure you're not a tablet person?
Here's a little checklist...
Are you more of a browser, poster and scroller than an editor or publisher?
Do you prefer to stream your own shows when everyone else is watching that dumb series you don't like?
Is mobility important? Battery life?
Do you like the idea of a device that works like a phone but with a giant screen?
Do you like to draw?
Yup. Sounds like you might be a tablet person. So may as well get the best one...
The Galaxy Tab S7+ is Samsung's latest flagship tablet and it comes extremely close to laptop functionality while retaining all the benefits of a tablet. At the time of writing it's being bundled with the Keyboard Book Cover but even if it isn't when you read this, make sure you get one so you can enjoy all the features I'm about to discuss.
The super AMOLED display is probably the first thing that will grab your attention - initially because of its sheer size; 12.4 inches is probably about as big as I'd want to go for a tablet before things start feeling clumsy and awkward to hold with one hand. There are still significant bezels around the edges but that's kind of mandatory on a tablet otherwise you can't hold it without accidentally tapping or swiping something. 
In terms of cutting-edge display tech, a Samsung screen is usually pretty hard to beat and you definitely won't be disappointed here. You can choose between 120Hz or 60Hz refresh rates, depending on whether you're looking for sheer performance or trying to conserve a little battery life. Certainly video and gaming at the higher rate is stunning. 
In fact, when it comes to streaming on this device, you might find the experience superior to watching your telly. Not only is the screen fantastic but the sound from the AKG/Dolby Atmos-tuned quad speaker array is remarkable.
I haven't enjoyed watching anything on a screen of this size like I have watching Miles Davis: Birth of the Cool on the Galaxy Tab S7+. If you haven't seen it, I'm sure you can imagine the soundtrack is key. The stereo separation, dynamic range and general sense of audio space really is like some kind of aural magic trick. If you're considering a TV for the bedroom, this might actually do the job instead.
But there's a lot more to the Galaxy Tab S7+ than just another way to watch Netflix. It ships with an S-Pen stylus in the box. This magnetises onto the back of the tablet where it charges wirelessly as well. Like the smaller S-Pen on the recent Note 20's, Samsung has dramtically reduced latency while increasing functionality. Tools like screen capture, highlighting and over-drawing are all just a tap away. Convert handwriting to text, save notes to the cloud to be shared between devices or just draw something! The pre-installed Pen-Up app even comes with instructional draw-over videos and a library of colouring-in if you're looking for a creative way to kill some time.
The S-Pen slots securely into the back section of the Keyboard Book Cover while the lower half of that section folds out as a stand to support the Tab S7+ at whichever angle you prefer.
Meanwhile, the front, keyboard part of the cover connects magnetically to the tablet along one long edge.
Generally I'm a fan of of attaching accessories magnetically but it's not quite a perfect system here. Because both back and front halves of the case are held on magnetically, I keep pulling the back off instead of pulling the keyboard down. This is just a technique thing and I'm sure I'll get used to it eventually but it's interesting to see Samsung put all its trust in magnets while other cases still clip on instead.
I have a bit of a love/hate relationship with the keyboard. Firstly, I love having a physical keyboard as I hate using an on-screen one and sacrificing all that display real estate in the process. I'm also impressed with the sheer number of keys - there's a whole row of function keys, a set of cursor keys, media control keys - even a screenshot key. Unfortunately, in order to fit all these keys in they've put some fairly important ones in odd places and even resized some of them. The shift and enter keys seem particularly weird and it's taken some deliberate retraining to get my fingers used to the somewhat unusual configuration.
The whole thing is crazy slim but that means there's zero travel for the keys and it also flexes and moves around quite a lot if you're an aggressive typer like me. The touchpad is responsive, accurate and clicky though so all in all, the keyboard experience is a win.
There can be no doubt this device was designed for landscape use - obviously that's how the Keyboard Book Cover works but the front-facing camera is on the long side of the tablet too. This is great - I use my phone that way when I can anyway, so I'm definitely holding the Tab S7+ sideways too. Especially now that DeX mode is so much more useful than ever.
DeX is Samsung's desktop display - the flagship handsets can now do it wirelessly onto larger displays but of course, the Galaxy Tab S7+ is a larger display, so it does DeX mode to itself. In fact, there's a dedicated DeX button, firing up the Windows-like desktop in seconds. Many more apps have now been optimised for DeX use and by going with the more experimental DeX Labs option, you can resize most other apps for multi-window use too. Just like on a laptop or PC, you can open as many different windows as you like, copying and pasting from one app to another as you please. The Tab S7+ never skips a beat, the Snapdragon 865 processor absolutely scything through any task at hand.
Camera performance is basically off the charts. I doubt you've ever used a tablet with camera specs like this, I certainly haven't. The experience is far more like using a high-end phone than dealing with the below-par shooters to be found on most laptops and tablets. Your next work-from-home video staff meeting never looked so good!
I've also been impressed by the Super Fast charging - often devices with a large battery take an equally large time to top up but the Tab S7+ juices up its enourmous 10090mAh cell very efficiently.
This year Samsung has stepped up efforts to get all its devices working together seamlessly in one ecosystem. The convenience of being able to answer and reply to texts and calls from my phone on the Tab S7+ is very useful and I love being able to swap my Galaxy Buds+ between phone and tablet with just a single touch of the screen.
Power, tick. Productivity, tick. Portability, tick. Sound and vision, big, big, BIG tick. If the Galaxy Tab S7+ was just a tablet, it would be truly awesome. But add the multifunctional S-Pen and the very full-featured Keyboard Book Cover and there's not much you can't do.
The Samsung Galaxy Tab S7+ is also available in a 5G model and smaller S7 versions.
Click here for more information and pricing on the Samsung Galaxy Tab S7+.