Kick Off Your Party Season with a Boom
Author

Publish Date

Tue, 21 Dec 2021, 5:23PM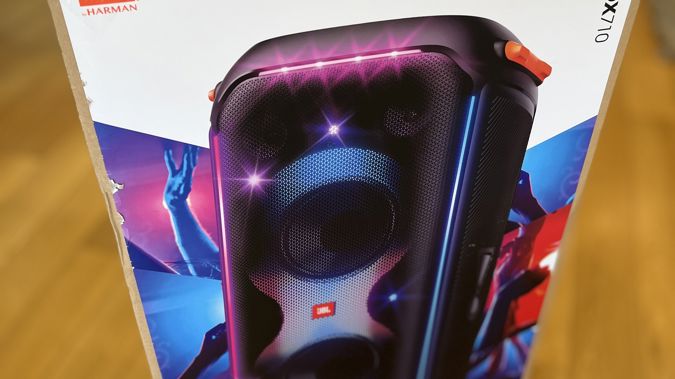 Kick Off Your Party Season with a Boom
Author

Publish Date

Tue, 21 Dec 2021, 5:23PM
Is it just me or are the speakers getting bigger?
I feel like bluetooth speakers used to be little things shaped like tin cans or oversized grapefruit. Fine for a bit of portable music when you're out and about but you wouldn't really dance to it.
Now that's all changed. Just as many of us are finally getting our freedom back, it might be time for a party. Or two. It might be time to pump up the volume. All the way up.
A party like that might require a little more than a tin can or a grapefruit.

The JBL Partybox 710 is the biggest speaker I've reviewed to date.
You know wheelie bins? It's about the size and shape of a wheelie bin. In fact, I wonder if the JBL design team was inspired by the humble wheelie bin - after all, I've certainly seen roadies use wheelie bins to cart various bits of P.A. paraphernalia around at concerts and events.
So perhaps it's no coincidence this wheelie bin of a speaker would probably fit right in at one of those venues. 
The Partybox 710 is nothing if not versatile - For starters, it's an uber powerful bluetooth speaker that'll have Noise Control around in minutes if you decide to blast it at full noise. You're dealing with 800 watts of JBL "Original Pro Sound" firing from dual 2.5-inch tweeters and a pair of 8-inch woofers. Sonically this may not be the most technically accurate device you've ever pumped your favourite Debussy prelude through but when it comes to big bass punch you can feel... really feel... from down the street... they've pretty much nailed it here.
In fact, there's this weird, limited EQ setting you can access via the PARTYBOX app or the dedicated button on the top panel - it's called Bassboost and you can set it to OFF, 1 or 2. OFF is pretty damn bassy. So 2 is kind of ridic.
The cool thing about the Partybox 710 is you can get bogged down with different controls and customisations - especially within the app - but you don't have to. There are two easily accessible, large control knobs on top of the speaker, one for the light show, one for volume, play and pause. As long as you can find those and the power button, you're pretty much good to go.
The light show controller scrolls through a list of different preset options - ranging from calming static colours to seizure-inducing flashing and glowing. Like I say, you can spend hours fiddling around with these settings in the app if that's your vibe, or you can just give the knob a twist and dance on.
The volume control is about as basic as it could be and no, I haven't actually wound it all the way up because I have neighbours and pets. Let's just say this speaker goes loud. What's more, you can connect to other speakers to really do some aural damage - either via the physical Daisy Chain in/out ports or wirelessly with other compatible party speakers in this range. Frustratingly, that excludes models like last year's Partybox On-The-Go. JBL has a habit of making the connectivity of previous speakers obsolete and it's happened again here.
However, you can connect lots of other things; there are ports for USB, AUX line-in, a guitar, a keyboard and yes, even a microphone - because a party isn't a party without a full-on sing-a-long. All these inputs are concealed behind the biggest splash-proof, peel-away rubber cover I've ever seen.
But here's what I don't get; the Partybox 710 carries an IPX4 splash-proof rating. It's ruggedly constructed with protective bumpers in all the right places. You can stand it up or tip it on its side. All the pictures on the website show people dancing by the pool or singing in the spa... and yes it has wheels... but you still have to plug it in. 
It's described as being portable but at almost 28 kilos, you probably won't be carting it to the park for that picnic - especially since it needs mains supply to work. This is baffling to me - you've already made a huge speaker, why not build in a large, rechargeable battery to make it even more useful than it already is? There are two smaller Partyboxes in this range - the 110 and 310 - that are rechargeable, making the 710's tethering of mains power only all the more bewildering.
Perhaps I'm being a bit critical - after all, the majority of parties happen within reach of an extension cord.
As I mentioned, plug in a mic and you can karaoke to your heart's content. There are even echo, bass and treble controls to help make you sound like the accomplished crooner you are. Then, to bring out your inner D.J., there are also three programmable sound effects buttons. These are customised back in the PARTYBOX app from a selection of classics like Airhorn, Scratches and Crowds Cheering.
NZ$1199.95 might seem a bit steep for what is essentially an oversized bluetooth speaker with a mic input - especially one you can't unplug from the wall - but once you list off all the features, the karaoke and lighting effects in particular, you realise this really is all the sound and vision you need for a party in one box. Or one wheelie bin.
Click here for more information and pricing on the JBL Partybox 710.