Keeping Sound Simple
Author

Publish Date

Thu, 10 Jun 2021, 12:56PM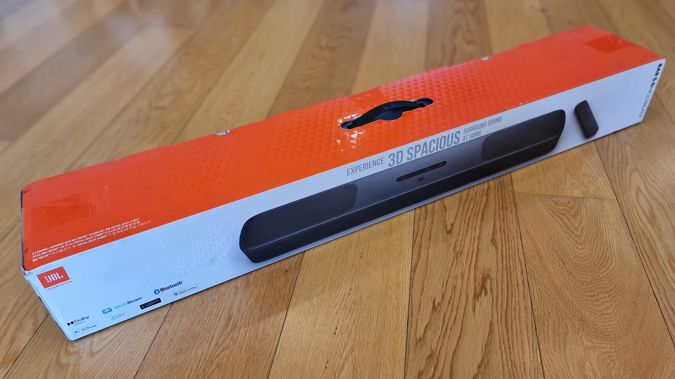 Keeping Sound Simple
Author

Publish Date

Thu, 10 Jun 2021, 12:56PM
I was a late adopter when it comes to soundbars. There's a couple of reasons for that; a) for years I had my TV plugged into a reasonable multi-speaker home theatre system and b) I didn't really believe they worked very well.
Other than providing a bit more bottom end and perhaps more sheer volume, what was it a single soundbar was likely to offer I wasn't already getting from the TV's own built-in speaker array?
Then a few things happened to change my mind. First, TV speakers got bad. Really bad. This was due largely to the push to develop ever more slim displays, creating the illusion of a screen and nothing else. If your telly is all picture, that doesn't leave much room for decent speakers. This meant if you chose cutting-edge vision, you'd be pretty much forced into investing in a soundbar to beef up the audio side of things to match.
Another advance that made soundbars more appealing was the evolution of wireless technology, enabling us to our own create multi-room sound systems without having to conceal wiring in walls or under the floor. Incorporating a quality speaker by my TV into a system like that meant I could achieve a great ambient soundtrack in my home, wherever I happened to be.
Also, the worse built-in TV speakers became, the better soundbar technology got and now beamforming has become quite an art - creating the illusion of stereo, space and height from one central source.
I was still sceptical... then I heard it. There's definitely some good gear out there but as always, it comes at a price. Or does it?...

The first thing that struck me about the JBL Bar 5.0 Multibeam was its size... or lack of it. I've certainly been blown away by several soundbars recently but they've all been massive things - usually over a metre wide and sometimes too tall to fit neatly under the TV they're connected to.
The Bar 5.0 Multibeam measures in at just over 70cm and is just 2.3-inches tall. This means it should fit anywhere and would be a great companion to a smaller-screen. After all, just because your TV is little, it doesn't mean your soundscape has to be. There's some wall-mounting hardware included in the box and again, it'll be quite a relief to be able to conserve as much wall-space as possible with this compact option.
Everything about the physical design of the Bar 5.0 Multibeam errs towards minimalist, bordering on industrial. There's a metallic theme, both in appearance and feel - no fabric speaker coverings, all metal speaker grilles instead. In fact, it's mostly speaker grille with one of the smallest control panels you're likely to see set into the middle of the top. 
Even the accompanying remote control is nothing flashy; as few buttons as possible in a subtle matte finish which actually feels quite pleasant to hold.
There's not much of a visual display on offer here either, which suits me. A non-intrusive, white LED readout lights up when the soundbar turns on or you are adjusting the settings then it quickly disappears - with no other distracting lights or indicators to be seen. Me likey.
But enough of how this thing looks. It's not a lookbar. Let's fire it up.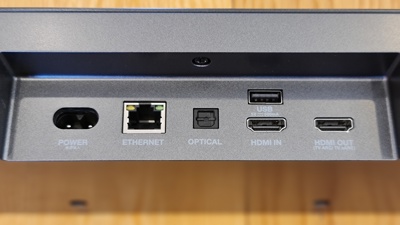 Setup can be as easy as plugging it in and connecting it to your TV via the HDMI eARC socket which should let your TV remote take over its operation. There's another HDMI port if you want to add a further device or you can connect via optical instead.
There's no dedicated app for the Bar 5.0 Multibeam, so if you want to avail yourself of its Chromecast, Alexa or AirPlay abilities, you'll have to set it up via the Google Home app. This is very straightforward and once its connected to your home Wi-Fi network it'll appear on any Alexa, Chromecast or AirPlay compatible apps. Obviously, you can also connect to the soundbar via bluetooth too.
What's less straight-forward is adjusting the settings after that. I'm not big on instruction manuals but it'll pay to keep yours handy as many of the controls for the Bar 5.0 Multibeam are almost hidden, relying on pushing buttons for a certain amount of time or pressing a combination of buttons simultaneously. Good luck learning each combo off by heart.
For instance, to calibrate the multibeam performance to your room, you'll need to hold down the HDMI button on the remote for 5 seconds. How would anyone know to do that without reading this review? (Or the instructions)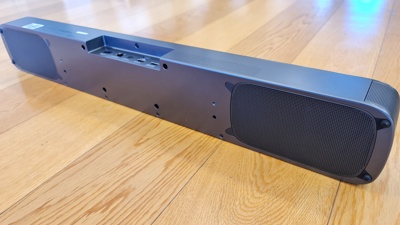 Be sure to do that though, as this is really the only way to get the most out of any stereo or height effects. Which are, as it happens, very good. If you'd shown me a picture of the Bar 5.0 Multibeam I'd never have believed how well it manages to fill a room, from top to bottom, bass to treble. This is mostly because it's literally jam-packed with speakers; five racetrack drivers and four 3-inch passive radiators combine for a beefy 250W output with plenty of boom.
That's not to say you're emulating anything like the bass performance of a decent subwoofer but there's plenty of oomph here for things like car crashes, gunshots and explosions, not to mention more than enough of a big beat to dance to - and bass is one of the few settings you can control.
While there's no way for a single speaker unit, placed below the TV to match the surround effect of physical, rear mounted speakers, while using the Bar 5.0 Multibeam, I've often caught myself being completely caught up in the action of what I'm watching, without thinking about where the sound's coming from at all. I'm of the view that's exactly what you want from your speaker system - if you're noticing it, you haven't set it up right.
While the lack of physical controls is slightly frustrating while you're setting things up, I haven't missed anything once up and running and I really appreciate JBL's set-it-and-leave-it approach. The Virtual Dolby Atmos isn't just a sticker on the box, it really works. The 3D effects are genuinely convincing and while the dynamic range and frequency response may not quite match the separation and definition offered by higher-spec devices priced a thousand dollars more... or more... I really have no complaints with what I'm hearing here.
For NZD$599.95 RRP, the Bar 5.0 Multibeam offers a lot of features, great compatibility with other multi-room systems and best of all, it doesn't take up much space.
Click here for more information on the JBL Bar 5.0 Multibeam.