JUST WHEN YOU THOUGHT BUDS COULDN'T GET BETTER
Author

Publish Date

Fri, 14 Feb 2020, 6:05AM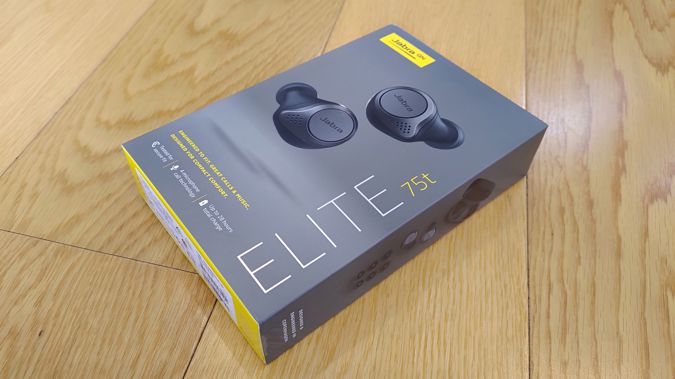 JUST WHEN YOU THOUGHT BUDS COULDN'T GET BETTER
Author

Publish Date

Fri, 14 Feb 2020, 6:05AM
Jabra has been a genuine revelation to me over the past year or so.

I've gone from thinking of the brand as a supplier of headsets for office phone systems to being a leader amongst stiff competition in the bluetooth headphone market.

Nowhere is that market being more fiercely contested right now than in the category of true-wireless earbuds.

So what does Jabra have to offer?...

The Elite 75t true wireless earbuds are the epitome of everything I've recently come to expect from Jabra.

No flash. No bling. 100% performance.

There are some significant advantages offered by the Elite 75t's straight out of the blocks. Not only are they IP55-rated to resist dust and water, they actually carry a 2-year warranty against dust and water damage. That means you can definitely exercise hard out with extreme confidence. Or if you happen to drop one while gardening, it won't be the end of the world. Do I admit I've even showered wearing my Elite 75t's? Better not. That might seem weird.
Battery life is another standout feature. Jabra claims up to 7.5 hours of continuous use from a single charge, with a total of 28 hours from a fully charged battery case. Those are some of the best numbers in town. It may surprise you to know I haven't managed to find the time to spend 7 hours listening to these buds in one go. What I can tell you is I've been using them for more than two weeks, running, doing housework, just out and about. I've only charged the case once. Works for me.

That battery case is tiny, by the way - one of the smallest I've come across - very flat too which means it slides comfortably into a pocket.

While it's true there are a million different options out there when it comes to wireless earbuds, there still aren't that many offering active noise cancelling. The Elite 75t's don't either. And yet, they are perhaps the best noise cancelling earbuds I've worn to date. This is due to their noise isolating fit. They're very small and light and twist so snugly into your ear canal, there's no room for pesky outside sounds to worm their way in.

If you're worried the outside world is being sealed off too completely, a single press of the left earbud enables "HearThrough" mode, introducing a feed of what's going on around you into your personal mix. Pretty clever.

I really wanted these earbuds to be the best fitting buds I'd ever worn - everything else is so perfect. Well, they very nearly are. Very nearly. But not quite. I was surprised to discover only three different sizes of EarGels included in the box - especially when some other products in this high-end price-range offer alternate shapes as well as a bigger variety of sizes. In saying that, after a bit of experimentation, turns out I'm a boring old Medium after all. Except... while the right earbud stays rock solid for the duration of my 7km run, the left one often starts feeling slightly wobbly around the 5km mark. I can't deny my ears are worryingly asymmetrical and to be honest, I usually only have to readjust that left one once by the time I get home. I'm being super picky.

The big lesson I've learned about Jabra products is how amazingly good they sound. Nobody ever talks about the booming bass of a Jabra headset but they should. Whether it's due to innovative audio design or a by-product of the impressively tight seal or a combination of the two, the Elite 75t's positively thump when you wind them up. And it's not just all about that bass either; using Jabra's Sound+ app, you can customise the EQ to your preference.

The app also lets you choose your virtual assistant, accessible with a double-tap of the right earbud. The tap controls are reassuringly clicky and tactile - long presses to adjust volume, short presses to start, stop, answer etc.

The bluetooth 5.0 connection has proved impressively clear and stable, although there's one particular block of public toilets on my run that always interferes with my wireless connectivity. I don't understand why or how. But given that it happens no matter which earbuds I'm wearing, I'll excuse the Jabra 75t's for dropping out briefly in the same place.

Jabra's been doing phone systems for decades, so it's no surprise call quality is standout with the Elite 75t's too. This is pretty rare for wireless earbuds, as the microphones are a long way away from your mouth. Jabra's answer is a four-mic setup that reduces background and wind noise quite effectively. The other unusual feature is you can choose to use just a single earbud, leaving the left one in the case. Most other sets I've tried won't work at all unless you're wearing both at once - this makes sneaky podcast listening at work much easier.

But perhaps the best thing about the 75t's is how small they are. They really do nestle snugly into your ears, without sticking out making you look like a nerd. In short, these earbuds basically do everything you could possibly want them to. Setup is easy, battery life is great, they fit comfortably and securely and they sound as good - if not better - than any other buds I've tried.

If you're prepared to pay over $300 for a set of earbuds, you're probably wanting the very best. These just might be.


Click here for more information on the Jabra Elite 75t true wireless earbuds.