JUST WHAT WE NEED; MORE TV
Author

Publish Date

Tue, 8 Oct 2019, 5:26PM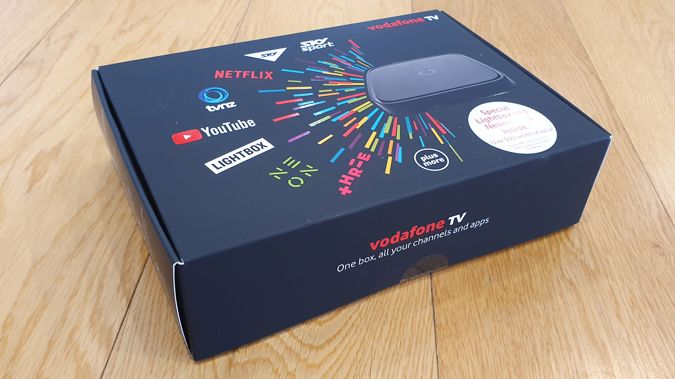 JUST WHAT WE NEED; MORE TV
Author

Publish Date

Tue, 8 Oct 2019, 5:26PM
When the world's getting on top of you and you've got a lot going on and everything is stressing you out, there's nothing quite like flopping down on the couch and immersing yourself in a bit of mindless television.
Of course, everything is streamed on demand these days, so you can never say, "There's nothing good on." Right?...
Right?...
Vodafone TV has come a long way since it was first launched last year. That is to say, it's finally ready.
The original idea behind Vodafone TV was fairly simple; to provide access to all your favourite televsion services from one, easy-to-use set-top box. Netflix, Sky, network TV both live and on demand, all in one place.
Quite a tidy concept, especially for anyone playing catch-up with trends like smart TV's and streaming devices. Somehow, even now, the process of plugging an actual box into your telly seems more reliable, more trustworthy than playing a programme over Chromecast via an app on your phone.
Trouble is, it didn't really work properly. Not at first, anyway.
The really unique pitch behind Vodafone TV (for me anyway) was the three-day catch-up functionality. This meant you could time-shift your viewing and watch anything from the last 72 hours, whether you'd specifically recorded it or not. Great pitch. I was sold. In fact, I even changed my ISP to Vodafone, just so I could sign up for the service.
So I was a bit disappointed to discover I couldn't access certain shows on certain channels, except to watch them live. Yes, most of the programmes on TVNZ or Three could be accessed by the on-demand apps (pre-installed on the box) but that's not quite the same as flicking back to yesterday's guide and pushing play.
Apparently, this was due to some kind of licensing issue and rest assured, a year or so down the track, 90 percent of shows are now available to at least re-watch using the three-day rewind option, even if you can't actually record them. Most of the exceptions are reality TV shows like Million Dollar Listing and season 23 of the Amazing Race - no great loss.
The other massive change Vodafone's made is you no longer have to be a Vodafone customer to use Vodafone TV. Amazingly, in this brave new world of subscriber-everything, Vodafone has decided to sell you its box for a one-off payment of $179. That's a little bit more expensive than a basic Android TV box, but you can't add Sky TV channels to an Android TV box and you can't watch free-to-air live network TV on one either. (Well, not easily, anyway) Oh, and you certainly can't 3-Day Rewind on an Android TV. Or on anything.
Shall we compare it to Apple TV? No. Because Vodafone's box is so much cheaper and so much more versatile. There's no comparison at all.
There are a few other tweaks on Vodafone TV 2. The big one is it's now WiFi capable, so you no longer need to be within reach of an ethernet port to make it work. I've tried it out and found there was no obvious difference in picture quality or general functionality between the hard-wired or WiFi connections.
Everything else functions in a similar way to the original box from last year - although the new box itself is significantly smaller. I also love that you can now turn the brightness of the power LED way down low, I hate stupid lights. There's a straight-forward on-screen U.I. that gives you quick access to live channels, a full programme guide and all the usual apps like Netflix, Neon, Lightbox and YouTube. The remote is equally easy to use and it's handy to be able to search for programmes by title, no matter what channel they're on. Everything has a much slicker and more modern feel than the sluggish operation of a traditional MySky set-top box.
There's one thing that takes a bit of getting used to; fast-forwarding and rewinding. Unlike MySky, there's no on-screen video display when you cue forwards or backwards, you only see the time. This makes it slightly more challenging to skip an ad break as they're not always the same length. Don't let this put you off though as there are some serious up-sides to the Vodafone TV way of controlling things. For starters, you can fast-forward or rewind huge chunks of time in just a few seconds, much faster on the 2019 box than last year's model. The time display is clearer and more accurate too. Finally, my favourite; the 20 second skip button - jump forwards or backwards in 20 second increments instantly... perfect for skipping injuries, scrums and lineouts in a delayed broadcast of a rugby game.
Yes, there's no doubt Vodafone TV 2 is now one of the most effective ways to bring all your television requirements onto one platform. Well... almost all...
While all the big apps come pre-installed on Vodafone TV, there are, of course, many others out there. Because you can't add extra apps to the box, or stream to it from another device, you'll still need something like a Chromecast dongle plugged into your telly to make those other apps work. Apps like Acorn TV for example...
Acorn TV is one of the latest in the ever-increasing list of subscription streaming services. This one lets you watch the best of (mostly) British telly on your PC, tablet, phone and Apple TV.
While it doesn't always offer the very latest seasons the moment they're released, there's actually a solid library of content available. If you're into dramas and mysteries like Line of Duty and Broadchurch or comedies like Father Ted - this could be the TV app for you. Or your mum or dad maybe?
There are new shows, seasons and movies added every month and Acorn TV does a good job of keeping you informed of all its latest additions. Not only do I receive regular email updates, but since I subscribed, I've been amazed how much Acorn TV news has been popping up in my social media and browsing feeds.
The user interface is pretty standard and pretty simple, although I've found it to be a bit fiddly casting to my TV, usually having to start casting after I've started watching an episode, even though you can cast from the main menu of the app. There's no problem streaming in terms of picture quality and reliability once you do get your programme going though, although these things really need to work straight away given the audience for a show like Doc Martin is likely to tend towards the greyer-haired end of the scale.
As we've recently learned from Spark Sport's Rugby World Cup trials and tribulations, that's an audience pretty reluctant to embrace "new" technology, so if it doesn't work first time, every time, you're going to have issues.
Luckily, Acorn TV only costs $7.99 a month. At that price, I think most people can handle having to push the cast button twice.
Click here for more information on Vodafone TV.