JUST SO DAMN PRETTY
Author

Publish Date

Fri, 7 Feb 2020, 5:53AM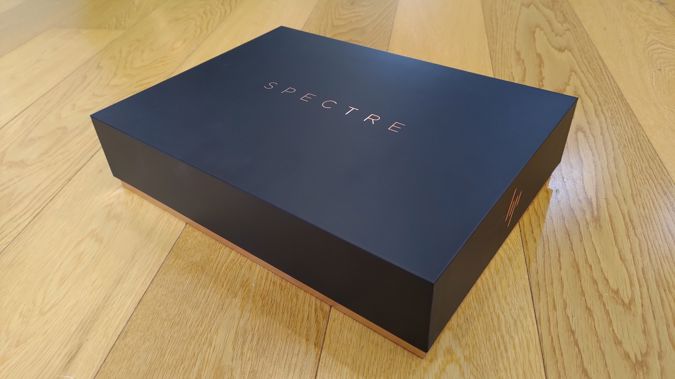 JUST SO DAMN PRETTY
Author

Publish Date

Fri, 7 Feb 2020, 5:53AM
It's an age old question; can you be smart and good looking?

It's easy to assume the more attractive you are, the less you actually have to do to get by. When it comes to tech, often the most boring devices are the best performing.

So...

Does that mean the latest convertible from HP is all flash and no substance?

The HP Spectre x360 is undoubtedly one of the most beautiful laptops I've ever seen. There are distinctive features we've seen from previous Spectres, like the angled corners around the hinge. But the bronze highlights and sheer slimness of the device are all new.

Not only is it slim, but the Spectre x360 is tiny all round - thanks mainly to its vastly improved 13.3-inch FHD touch display. It's almost edge to edge so you get the same screen size but a much smaller form factor.
You may be worried this has led to a squished-up keyboard but no, like the screen, the keyboard stretches out right to the very edges of the device. In fact, I've found the keys to be so big and so spread out, sometimes I mistype because I'm so used to more compact setups. There's a reassuring, clicky response to the keys although they're totally flat, so perhaps not quite as comfy as other hollowed-out styles I've used elsewhere. On the bright side, if you'll excuse the pun, there are two levels of backlighting, or you can turn it off completely with the push of a dedicated key.

Speaking of dedicated keys, both the microphone and webcam can be deactivated for privacy. Speaking of the webcam, it's absolutely minuscule, nestled neatly in the top bezel. It's an IR-enabled camera which means a more secure face unlock which I've found works consistently and quickly.

There's also a fingerprint sensor if that's your preferred login method.

The hinge mechanism, highlighted in bronze, is as strong and durable as ever, enabling tent and tablet modes - although I always feel a bit weird using a laptop as a tablet when you can feel the physical keyboard just hanging around redundantly underneath.

Unfortunately, due to the Spectre x360's littleness, there wasn't enough space for four Bang & Olufsen speakers as we've seen on previous models. Luckily, the dual speaker setup seems to perform admirably anyway. Match that with a really first-class performance from the FHD display and you've got a fantastic media player, ideal for all your mobile Netflixing requirements.

So be in no doubt, the Spectre x360 is a fine, fine looking machine. There's even a luxurious leather folio case included in the box with a convenient pouch for the stylus - also included in the box.

Performance-wise, you'll be pleased to know the Spectre x360 stacks up admirably. And how.

Combine the very latest, tenth generation i7 Intel processor with the very fastest DDR4 RAM and you have an extremely powerful and speedy computer indeed.

Startup times, app downloads, installs and launches are all blazingly efficient. Streaming is flawless. Multitasking causes zero issues. The touch screen is responsive and accurate, as is the touchpad. Everything looks classy and feels like the business.

In saying that, HP has packed quite a bit of new cooling technology into the Spectre x360 which is just as well, because it still gets pretty warm after a bit of solid use. Yes, I know it's been a hot summer, but not only have I found the Spectre x360 doesn't take long to warm up my lap, even the palm rests don't really stay cool. I assume this is largely due to so much stuff being squeezed into such a petite form factor. The fan system is quiet but powerful and when you really push this device, you can definitely feel warm air being pushed out through the vents underneath and even up through the keyboard.

Battery life is good. We seem to have turned a significant corner with Windows laptops when comes to all-day charge, although I haven't found the Spectre x360 to be quite as good as the HP website claims. Nice long lead to charge with and thanks to the Spectre's unique cut-off corners, the Thunderbolt charging port is always accessible, no matter which way you're using it - laptop, tent or tablet.
In fact, there are two Thunderbolt USB-C ports, a full-size USB-A, a Micro SD slot and an audio jack - pretty much everything you need in terms of connectivity except maybe an HDMI connection. There's one of those on the 15.6-inch version but to be honest, wireless screen-mirroring options are probably more useful these days anyway.

I could do without the pre-installed HP utilities, but I didn't find them intrusive and simply ignored them.

Unless you decide to go for an over-specced dedicated gaming laptop, which will probably look a lot uglier than this piece of design art, you're unlikely to find a device that offers as much computing grunt as the Spectre x360.

And there's definitely nothing prettier.


Click here for more information on the HP Spectre x360 laptop.