It's Basically a Laptop Now
Author

Publish Date

Tue, 5 Apr 2022, 6:17am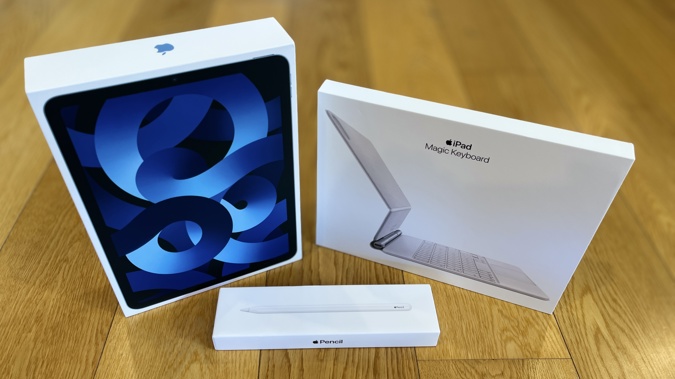 It's Basically a Laptop Now
Author

Publish Date

Tue, 5 Apr 2022, 6:17am
It's the weirdest thing. Every time I read a review about a tablet, it's always compared not just with other tablets but also with the experience of using a laptop. 
Personally, I get it. It's what I always do too. In my case, it's because I'm just not a tablet guy. I didn't grow up with them like my kids did so using a screen without a keyboard just feels super limiting to me. Of course, you don't have to use any kind of keyboard. For instance, I wrote this sentence just by pushing the little microphone icon and talking. Unfortunately, that's still not the perfect solution. When I did that, I had to go back and change "Francis" to "for instance" because that's what I actually meant.
Don't get me wrong, I definitely make plenty of mistakes when I'm typing too. But until AI has got a little bit more intelligent and a little less artificial, I think I'm gonna rely on my keyboard for a little while yet.
Regardless of all that, let me do my best to let you know why the new iPad Air isn't just new, it's improved as well.
Unless you were intimately acquainted with this year's colour options compared to 2021's, there's probably no way to identify the 5th generation iPad Air just by looking at it. Oh don't worry, it still comes in Space Grey (what a relief to know boring never goes out of fashion) but now you have the option of Pink, Starlight, Purple and Blue. These are all quite subtle, frosted, brushed shades - very elegant. Ironically, although this year Apple has released a new Green option for its iPhones, last year's minty iPad Air is no longer available.
As we've come to expect, the iPad Air is a pretty fantastic looking tablet. Its reasonably big 10.9-inch screen and narrow bezels ensure you get the largest amount of useable display possible without risking too many mis-touches because of how you're holding the device. As I noted with the previous generation, the iPad Air's Liquid Retina display features an anti-reflective coating which means it remains easy to view in all lighting conditions. Although there is also a fingerprint-resistant oleophobic coating, I've found this less effective and often have to wipe the off the evidence left behind by my greasy mitts.
However, whether you're streaming, browsing or gaming, it's a lovely, bright, accurate display and of course it's still compatible with the Apple Pencil (2nd-gen). The true beauty of this stylus, other than it's becoming more and more useful with new apps incorporating its functionality into their design every day, is how it conveniently stores magnetically on the side (or top, in landscape) of the iPad Air, charging wirelessly while it does so. This means it's always handy and ready to use, whether you need it for a specific design app like Procreate or a DIY 3D rendering tool, like uMake. Maybe you just sign a lot of digital documents - and there are many other Apple Pencil features that come in handy, like Scribble, converting your text into type.
I mentioned gaming but I've never really spent much time doing that on an iPad until this year's Air. The game (pun coming) has completely changed now this device is powered by Apple's legendary M1 chip. Not only does this bring Mac-level processing power to a more affordable iPad, it also brings better power efficiency and intensified graphics capability with it. Sounds like a good excuse to waste some time scrambling around the Apex Legends Mobile arena to me. Although I think I'll always prefer the in-hand nature of an external controller, I'm starting to get used to the on-screen controls when you play on the iPad. Modern Combat 5 is another shooter that looks great and plays brilliantly. Interestingly, the excellent stereo speakers do a surprisingly good job of letting you know if you're about to be attacked from an unexpected direction.
Speaking of sound, there's a useful little tweak to the volume controls that changes their orientation depending on which way you're using the Air. In portrait, Up is up and Down is down but in landscape it's more logical for those buttons to swap so Left is down and Right is up. Make sense? If not, read it through a couple more times. You'll get it.
While we're putting things in the right place, Apple has now rectified the issue I had last year with the placement of the front-facing camera. Well… sort of. It's still in the wrong place; at the top in portrait but halfway down the left-hand side in landscape. However, at least this year's iPad Air comes with CenterStage built-in - Apple's automatic zoom-and-pan software that keeps you in the middle of the shot when you're FaceTiming, Zooming, Webexing - whatever. Except… not when you're just taking a video using the camera app. Either way, while it's great to be kept in shot even if you're moving around the room, you still have to make a real effort to look into the camera down on that bottom-left side if you want the other people on the call to think you're actually interested in what they're saying. This is kind of counterintuitive when there's usually a large shot of them right in the middle of the screen. It might be time to move that camera, Apple.
The real shame is that front camera is now very decent indeed - a 12MP Ultra-wide sensor capable of 1080p HD video at 25, 30 or 60fps. This is the kind of "proper" camera we usually find on phones, not tablets and it's about time too. The rear shooter is also a genuine 12MP camera, again with some actually useful features like Burst Mode and Smart HDR.
iPadOS keeps fine tuning itself all the time. Every update seems to be more and more of a crossover with MacOS and I sometimes wonder if there is a grand plan afoot - perhaps one day using an iPad really will feel more like Apple's desktop/laptop experience than just an oversized iPhone. Certainly new features like Universal Control seem to point that way - now you can use a single keyboard and mouse on adjacent Macs and iPads simultaneously, even dragging and dropping files between devices.
You see? I made it almost all the way through my review without comparing the iPad Air to a laptop. But when the Magic Keyboard case is included in the review kit, it's kind of hard to avoid. Last year I think I labelled this my favourite accessory ever. Almost twelve months down the track, not much has happened to change my mind. It's sturdy enough to provide legitimate protection for the iPad Air its magnetically attached to and the way the display hovers above the keyboard and trackpad when it's unfolded is - just as the name suggests - magic. There's even an extra pass-through USB-C slot to provide power to your iPad while you have another accessory connected to the Air's own USB-C port.
At NZ$549.00 I'm still not sure one keyboard cover is worth quite that much money. But it's so good, I'm not sure it isn't worth it either.
All I know is I put together this whole review using only this iPad Air and Magic Keyboard. It opened all the webpages I needed it to. I uploaded the photos. I recorded, edited, exported and compressed the video. A lot of people have asked why you'd buy both the iPad Air and Magic Keyboard when you could pick up an actual MacBook for around the same money (depending on exact configurations obviously). I can think of one compelling reason straight off the bat; there's no MacBook with a touch-screen. And that's before we get into issues of versatility, camera capability and battery life. Now the Air has joined the M1 club, like it's Pro-named big brothers, it surely is a powerful laptop in a colourful disguise.
Click here for more information and pricing on the Apple iPad Air (5th generation).
Click here for more information and pricing on the Apple Magic Keyboard for iPad Air.
Click here for more information and pricing on the Apple Pencil (2nd-generation).