Huawei Keeps Getting These Things Right
Author

Publish Date

Thu, 22 Apr 2021, 1:37PM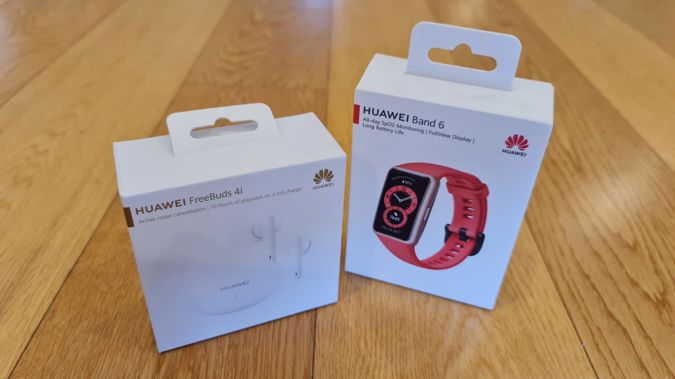 Huawei Keeps Getting These Things Right
Author

Publish Date

Thu, 22 Apr 2021, 1:37PM
I'm constantly surprised and impressed by the gadgets Huawei produces.
Admittedly, we're not seeing a lot of Huawei smartphone action here in New Zealand which is a great shame because they've always been some of the best phones available... when they were available.
Meanwhile, there's been a steady stream of other cool stuff; watches, laptops, speakers, headphones and now a couple more accessories that might be just what you've been looking for...

Today I've got something for your wrist and something to stick in your earholes. The Huawei Band 6 and the Huawei FreeBuds 4i.
If you're a regular reader of these reviews, you'll know I've been consistently blown away by the recent line of Huawei smartwatches. Although they're limited in terms of third-party app options (ie; there aren't any) the functionality, build quality and battery life are all absolutely outstanding.
So what does that have to do with the Band 6 - isn't this just another cheap fitness band?
Yes, it's fairly cheap - just $129. But I think I can make a pretty convincing argument this is a fully fledged smartwatch, much more than just a fitness tracker.
Make no mistake, it does a great job of the fitness tracking. Like all Huawei wearables, you set it up using the Huawei Health app. If, like me, you already have an account, you simply login and you'll have access to all your previously stored workouts and other health info. Setting up any Huawei watch is very quick and easy, although I've been prompted to update the Band 6's firmware several times since I've been using it and these updates do take a while.
There's not much in the way of exercise the Band 6 won't track - from fencing to frisbee - belly dancing to laser tag - you can add it to your list of workouts. Maybe it's time I gave sepak takraw a go? (That's kick-volleyball in case you didn't know) You can set goals and customise distance, heart-rate and workout-stress reminders. Oh yes, for sure this is definitely a full-featured fitness device.
Everything is shown clearly on the 1.47-inch AMOLED FullView display - it doesn't sound big but I found it easy to control and navigate around, even when wet. Unfortunately, I did manage to scratch the screen on something (probably with an extravagant hand gesture of some sort) and while it's not super obvious, it's a shame the glass isn't quite as tough as that on some of Huawei's higher-end watches.
What's also a shame is I couldn't get GPS tracking to work. When you start a workout you get the option to wait for the Band 6 to pair with your phone's GPS or just kick on. Maybe I'm too impatient but I'm only prepared to stand on my front doorstep in my running gear for a minute or so before feeling self-conscious. I've been on a lot of runs and walks and haven't managed to save the route for any of them yet.
This doesn't worry me hugely as the distance tracking seems to stack up with what I've measured with other devices and besides, I know where I went. I was there.
I've talked about the Huawei Health app at length in the past - in a nutshell, it's fantastic. Lots of info, clearly displayed. Not only does the Band 6 measure your heart rate but it does stress and blood oxygen (SpO2) as well - that's all-day tracking by the way, not just on demand.
As usual, sleep tracking is excellent - enhanced by the Band 6's fabulous battery life. I've always thought there's not much point in a sleep tracker you have to take off to charge every night. I've been wearing the Band 6 for eight days non-stop and the battery is still showing 19% - that's fantastic. It charges quickly via a proprietary magnetic dongle.
But there are two reasons I think this device blurs the lines between tracker and watch. It looks great and it really is pretty smart. 
It comes in Graphite Black, Sakura Pink and Forest Green with a metallic-looking, fiberglass-reinforced polymer body - the whole band only weights 18 grams. There's a selection of faces that's growing all the time to suit your tastes.
And just like Huawei's larger watches, you can receive notifications from any app on your phone. I found this to be completely reliable and never missed a call, message or notification from my security system. No, you can't actually make or take calls on the Band 6 itself but I have been perfectly content to use it as my primary smartwatch over the last week or so.
The one feature I do miss is an ambient light sensor - it's a real pain having to manually increase the brightness before you go outside for your run but it's essential because you can't see anything in the sun otherwise. In saying that - at just $129 it's something you can probably get used to.
The FreeBuds 4i also push the boundaries when it comes to value-for-money. These days we're expected to hand over in excess of three-hundred dollars for a premium pair of true-wireless earbuds, while the FreeBuds 4i clock in at just $159. Best of all, you can get them in Honey Red, not just Ceramic White and Carbon Crystal Black.
At this price point, it's hard to believe you get Active Noise Cancelling - and while it doesn't block out the whole world, it's certainly effective. You can turn ANC on or off - or allow background noise through in Awareness Mode - either by using the touch controls or via Huawei's AI app. In fact, you can even customise the controls to a degree - choosing to Play/Pause, Next/Previous or Wake Assistant with a double tap. Sadly, no on-board volume controls but because you're limited to a double-tap or a long press to toggle ANC, there's not much that can go wrong... and it doesn't.
Sound quality is bright and clear, with good definition across all frequencies, although perhaps a little light on bass - something you can probably boost a bit if there's an EQ setting on the device you're playing from.
Battery life is first-rate - up to ten hours with another twelve in the case and what a case - shaped like a smooth pebble it's one of the most compact charging cases I've used to date. The downside of that is it's quite fiddly getting the buds in and out of it - still, at least your unlikely to knock them out accidentally.
For me, the greatest feature of all is the fit - the FreeBuds 4i are part of a very exclusive club of buds that just never move once they're inserted. What's more, they're light and very comfortable. The mic quality sounds great on phone calls too.
Both these devices are compatible with any brand of phone - you don't need a Huawei to work them. In fact, they're so easy to use, you don't want to stop using them. And they both have far too many features for the price.
Click here for more information on the Huawei Band 6 available from The Warehouse, PB Tech, JB Hi-Fi and Noel Leeming.
Click here for more information on the Huawei FreeBuds 4i available from PB Tech.