Huawei FreeBuds 5i - Don't Dismiss These Buds
Author

Publish Date

Wed, 15 Nov 2023, 10:31AM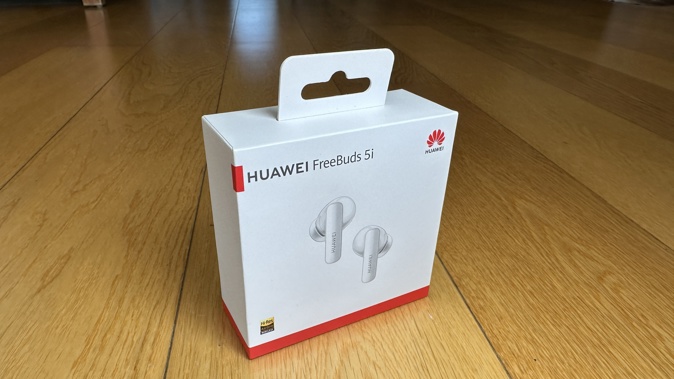 Huawei FreeBuds 5i - Don't Dismiss These Buds
Author

Publish Date

Wed, 15 Nov 2023, 10:31AM
I know what you're thinking...
"Why the hell would I bother reading yet another review about earbuds?"
I don't blame you. If I'm being completely honest, when Huawei first approached me to do this review, my first thought was, "Why the hell would I bother writing another review about earbuds?"
The obvious issue is the absolutely flooded market. I have unquestionably tried more models of earbuds than any other tech category - by a considerable margin. What's more, certain manufacturers - like Huawei - seem to have a "new" version every couple of months.
I've looked it up and in fact, this is completely unfair to Huawei. Technically, they don't do it bi-monthly. it just feels like they do.
Please don't ask me to explain the difference between the numbered models, the "Pro" models and the models with numbers that also have a lowercase "i" at the end. Because I don't understand how any of it works.
All I do know is I reluctantly agreed to review the latest FreeBuds. And I'm glad I did.

The Huawei FreeBuds 5i are an increasingly familiar form factor; I call it a hybrid fit - although they have the snug, sealed (available in three sizes of gel tips) bits you secure in your earholes, they also feature the external stems more usually associated with an "open" fit. I assume this design choice enhances mic performance and from what I've experienced, also adds extra stability to the fit.
This ties in nicely with the FreeBuds 5i's IP54 splash resistance rating. The secure fit and sweat resistance make them a great choice for exercise. If you're training out on the streets though, you might want to be careful with how much you crank up the ANC (Active Noise Cancellation). It's very effective - as it has been on most of the recent Huawei buds I've tested. Using the Huawei AI Life app, you can set the level of ANC to suit your environment - but where's the fun in that? I like it wound right up all the time and although it's easy enough to cycle through Off, Awareness and Noise-Cancelling modes with a long press on either bud, I love the isolation tuning the whole world out brings.
Huawei's AI Noise Cancellation is put to good work on the microphones too. Definitely no complaints about voice clarity from any of my callers so far.
The customisable touch controls on the FreeBuds 5i are the feature that pleases me the most. Other than the ANC, you can set double taps to answer and play/pause and use responsive swipes up and down for volume - or use the controls to skip, go back or wake your voice assistant. Often tap and swipe controls like these can be a bit finicky on earbuds - but not on these earbuds. They work very reliably indeed.
The AI Life app also offers a fit test to ensure you've selected the right ear tips, there's a basic EQ setting that lets you boost bass or treble and you can select the "Low Latency" toggle for better audio sync when gaming or watching video. This works in perfectly with the FreeBuds 5i's multi-point connectivity - you can connect two devices at once, so an incoming work call will take precedence over that all-important battle royale you're in the middle of.
As for the certified Hi-Res Audio? It's really, really good.
Fleetwood Mac's "Chains" has a whole new feeling to it. With the Freebuds 5i set to their default EQ, the acoustic guitar which is fingerpicked throughout the track has its own space, while the multi-layered vocals seem quite separate. I've never considered these classics to be so cleverly mixed, but it definitely comes through here.
Meanwhile, "Tin Man" by feeble little horse is both subtle and powerful simultaneously. The vocals are clean, clear and easily decipherable, while the dirty, distorted power chords of the guitars boom through in a gritty, effective way that keeps me listening till the end. These earbuds really do a great job of reproducing absolutely everything.
As for "A&W" by Lana Del Ray, if you haven't had a listen to this long, but rewarding sonic journey with some really good headphones or earbuds, do yourself a favour. There's a bit of bad language but wow, the aural trickery and dynamic range on this track are serious art. And the FreeBuds 5i capture it all.
It's not just music appreciation that really works; lately, I've been watching (and thoroughly enjoying) the new Prime Video series, "The Power." Without getting too far into the plot, what I can tell you is the audio mixing and soundtrack are absolutely first-class. I know this because I've been listening on the FreeBuds 5i and. yet again, I've been impressed by how they pick up every detail - left, right and all around. Usually watching video using earbuds is a necessity - something you do to avoid disturbing others around you. I've found with these FreeBuds it actually enhances the experience.
It's quite stunning to get this kind of sound quality for just NZ$179.00 - not to mention all the customisation options I mentioned earlier. The only thing preventing me from recommending these earbuds in the same league as the very best available is the lack of wireless charging - you can only charge the case via its USB-C connection. These days I consider earbuds to be up there with smartwatches when it comes to being the ideal gadget to charge wirelessly. With anything this small, it's a bit of a pain to have to fiddle about plugging in a charging cable - well for me anyway. If you don't charge any other devices wirelessly this probably won't be an issue for you.
And the case certainly is small - its streamlined, pebble-like shape makes it wonderfully pocketable. Battery life isn't bad either; around 6 hours with ANC on with another 18 or so in the fully charged case.
As I've made clear, I've tried a lot of earbuds over the last few years and unless you're a determined wireless-charging addict like me, I honestly think you'd be hard-pressed to find a better value option than these. They're light. They're comfortable. They fit snugly. They have reliable controls and ultimately, they sound fabulous.
Click here for more information and pricing on the Huawei FreeBuds 5i.
Take your Radio, Podcasts and Music with you