HUAWEI BREAKS THROUGH THE SOUND BARRIER
Author

Publish Date

Wed, 2 Dec 2020, 1:42PM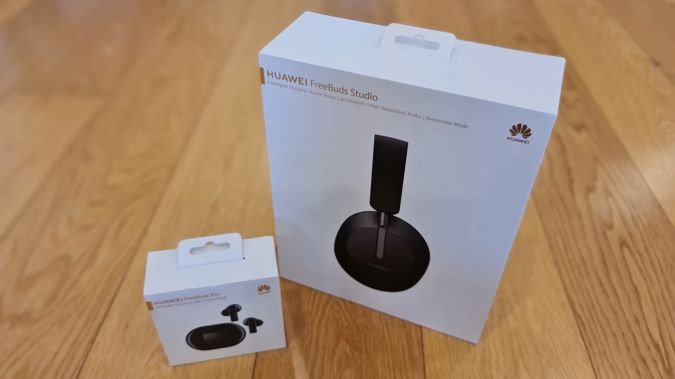 HUAWEI BREAKS THROUGH THE SOUND BARRIER
Author

Publish Date

Wed, 2 Dec 2020, 1:42PM
Is there a more crowded gadget market right now than headphones and earbuds?
This certainly isn't the first time I've asked myself, "What more is there to say about audio earwear?"
Your main choices come down to form factor and budget; above a certain price point you can be pretty much assured sound quality won't be an issue. But are you an over-ear or in-ear person? How important is noise cancelling over battery life?
Perhaps most importantly... traditional brand or time to try something new?...
There's no doubt Huawei knows how to make good gear.
You don't fight your way to the top of global smart phone sales charts by accident.
And I've been raving about Huawei's range of watches for a couple of years.
I was also more than a little impressed by the FreeBuds 3, my first interaction with Huawei's line of audio wearables and now they've stepped things up with the FreeBuds Studio over-ear headphones and the FreeBuds Pro in-ear evolution.
While physically these are two completely different devices, they actually do share some features. Both look and feel amazing, constructed to exacting detail from the highest quality materials. Both are very comfortable to wear... even for hours at a time. And both sound fantastic.
As I listen to "Mind Trick" by Jamie Cullum on the FreeBuds Pro, the bass notes pulsate powerfully yet distinctly while the gang backing vocals and crowd noise seem like they're coming from the room I'm in. I don't know how it's possible to generate such a sense of space using in-ear headphones but Huawei has achieved it super successfully here.
The driving rhythm and bass guitars playing in in unison on the Black Keys' "Sister" might seem boomy on some over-ear headsets but not on the FreeBuds Studio. Likewise, the drum-sample driven track "M!ssundaztood" by P!nk show's off every individual element, her raspy vocals ripping through the mix without being too toppy or sibilant.
There's no question both these devices provide a first class soundscape. While there are no customisable EQ settings on Huawei's AI Life companion app, most phones let you EQ from their native sound settings section if you need to.
AI Life is your portal to access other settings too, although there are invisible touch controls on both the FreeBuds Pro and Studio too. These touch controls are responsive and well defined - unlike the false taps and swipes I've encountered on other similar devices. I particularly like the up or downward swipe to change volume - this works faultlessly on either device.
But back to the app - here you can set a few little shortcuts but the star of the show is Huawei's Active Noise Cancelling technology. Again, this works the same way on both devices - you can have it on or off, or set yourself to Awareness mode to let outside noises in (a good idea if you're around traffic or there are announcements you don't want to miss). Most ingeniously, Dynamic mode lets the earbuds or headphones sense your environment and automatically adjusts the level of noise cancelling required for any given situation. Sitting on the couch at home is quite a different sonic scenario to being on a plane or train. Huawei's Intelligent Dynamic ANC can figure all this out on the fly and make adjustments accordingly. While it's not the most totally silent ANC I've ever used, it might be the most natural - because it's so smart.
It's not just listening where noise cancellation has been put to good use. I've conducted several phone calls on both devices without the other person having any idea I wasn't talking to them directly on my phone. There are mics everywhere - including bone sensors and wind reduction tech on the FreeBuds Pro - to ensure your voice calls remain crystal clear.
As you can probably tell by now, I really enjoy using these devices. Huawei has pretty much nailed premium-level sound reproduction here.
The FreeBuds Pro come in a glossy Sliver Frost or Carbon Black, with matching glossy case. The case charges the buds on the go and is charged itself either wirelessly or via USB-C. Battery life is up there with the best of them - as much as 4.5 hours non-stop listening with ANC turned on, 7 hours with it off and between 20-30 hours of charge including the case. Basically, you don't really have to worry about charging until it's convenient for you. 
The design of the buds themselves is a kind of hybrid - a snug, in-ear fit while retaining a short external column reminiscent of the earlier FreeBuds 3. There are three sizes of ear pads included in the box to ensure a secure fit, even while exercising. They're not inconspicuous but I think they're fairly stylish and I've certainly found them comfortable enough to wear for hours at a time. As I've already mentioned, the touch controls which involve swiping and pinching are some of the most reliable I've come across on such a small device.
It's pretty hard to fault the FreeBuds Pro and they're definitely worthy of consideration if you're in the market for a high-spec set of TWS earbuds.
If it's over-ear you're looking for, there are a couple of things you need to know about the FreeBuds Studio.
I was immediately impressed by how sturdy this headset is, while still looking modern and stylish.  There's nothing cheap or plasticky going on here - the headband especially, although luxuriously padded, is solid as a rock. The extendable arms are metal and firm while the earcups themselves are also padded with protein leather cushions that breathe very well and provide a comfortable listening experience for hours on end. In fact, these have quickly become my favourite headphones for watching TV with. The high-quality, low-latency bluetooth connection and long battery life also helps.
In fact, you'll get up to 20 hours playback time on a full charge and that's with ANC switched on.
You also get a hard-walled carrycase, which is fairly large as the Studio doesn't fold up, it only swivels flat. The case is actually big enough to contain a lidded compartment for the charging cable. That's the only cable by the way - no AUX cable for these headphones, bluetooth is your only option. I have to say, I found that a little limiting given how much Huawei is charging for these things.
Yes, my main issue here is price. Oh sure, the FreeBuds Studio is undoubtedly a premium headset. The build quality is unmatched. The sound is fabulous. ANC is up there with the best I've heard - and the Dynamic (auto-sensing) feature is impressive. As is battery life - these cans keep on going and going and charge quickly to boot. So yes, yes they're fantastic headphones. I won't deny it.
But they cost almost $600. That's way too much. When the other "big brand" models you're competing with start in the low four-hundreds, charging this much first time out is... well... bold, to say the least. For that kind of money you'd better be offering a top end product and luckily, the FreeBuds Studio is indeed among the best wireless headsets I've tried - but convincing shoppers that when they see them side by side on a shelf with a more established headphone brand could be a challenge.
As far as the FreeBuds Pro go, they're about half the price and I think that's more realistic. At an RRP of $299, that puts them roughly mid-range for high-quality TWS earbuds and given they're up with the best of them, that sounds like a good deal to me.
Click here for more information on the Huawei FreeBuds Studio.